It is almost time for brightly coloured Easter eggs, heavily scented Spring blooms and lots of fun family activities. Yes, Spring is just around the corner and here is some of what awaits you in the Lake District.
Daffodils on Ullswater's shore 
The brightly coloured, cheery and wonderfully scented blooms of the Lake District's famous daffodils have had visitors under their narcotic spell for centuries. Indeed, the impressive blanket of yellow daffodils dancing on the breeze at Gowbarrow Park on the shore of Ullswater captured William Wordsworth's imagination so much so that it inspired the penning one of his most famous verse's: 'I wondered lonely as a cloud'.
Daffodils burst into colour and their heady scent fills the air between March and April, in formal gardens and natural wooded areas across the Lake District. You know when spring has arrived when you are greeted by these cheery blooms and they are a sight not to be missed.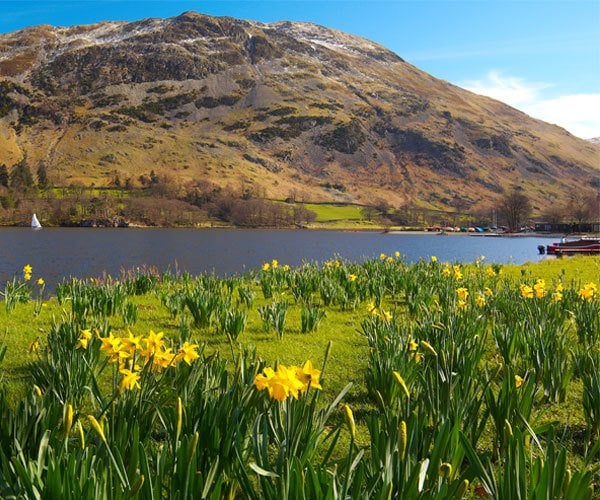 East egg trail 
The National Trust preserve vast swathes of the Lake District so that generations to come can enjoy the wonders and delights of this magical landscape. At various stately homes and grand estates across the Lake District, The National Trust are hosting activities welcoming families and encouraging imaginations to run wild over this important holiday celebration.
Spring walk
The pastoral valleys of the Lake District are abuzz with life in Spring. Sheep have been brought down form the fells to lamb and graze in warm low-lying pastures. This is a celebratory time of year and it is best enjoyed on a valley walk, passing through pristine conservation farmland. Take in the 17th century farmhouses and architectural dry stone walling. Cross babbling rivers and stop a while at a gastro pub. We'd recommend Hawkshead in particular as a great base for an inspiring Spring walk.
Egg hunt with Peter Rabbit 
Spring wouldn't be the same without a visit from the Easter bunny.
Visit the Lake District over the Easter holidays and go on an egg hunt with the most famous bunny in the world. Yes,  Peter Rabbit. The floppy-eared children's book character along with his other mischievous friends, were created by Lake District resident Beatrix Potter. Potter was a naturalist and found her greatest inspiration in a world of creatures living beneath mighty English oak trees, sailing rafters across the lakes and building homes within the craggy mountainsides. There's treasure all around in the Lake District.
Handmade chocolate
Kennedys Fine Chocolates is a real secret gem of Cumbria and the Lake District. In the heart of the northern village of Orton, a gemstone itself.
There's so much pleasure in handmade indulgence. Passion, joy and pure fun simply oozes from these divine chocolates that have been made by the same family for over 25 years.
Don't just come to Orton for the sweet treats, however. In fact, this remote village, located between Kendal and Penrith, is quite the foodie mecca. The monthly farmer's market is reputedly the best in Cumbria. Orton also puts you a stone's throw from the Eden Valley, just outside the crowd-drawing Lake District and is filled with tempting delights, such as mythical stone circles, luxurious country spa's and sprawling castle and gardens.
Paul Liddell is the Managing Director at Lakelovers. Lakelovers provide quality self-catering cottages in the most popular Lake District holiday locations, including Windermere, Ambleside, Coniston, Grasmere, Keswick and Ullswater.
If you would like to be a guest blogger on A Luxury Travel Blog in order to raise your profile, please contact us.