Thailand's rich history dates back to thousands of years. The impressive landmarks we see today are remnants of the ancient temples and Buddhist architecture built by several emperors that ruled the country at the time. Thailand is a great place to visit especially if you're a history enthusiast as you'll get to see breathtakingly beautiful historical sites, some of which are preserved and recognized as UNESCO World Heritage Sites.
If you're interested in exploring Thailand's famous historical landmarks, let me walk you through some of Thailand's frequently visited historical sites by tourists and travellers from around the world.
Phra Pathom Chedi
The picturesque ruins of the oldest Buddhist structure Phra Pathom Chedi is located in Nakhon Pathom. This Buddhist structure is said to have been built when Buddhism had just been introduced in Southeast Asia in the 3rd century BC. The Indian ruler at the time Asoka, sent out a community of monks to spread the new religion over large parts of Asia. This historical landmark is also revered by locals and history enthusiasts alike due to the relics of the Buddha that are enshrined at the Phra Pathom Chedi.
Khmer Temples
As the name suggests, the Khmer Temples were built in Thailand under the rule of the Khmer kingdom around ten centuries ago. You'll be surprised to see how well-preserved the temples are even after 1000 years. Dozens of Khmer temples are scattered across Northern Thailand. While most of the temples are located in far flung areas less frequently visited by tourists, there are three well-preserved temples that are flocked by tourists all year round – Phanom Rung, Muang Tum and Phimai.
Each of these temples were roughly built one thousand years ago and have been put on the tentative list of UNESCO's World Heritage Sites in Thailand. The beautiful, carved structure of the temples will leave you completely awestruck.
Si Satchanalai Historical Park
The 45 km2  Satchanalai Historical Park contains the ruins of Si Satchanalai, a small town that flourished during the 13th and 14th century under the rule of Sukhothai kingdom. The park stands on the banks of Yom river surrounded by a natural forested area. The ancient city of Si Satchanalai was known for its exquisite glazed ceramic ware known as Sangkhalok ware.
To take a look at the remains of the excavated kilns, visit the local museum that opens daily from 9am till 4pm. You can get to the Si Satchanalai Park via air or by car. The quickest way to get to the park is by car; it'll only take 30 minutes to reach.
Kamphaeng Phet Historical Park
Containing the remnants of the Kamphaeng Phet, the Kamphaeng Phet Historical Park has been added to the UNESCO World Heritage Site list. This little town held great significance during the Sukhothai rule and contains ancient ruins of Buddhist monuments build from 13-17th century.
Kamphaeng Phet was a garrison town, an important link to the Sukhothai Kingdom defence system due to its strategic location. The Kamphaeng Phet Historical Park is located approximately 355 km to the north of Bangkok.
The local museum contains excavated relics dating back to prehistoric times like the early 16th century bronze statue of Lord Shiva, ceramic wares and carved images of Buddha. The museum remains open from Wednesday through Sunday from 9am – 4pm.
Historic City of Ayutthaya
Once the capital city of Thailand, the historic city of Ayutthaya today is reduced to remains. The old city will transport you to an ancient era with its haunting but romantic ruins including old palaces and temples that still stand erect today in a fairly well preserved state.
Ayutthaya is close to Bangkok so you can travel by bus or car comfortably to explore the ancient city at leisure. A must visit tourist attraction for history buffs, a visit of Ayutthaya will help you develop a greater understanding of Thailand's historical and cultural background.
Doi Suthep
Perhaps the most beautiful temple in all Chiang Mai sits atop Doi Suthep. Visiting Doi Suthep is definitely an experience of a lifetime. You'll get to see intricate religious carvings, Buddhist monks performing religious rituals and local vendors selling delicious street food and local handicrafts.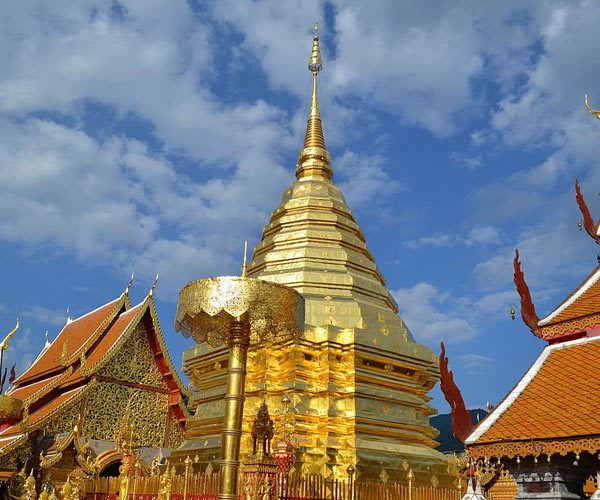 Doi Suthep is also the perfect place to shop for keepsakes and give-aways including elephant carvings, masks and home furnishings. If you've got a couple of hours to spare, combine your excursion to Doi Suthep with a small Hmong village in the mountains called Doi Pui.
Believe you me when I say this little town is far more touristy than other villages you may have visited earlier. Not only will you get a taste of the Hmong culture and hill tribe communities existing in the region, but also get a chance to purchase exquisite handwoven textiles.
These are some of the most famous historical sites to visit in Thailand especially if you are interested in learning about the culture and historical background of the country. There's really no comparison as each historical landmark I've mentioned is beautiful in its own rite and has it own significance in history.
Mark Tulloch is Co-Founder at Asia Holiday Retreats. Asia Holiday Retreats a 5-star travel booking agency offering luxury villa rentals across Bali, Thailand, and Sri Lanka.
If you would like to be a guest blogger on A Luxury Travel Blog in order to raise your profile, please contact us.