Sure, you can walk on down to the Charles Darwin Research Station in the town Puerto Ayora to have a look at captive tortoises in their pens (part of a breeding program) or do the same again in the town of Puerto Baquerizo Moreno on San Cristobal island, and one more time in Villamil on Isabela island. But nothing beats running into one (or dozens) of these giant lumbering reptiles in the wild. These huge creatures, particularly when seen in numbers, almost take you back to Jurassic times, when reptiles dominated the landscape. It's well worth ensuring that you get a chance to commune with them while on a Galapagos adventure.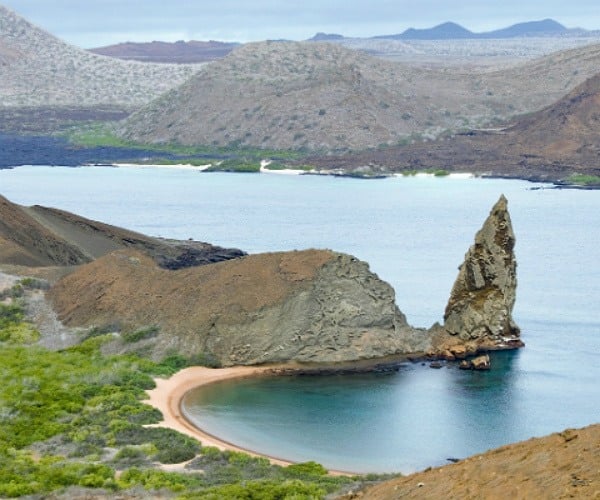 There are over 60 visitor sites in Galapagos. Most of them are accessible only by expedition cruise ship. Of the 65+ cruise ships that ply Galapagos waters, each must follow a Galapagos National Park approved set of itineraries, ranging from as short as 4 days to as long as 15 days, with the standard being an 8 day/7 night trip. But not all itineraries are the same. If you're keen on seeing giant tortoises in the wild, you'll need to be sure that your itinerary takes you to at least one of the following places:
Urbina Bay
On the remote western shores of Isabela island, Urbina Bay has you disembarking on an beautiful beach. The trail from the beach takes you into the arid coastal ecosystem zone of this largest island in Galapagos. Surprisingly, this flat, scrubby area contains old corals on land. Until 1954, the entire area was underwater, but a massive overnight uplift caused by volcanic pressures pushed it above sea level. During the rainy season (January – April, when you can expect 1-2 short lived downpours in any given week), the giant tortoises move down from the higher elevation volcanic slopes to Urbina Bay shorelines. This is the only uninhabited island in Galapagos where a visitor is likely to see giant tortoises in the wild.
La Galapaguera
Literally meaning "the place of the tortoises", La Galapaguera (also known as Cerro Colorado) on the inhabited San Cristobal island can be reached after a long hike (apx. 1.5 hours) through typical Galapagos landscapes. You might run into a few wild goats on the way – the scourge of native Galapagos ecosystems, as these introduced critters devour much of the vegetation (goat eradication / control campaigns are a fixture among Galapagos National Park conservation actions). You're sure to see many tortoises at the end of the trail.
El Chato
El Chato in the highlands of inhabited Santa Cruz island is a popular roaming ground for the Galapagos giant tortoises all year long. The site is easily accessible by vehicle, followed by a short hike making it the easiest places to see these enigmatic animals in their near natural habitat. The tortoises cross the reserve on their permanent migrations from the coast to the highlands. The ecosystem consists of mixed scalesia forest and grasslands, some privately owned and used for cattle grazing and some part of the National Park. Though you may not always feel like you're in an untamed landscape, you can be sure that the tortoises you'll encounter are wild and free.
There is no other place like Galapagos on Earth. Nowhere else can you have wildlife encounters where the animals barely acknowledge your presence. A trip to the islands deserves a good deal of advanced planning to make sure you get the most out of what will likely be a once in a lifetime visit.
Marc Patry is Co-owner of Cultural & Natural Heritage (CNH) Tours. CNH Tours provides an unmatched personalized service in helping people organize a Galapagos holiday best suited to their particular interests.
If you would like to be a guest blogger on A Luxury Travel Blog in order to raise your profile, please contact us.