Reykjavik has come a long way since I first visited in 2004. It was a charming city then, but it did feel small. It has now become an exciting and innovative capital filled with art, great food, cutting-edge architecture and loads to do. Most visitors to Iceland are justifiably focused on seeing Iceland's natural attractions but do make sure you spend some time in this charming and quirky city.
Free walking tours
Free walking tours have become very popular. The model is that you pay what you think the tour was worth at the end – thus incentivizing the guide to keep you entertained. I have found this does exactly the job and now seek out free walking tours.
This was no exception in Reykjavik. Book your tour five days ahead online. It runs for 2 hours and leaves from the front of the Parliament Building. I learnt a huge amount from our interesting and amusing female guide.
See the Sun Voyager
It is somewhat ironic that one of Reykjavik's most well-known images is named after the sun it doesn't get to see for a chunk of the year! This stunning sculpture is located on the waterfront near the Harpa Concert Hall (see below).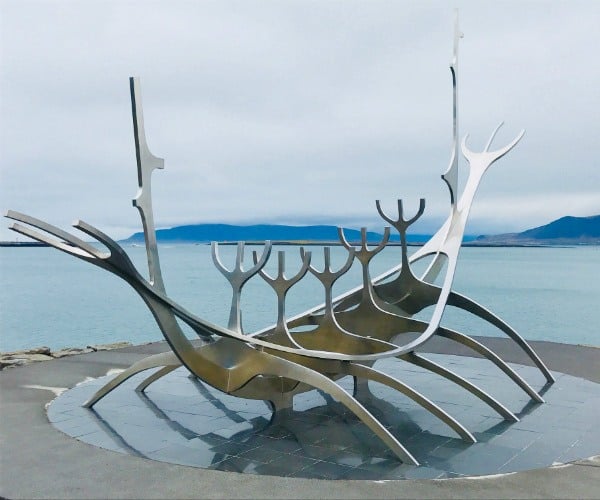 The statue is made of stainless steel and was designed by sculptor Jón Gunnar Árnason as a dream boat. It is extremely photogenic. Of course, it is most stunning on a clear day or when it has the sunset behind it but it can also be very atmospheric in the low light of the Reykjavik winter.
Visit the church with a view
There is one building that you won't miss in Reykjavik and that is the Hallgrímskirkja Church. The unique design of the church was apparently inspired by Iceland's geology. Architect Guðjón Samúelsson built this white concrete building in the 1940s. It is rather minimalist inside. Don't miss taking the lift up (or climbing if you're keen) to the top of the church for some amazing views over Reykjavik.
Experience strudel Iceland style
You will know that you have reached Braud & Co when you see the queues. This is one of the hottest bakeries in town. There are so many things that look amazing in this tiny bakery. However, it is most famous for its rhubarb strudel and may I say with very good reason. They also have amazing cinnamon rolls and a funky street art exterior.
Have a coffee at Reykjavik Roasters
The people of Iceland take their coffee seriously. There are several great options in Reykjavik but Reykjavik Roasters was my favourite. They did a wonderfully tasty flat white. The café itself is super cute. It is a mix of retros with its classic record players and vinyl and cutting edge with its giant bean grinders.
Visit Harpa Concert Hall
Opened in 2011, the Harpa Concert Hall is a stunning addition to the Reykjavik harbor area. The building sparkles with three-dimensional windows. It is lit up naturally during the day and with lights at night. There is a great gift shop, a bar and a restaurant to visit. The building is also stunning inside so even if you're not going to see a concert while you are there I definitely recommend heading inside for a look.
Have a Lamb Burger and catch some local music
Kex appears to be a bit of everything! It is a boutique hostel, a music venue, a bar and a great restaurant. The interior is a mix of sophisticated Icelandic style and kitschy art. It has a very comfortable and friendly feel. The lamb burger is sensational and if you stay around till a bit later you'll catch free shows from some of the best musicians in Reykjavik.
Eat Langoustine
Iceland is famous for its lobster or Langoustine. Apparently, the lobster tastes better as they are smaller due to the temperature. I am not sure how correct that is but my gosh Icelandic Langoustine is the tastiest version of this type of crayfish that I have ever eaten!
There is a multitude of ways in which you can enjoy your langoustine. From soups to sandwiches to sushi to grilled to burgers there is no end of ways to enjoy this local treat.
If you are after another Icelandic classic then check out their hot dogs. The Baejarins Bezzu Hot Dog stand in Reykjavik is the most famous of all the dogs – again you will find it easily due to the queue!
Take to the water in Reykjavik
Icelanders love their pools and jacuzzis. Indeed locals frequent their outdoor pool areas all year round. Most people heading to Iceland have heard of the Blue Lagoon and it is on most tourism to do lists. However, there are also bathing options in Reykjavik itself.
Nautholsvik Geothermal Beach is a small man-made beach that has a water temperature of around 20 degrees Celsius all year round and hot tubs. Laugadalur Swimming Pool has jacuzzis, a steam bath, a solarium, mud baths and a large waterslide!
Shopping and street art
Icelanders are creative people and you will see a focus on design throughout most of Iceland. This is strongest in Reykjavik. As so many buildings are made from concrete it is the perfect town for street art. There are colourful murals throughout the city and well worth exploring.
There is also some great shopping in Iceland. One of the nicest things about shopping in Iceland is the lack of chain stores. There are lots of cute local boutiques and artisans. There are of course the classic Icelandic wool jumpers but I was a big fan of some of the local jewelry – with some even including lava rocks!
There are some funky Scandinavian style homewares stores and even a local shoe brand. The centre of shopping in Reykjavik is the main road Laugavegur. Visit Systur and Makur, Myconceptstore, Hrim and Kiosk to see the best of what Iceland has to offer.
Amanda OBrien is Owner of The Boutique Adventurer. The Boutique Adventurer focusses on luxury adventures in emerging destinations that end with a high thread count on the sheets in the evening.
If you would like to be a guest blogger on A Luxury Travel Blog in order to raise your profile, please contact us.