San Francisco is a vibrant city that, despite its growth, remains a city of neighborhoods. Whether it's the museums of SoMa, the nightclubs of the Mission District or North Beach shopping, there's an endless list of things to see, do and eat. The Northern California destination is also a foodie heaven with a range of seriously good restaurants all striving to present the freshest, most locally sourced food possible (not to mention its close proximity to Napa Valley wine county). Now connected directly to many cities around the world via non-stop flights, it's easier than ever for international visitors to check it out.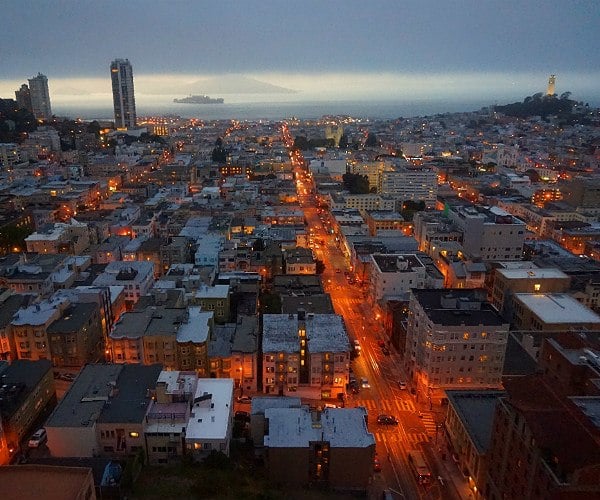 San Francisco is a city that really comes alive at night. Like NYC, it's a place that works hard all day and continues that intensity with one of the country's best nightlife scenes. The city is made up of hills, the three main ones being Russian Hill, Telegraph Hill and Nob Hill. Nob Hill was the location of many of the Gilded Age mansions of the city's richest residents and its central location means there are 360 degree views of the entire skyline. Destroyed in and then rebuilt after the Great Earthquake of 1906, the Fairmont San Francisco, from where this photograph was taken, sits atop Nob Hill and remains one of the city's best places to stay.
Thank you to Freddy Sherman of Luxury Fred for permission to reproduce the image.
If you have a really special photograph you would like to share with A Luxury Travel Blog's readers, please contact us.