The European Alps cover a vast area and span eight countries: France, Switzerland, Italy, Monaco, Liechtenstein, Austria, Germany and Slovenia. In such a vast expanse the opportunity to ski is abundant and obviously very well catered for. There are more world famous resorts in the Alps than arguably anywhere else in the world. Some resorts were in the mix at the birth of  ski tourism, in fact St Moritz could lay claim to be the first resort to kick the whole thing off. Some resorts grew from already established mountain villages and some were purpose built from scratch. Some have remained in the shadows while others have flourished to become premier world renown resorts. One thing most have in common is the ability to attract wealth. Here are five resorts that have risen to the top of the premier league and look set to stay there. They are among the most exclusive and wealthy resorts in the world.
Courchevel 1850, France
Arguably the world's most exclusive ski resort, Courchevel 1850 was the first resort in France to be constructed from scratch, rather than based around an existing village. The resort started to take shape around the end of WWII.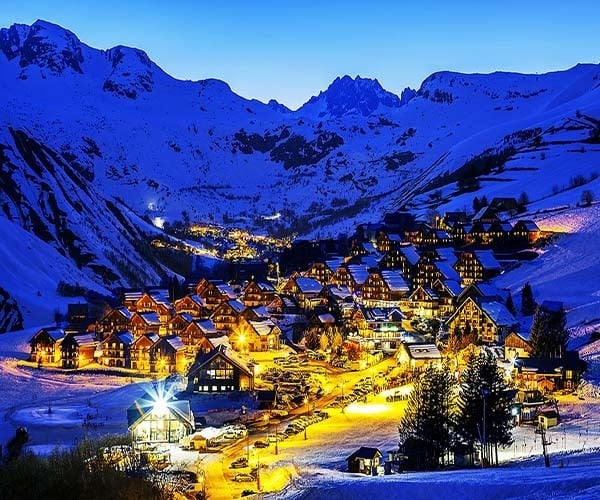 Courchevel 1850 has 11 luxury hotels with a 5-star ranking. In 2011 France introduced a very prestigious 6th star ranking for hotels, named "palaces". The palace 6th star ranking is only awarded to the most prestigious, exclusive and luxurious hotels in France. No more than eight hotels in France have received this rating. Two of those eight hotels are in the Courchevel tree-lined Jardin Alpin area. No other ski resorts in France have hotels with the palace ranking.
Sometimes referred to as the St. Tropez of winter sports resorts, it attracts a select clientele of VIPs, wealthy people and royal families, including Prince William and Kate Middleton, the Beckhams, Christina Aguilera, Geri Halliwell, Lionel Richie, the Saudi royal family, Peter Andre, Robbie Williams, Roman Abramovich, George Clooney, Giorgio Armani, the King of Morocco, a veritable who's who, taking the art of people watching to a whole new level and a rubber-necker's paradise.
The current status of 1850 is almost certainly down to the massive cash injection provided by wealthy Russians who have taken a shine to Courchevel and made it a home from home and as a result have driven prices of residential and commercial properties to dizzying heights. The wealthy Russian elite flock to the resort during New Year and Russian Orthodox Christmas which is celebrated on 7th January. As a result, the first two weeks of January are high season weeks in Courchevel. So unless you have very deep pockets it's probably wise to look elsewhere during these two weeks.
Courchevel is located in the Les Trois Vallées ski domain in the Tarentaise region where you'll find the biggest concentration of world-class ski resorts in the world. With access to neighbouring systems Paradiski (Les Arcs & La Plagne) and Espace Killy (Val d'Isere & Tignes), a weekly lift pass in Courchevel gives you the choice to ski one day in each of the other two systems mentioned providing you with an almost endless supply of piste options.
St Moritz, Switzerland
The origins of this very attractive and wealthy winter resort dates back 154 years ago to September 1864, when St. Moritz hotel pioneer Caspar Badrutt made a wager with four British summer guests. Summer in the Alps was popular back then for wealthy Europeans who could afford to travel, long before Easy Jet et al made the world easily accessible and affordable for all.  He wanted to establish winter tourism for entirely selfish reasons as his hotel was deserted in the winter months. He urged his four guests to return in winter and in the event that the village was not to their liking, he would reimburse their travel costs. If they were to find St Moritz attractive in winter, he would let them stay as his guests for as long as they wished. This marked not only the start of winter tourism in St Moritz but the start of winter tourism in the Alps. The first tourist office in Switzerland was established the same year in the village. Caspar certainly had vision. It wasn't really a hard sell, St Moritz has a lot going for it. Like Zermatt with the Matterhorn, St Moritz was also favoured with a calling card, its situated lakeside with stunning scenery.
Very soon St Moritz became the place to see and be seen. The aristocracy and the well-to-do flocked here in numbers and lent St Moritz a glitzy aura. The word spread and St Moritz was soon on the map as a premier winter destination. In the late 50' and 60's, when the jet age arrived, St Moritz attracted a fresh influx of visitors who were rich and famous. St Moritz reinvented itself as a cool winter haven for the jet set. There are well established hotels here that are redolent of those early days. They lend the village an old world feel.
St. Moritz hosted the 1928 Winter Olympics, the stadium still stands today, and again in 1948. It has hosted over 20 FIBT world Championships, three FIS World Ski Championships and over 40 Engadin Ski Marathons since 1969. It has also hosted many other events since, including some unlikely ones on the frozen lake in the 1970s and 1980s such as a golf tournament. It has hosted a polo tournament every year in February since 1985 and believe it or not a cricket tournament in 1989. St Moritz has also been the venue for many Sailing and Windsurfing World Championships.
Zermatt, Switzerland
I can't deny it, I'm biased. I've lived in Zermatt for nearly a decade and I've grown to love the place. For me Zermatt is the perfect ski resort. It has everything, not least the chance to ski all year round. Zermatt is populated by some of the most luxurious and exclusive ski chalets in the Alps, arguably the world. Zermatt is a wealthy resort and the prices can be eye watering but you'll find accommodation here to suit most budgets.
Edward Whymper put Zermatt well and truly on the map when he came here in 1865 to have a crack at the Matterhorn and became the first person reach the summit. It was an ill fated mission, four members of the expedition perished in the attempt. The news of the expedition piqued the interest of the world and a steady stream of visitors started to arrive to gaze in awe at the mighty Matterhorn. Since then Zermatt has gone from strength to strength to become Switzerland's premier ski resort.
Zermatt is a very pretty village. Its growth is naturally curtailed by it location at the head of a valley. Surrounded on three sides by mountains as it is, its expansion is restricted, which helps to maintain the village feel and maintain its unique character. There's a tranquil feel about the place, its car free, the sound of footfall and birdsong creates a calm ambience which is refreshing.
The apres ski here is lively and there are some wonderful mountain restaurants for you to sample and fuel up for the second half of your day on the piste. Meanwhile in the pretty heart of the village itself there are a wide range of restaurants catering for all budgets and tastes.
Val d'Isere, France
Val D'Isere is situated within the Tarantaise Valley where you will find the highest concentration of world-class ski resorts in the world.  Along with nearby Tignes the area forms part of the L'Espace Killy, the self-titled "Most Beautiful Ski Area in the World"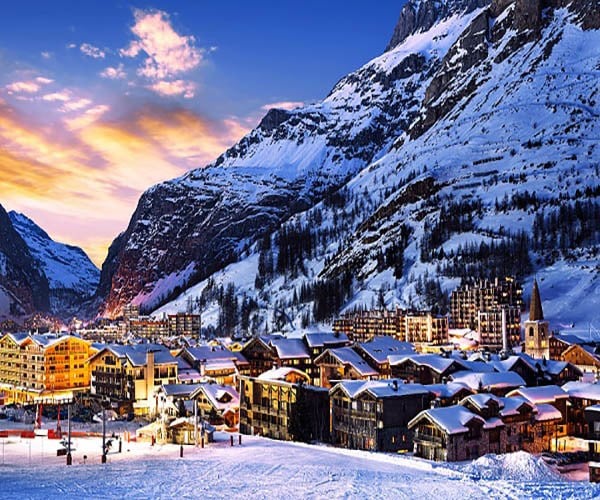 Neighbouring systems are the Paradiski and Les Trois Vallees. A weekly lift ticket in Val d'Isère gives you the choice to ski one day in each of the other two domains mentioned. There were once plans to interlink all three systems and resorts to create what would have been by far the largest ski area in the world. However that vision was ended with the creation of the Vanoise National Park. No worries though, they may not be linked but you still have an almost unlimited amount of choice.
The story of the current Val'dIsere began in 1888 with the opening of the first hotel. From 1930 onwards, skiing became popular and Val d'Isère was immediately the destination of choice. The post-war period marked the advent of winter sports and Val d'Isère became an internationally renowned resort thanks to its unique ski area and the authentic charm of its village. Val d'Isere is a very popular resort and boasts some wonderfully exclusive and luxurious chalets. You can ski all year round here and there are plenty of options to suit all levels of ability. I still remember fondly being tucked up on the sofa and watching David Vine present Ski Sunday from Val d'Isere and other exotic sounding resorts. My first taste of skiing, albeit second hand. I would never have guessed back then that I would become very familiar and grow to love the resorts outlined in this blog.
Verbier, Switzerland
Another Swiss resort and a worthy opponent for Zermatt for the crown of best Swiss resort. As much as I like Verbier, in my humble opinion Zermatt wins hands down. Verbier is recognised as one of the premiere off-piste ski resorts in the world. Some areas are covered with snow all year. Pro skiers have settled in the Verbier area in order to take advantage of the steep slopes, varied conditions, and resort culture. Verbier is a very cosmopolitan resort attracting visitors from all corners of the globe, can a globe have corners? It caters to British customers but also receives many visitors from Germany, Norway, Sweden, the Netherlands, Italy, Belgium, France, Austria, the USA and South Africa. There is a vibrant community of photographers and artists in Verbier, most born out of winter sports action photography.
Along with the previously featured resorts in this blog Verbier is also a very wealthy resort with some very expensive and exclusive real estate and some fabulous luxury chalets. Verbier is a popular holiday destination for celebrities and royalty, The Duke and Duchess of Cambridge, Prince Harry, Sarah and the Duchess of York who owns a Chalet there. James Blunt, Diana Ross and Lawrence Dallaglio are often seen in resort and Richard Branson owns and rents out a high end chalet to people with deep pockets. The Crown Prince and Crown Princess of Denmark, the Swedish Royal Family and the Belgian Royal family holiday here also.
You can bet with such a ski culture that Apres ski is well catered for and you'd be correct. The apres ski here is legendary. Verbier's après is concentrated in a relatively small number of venues, and all the more exuberant for it. Most of those off the mountain lie within a short stagger of Place Centrale, in the centre of the resort.
Danny Frith is Director at SkiBoutique. SkiBoutique is a luxury ski chalet agency based in Switzerland.
If you would like to be a guest blogger on A Luxury Travel Blog in order to raise your profile, please contact us.