Top 5 reasons to book a luxury ski chalet
For some, booking a hotel when they go on vacation is the only option that crosses their minds. Force of habit often means that some do what they've always done when they've gone away. So, The Hotel Splendide it is. Don't get me wrong, staying in 5 star hotels is an indulgence and often a very satisfying experience. But it's worth considering a luxury ski chalet, many do and wouldn't ever go back to the hotel experience. Here are five compelling reasons why you should choose to book a luxury ski chalet.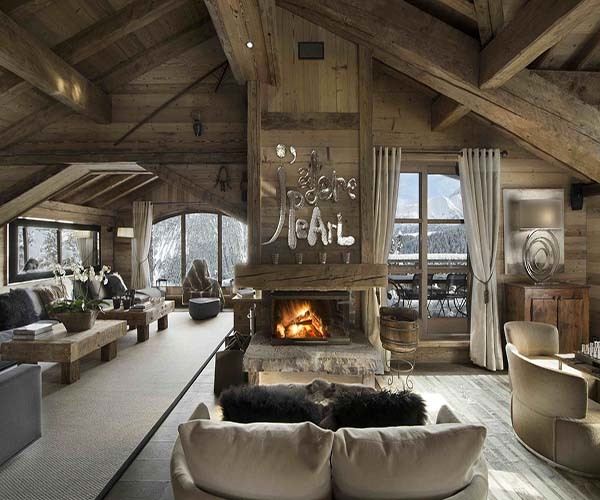 Your own private space
A luxury chalet is a home from home and often more luxurious, with more facilities on offer than the best of hotels. Unless you're lucky enough to be able to afford to stay in a suite space is at a premium in a hotel. Ok, you get the use of the restaurant, the bar, the lounge or the gym but if you want to hang with your friends and family you're going to have to do it in a shared space. In a chalet all the space is exclusive to your party. Feel like slobbing on the sofa, feel free, feel like wandering around in your PJ's and a dressing gown, no problem. There's a freedom to be enjoyed in a private luxury chalet that you just can't replicate in a hotel. Gathering around a roaring log fire in the evening, with your friends and family after a great day on the slopes is an extra special treat. Gazing into the flames and reliving the day's excitement in you own private space is a lovely experience to be savoured.
Mealtimes
The hearty breakfast in the morning, prepared by your own private chef, is a great way to start the day. It doesn't matter if you roll up to the table a little late. Had a heavy night and fancy an extra hour in bed? no problem. You call the shots here, there's no set regimen to adhere to. If you fancy something different just ask, it's usually no problem to go off piste menu wise. Give the PA a shout before you even leave your home and any special requirements or ingredients can be sourced and available for your stay. Late afternoon when you arrive in your chalet straight from the piste, a little fatigued, the chef will have laid on delicious cakes along with tea and coffee, to take the edge off your hunger. A highlight of the day for me is when the dining area is set up for the evening meal. The candles are lit, the logs are crackling in the hearth and the fire is giving off a relaxing heat, the table is set and the ambience is just right. It's an intimate occasion. Your nearest and dearest are showered and ready for the evening meal. Your talented chef will be preparing a taste sensation while the host serves you canapés. You're in your own space, with your own crowd and it beats the hotel restaurant experience hands down.
Facilities
Many luxury ski chalets have great facilities to match the best hotels. Not all chalets boast a private indoor pool but many do. Your kids can splash around without fear of upsetting other guests and you have the pool all to yourselves, for the duration of your stay. Fancy a solid workout? Many luxury chalets have gyms with state of the art equipment. There are games rooms with pool tables, table tennis and many electronic games to keep all ages occupied. Organise your own tournaments on the football table or how about a night in at the movies. A dedicated home cinema is available in the majority of luxury ski chalets. All the equipment is exclusively available, all day and all night. No need to join a queue for a game, it's all yours to use whenever you like. How about your own outdoor hot tub too, indulge yourself and wallow in splendour as you take in the terrific scenery. Most luxury ski chalets also have fabulous spa facilities as standard. You could go stir crazy cooped up in a hotel for a week but in a spacious luxury chalet with a games room an indoor pool, maybe even a library,the sauna, not to mention the cosy sofas in the lounge where you can listen to music on the Sonos system, you're likely to be tempted to stay indoors some days.
Your own chauffeur
Imagine having transport and your own driver at your disposal. You want to drop the kids off at ski school before you take to the pistes? or pick them up from creche? not a problem. You're quite fatigued from the days activities, you'd love to go into town and hit the bars but you don't feel like walking. Call the chauffeur, he'll drop you off and probably pick you up too, within reason, the poor driver has to sleep. Many luxury ski chalets include a chauffeur as part of the dedicated team of professionals that intend to spoil you rotten while you're in resort.
Room configuration
This is especially important if you have young children in your party. You don't want to be too far away from their rooms, in many cases interjoining rooms are possible. In a hotel the children would probably get a standard room. In many luxury chalets they get exciting rooms especially decorated with children in mind. Their own little dens in which to to play make believe. In a luxury chalet you're not so far away from the kids when they've turned in for the night, you have peace of mind.
Danny Frith is Director at SkiBoutique. SkiBoutique is a luxury ski chalet agency based in Switzerland.
If you would like to be a guest blogger on A Luxury Travel Blog in order to raise your profile, please contact us.
Did you enjoy this article?
Receive similar content direct to your inbox.