By
Tim Swannie
on Mar 21, 2018 in
Accommodation
,
Air Travel
,
Cruises & Boat Travel
,
Europe
,
Food and Drink
,
France
,
Going Out
,
Hotels
,
Real Estate
,
Regions
,
Restaurants
,
Speciality Travel
,
Travel Miscellany
,
Western Europe
From the chic beaches in Cannes to the glamorous jet-set fishing village of Saint Tropez, the French Riviera is home to some of the most popular holiday resorts in the world. With a particularly magical ambiance that cannot be matched anywhere else in the world, 11 million visitors flock to the Côte d'Azur each year. But what are some of the most luxurious things to do in one of the most fashionable hot spots in the world? If you are looking for some high-end escapades, here's a list to work your way through.
1. Dine out at show-stopping restaurants
All along the glorious Riviera coastline, and even in the towns and villages nestled further inland, international chefs are conjuring up mouth-watering treats that will impress at every bite. Some notable evening choices include dining out at La Vague d'Or in Saint-Tropez, where you will witness chef Arnaud Donckele – the youngest chef ever to be awarded three Michelin stars – work his magic on what will likely be one of the most memorable dining experiences of your life.
The fusion of colours and flavours of the region are prepared and presented like works of art to every guest. The menu offers five options – from "balade epicurienne" in "seven acts", to "stroll through the gardens" in "five acts". It sounds theatrical and the result is an absolute show stopper.
If "tasting South Africa" appeals then reserve a table at Jan Hendrik van der Westhuizen's Michelin-star restaurant Jan. Uniquely combining the diverse flavours and tastes of South Africa, you will savour a one-off eight-course menu paired with the most irresistible South African wines.
2. Travel by private helicopter
Whether you've got lots of property viewings to fit in, a tight holiday schedule or you just want to travel stylishly around the French Riviera, booking a private helicopter will offer you privacy, security and a speedy ride between destinations.
Travelling by helicopter is the perfect way to view the coastline and explore different parts of the Riviera in a fraction of the time. Want to pop to Saint-Tropez and avoid the busy summer roads? It takes 15 minutes from Cannes to fly there by helicopter.
Going further afield to Marseille is a quick 45-minute journey – and Nice feels like it's just around the corner at only ten minutes away. There are variety of companies offering all kinds of exclusive packages and deals, it's just a case of finding the right one for you.
3. Invest in a luxurious home from home
There are so many coveted locations along the French Riviera, from Cap d'Antibes to Saint-Tropez, Nice and Cannes, but where is the best place for an investment?
Buying a property in the safe-haven location of Cannes is always good bet – especially now with prices due to increase throughout 2018. As well as providing the ultimate luxurious lifestyle it is also a commercial hub hosting many industry-leading events, which means that rental yields can be high all year round.
From the glamorous International Cannes Film Festival, to Cannes Lions and the most highly-rated events in TV, film and real estate, people come to Cannes needing accommodation almost every month of the year.
Outside of the centre, there are certain areas of Cannes which are always in demand, such as the "Hollywood-esque" hills of La Californie, which is one of the most exclusive places to own property in Cannes.
4. Sail into the most exclusive waters
How do you fancy a morning cruise to Porquerolles' idyllic Notre-Dame beach? Once voted most beautiful beach in Europe, it's the ideal place to relax and swim in warm turquoise waters, before a gastronomic lunch on board prepared by your personal chef.
Chartering a yacht gives you the ultimate freedom to explore the Riviera coastline in the most luxurious way. Whether for an event or a glamorous voyage companies, such as Saint Tropez Yacht Charter and Yacht Charter Fleet, can advise you on the best yacht for your needs.
One of the best places to visit by yacht in the Cannes area is the Îles de Lérins. These are four beautiful islands, just off the coast of Cannes, with the largest being Île Sainte-Marguerite. It's a stunning place to explore if you have the time, with some notable museums and landmarks.
Don't miss sunset cocktails at PortCros. A must-go location that is only reachable by boat, it offers one of the best and most exclusive diving experiences in France.
5. Make waves fine dining by the sea
In Cannes there are restaurants dotted along the beach all the way up La Croisette and the view of the glimmering Mediterranean can also be fully enjoyed from many of the cafés, bars and restaurants along the promenade. But for the height of luxury dining beach-side in Cannes, try out one of the hotel beach restaurants, such as Zplage from the Martinez hotel.
With beautifully-laid tables just set back from the water's edge, this is an extraordinary setting overlooking the sea and the Estérel mountains. What's more, if you dine here on a summer's night it becomes one of Cannes' hottest party locations, where DJs play the latest tunes and you can savour the local cuisine over live shows and fireworks.
6. Have a corking time on a VIP wine tour
There is such a variety of companies across the Riviera and neighbouring Provence who can take you on unforgettable luxury wine tours. Some will whisk you around in a day by helicopter to the most coveted domaines, others will organise a week-long extravaganza of winery dinners, exclusive tastings and reserve the most luxurious hotels for your nightly accommodation.
Whether you've always dreamed of trying the salmon-hued rosé at Domaine La Tourraque, Château Simone's aromatic red or a meaty Château de Chausse you can find a service to ensure you experience all your wish-list wineries.
7. Glam it up at the Hotel du Cap-Eden-Roc
One hotel always guaranteed to be hosting Hollywood royalty during the Cannes Film Festival is the chic and glamorous Hotel du Cap-Eden-Roc. From Marlene Dietrich to Madonna and Angelina Jolie – who like to stay in the villas for €10,000 per night – this hotel has been desired by the stars since it first opened its doors.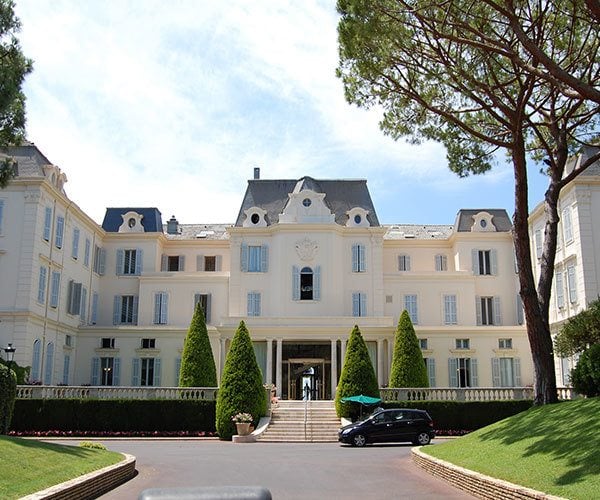 A peek at the hotel's guestbook reveals that some of the most famous and celebrated stars have sipped on the hotel's emblematic cocktail Le Bellini (fresh peaches and champagne) and dined al fresco in the paradise that is the Eden-hoc restaurant, which overlooks the Lérins Islands.
Tim Swannie is the Director of Home Hunts. Home Hunts is a luxury property buyer's agent based in France, helping international clients to buy luxury homes throughout France, Monaco, London and New York.
If you would like to be a guest blogger on A Luxury Travel Blog in order to raise your profile, please contact us.