By
Rose Hipwood
on Mar 21, 2018 in
Accommodation
,
Adventure Travel
,
Africa
,
Camping
,
Namibia
,
Regions
,
Resorts
,
South Africa
,
Speciality Travel
,
Zambia
,
Zimbabwe
As with any hotel industry the safari world often sees camps being completely renovated during the low season – this is exciting for everyone involved as old favourites take on new leases of life and provide even more reason for old guests and new to head in their direction. The luxury safari world's commitment to conservation is often reflected in the renovations as the materials are sustainably sourced, and often very in keeping with the camp or lodges own surroundings, so making the guest feel totally immersed in the wilderness. Here are our five most exciting luxury safari camp / lodge renovations in 2018:
Sausage Tree Camp, Lower Zambezi, Zambia
Sausage Tree is set in a wild location in the Lower Zambezi National Park in Zambia and offers a paradise of Zambezi River views, and forest behind, a true haven for elephants and all other game species. This small and intimate lodge/tented camp is having a complete overhaul of it's suites, each and every one will now have a private pool, something you may find you often share with the local eles. Sausage Tree has a fantastic reputation when it comes to guides and that side of things won't change – this camps renovations are sure to see it at the top of the Zambian safari industry for many more years.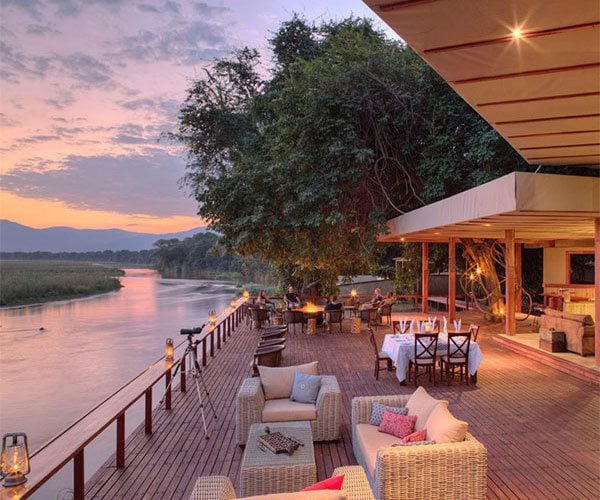 Singita Sweni, Kruger, South Africa
The Singita properties are famously chic and modern in design, as well as always being in keeping with their local surroundings – they employ a host of sustainability conscious interior designers and architects to ensure anything they do build is not only eco friendly but has a minimum impact on the environment. The newly done Sweni is beautiful, seamless and modern, while feeling comfortable, warm and inviting at the same time. A true feat of interior design magic.
Verney's Camp, Hwange, Zimbabwe
The Machaba Safaris team have three intimate tented camps in Botswana's Okavango – all three camps offer unparalleled game viewing, as well as a very relaxed home from home atmosphere and Verney's Camp is set to be the same with large tents built on luxurious decking, and cosy furnishings that will make you want to stay forever. The game viewing in Hwange is fantastic and we have no doubt the Machaba team will ensure they have only the best guides and staff to make your safari personal and special.
Singita Pamushana, Malilangwe, Zimbabwe
Perhaps one of the most famous African lodges in the world Singita have had to handle it's redesign with care since the famously African décor has been an attraction for many years. They have added two new two bedroom suites which means this often full lodge will have a little more space for other guests who quite rightly want to get to this amazing property. This area remains one of the most magical in Africa, with ancient rock art, vast vistas and successful conservation initiatives making a vast difference on the ground.
Serra Cafema, Namibia
Serra Cafema is one of the most remote camps in Africa – set in the far North of Namibia people have been taking the long journey to get there for many years due to it's unrivalled remoteness and stunning scenery. The refurb of this famous camp happening as we speak will bring the dated décor in line with the other camps of a similar standard, and so ensuring that this special area has a lodge to match it's splendour.
Rose Hipwood is Managing Director of The Luxury Safari Company. The Luxury Safari Company specialises in tailor made private safaris across Africa, into the most remote and unexplored areas of the continent without compromising on luxury or logistics.
If you would like to be a guest blogger on A Luxury Travel Blog in order to raise your profile, please contact us.