5 best snorkeling sites in Galapagos
Underwater Galapagos offers even greater wildlife viewing than on land.   The Galapagos Marine Reserve is among the largest in the world, covering an area equivalent to the size of Greece.  In 2001, the Galapagos World Heritage site, formerly applied only to the land portion of the archipelago, was expanded to include the newly created reserve.  There's good reason for it.  Fishing is allowed only for the locals, and only artisanal fishing practices permitted.   Large international tuna fleets are kept away, prowling just beyond the boundaries of the marine reserve, 40 miles / 65 kilometres beyond the nearest point of land.   As a result, there are fewer such pristine ocean waters in the world anymore.   It's well worth honing your snorkeling skills before you embark on your Galapagos vacation of a lifetime to ensure you get the most out of your experience. We asked 12 Galapagos naturalist guides with a combined 231 years of guiding experience to rate all of the snorkeling sites accessible to visitors (39 in all).   They were asked to rate them from 0 – 100, with 100 being the best.    Here's what they came up with: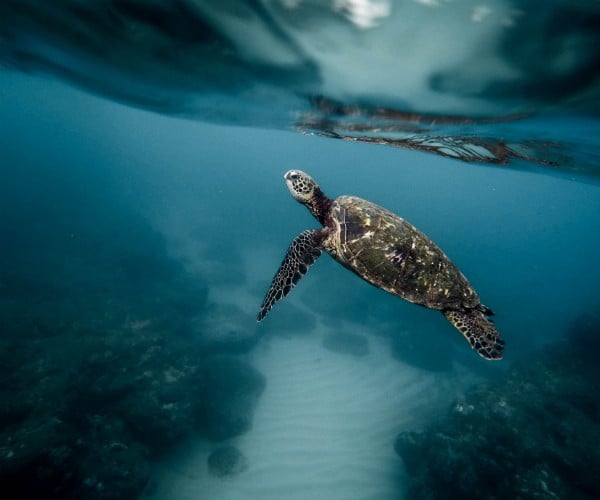 Champion Islet
  Score:  96% This small island is located just offshore to Floreana Island, in the southern part of the archipelago.  Floreana is itself is home to the smallest human settlement in Galapagos, with a population of barely 100 people. The snorkeling around Champion is rated the best by naturalist guides.  Sea lions, sea tortoises, white tipped reef sharks, sea horses – and if you're lucky, dolphins, hammerheads, moray eels, giant mantas can be spotted here.
Punta Mejia / Marchena Island
  Score:  94% This most rarely visited snorkeling site is on the northern fringe of the main island group – it's one of the best in the archipelago. The calm and clear deep blue water of the north west coast, and the rugged topography of the location give the sensation of witnessing the beginning of our planet and its underwater world. Apart from great fish diversity, snorkelers often see rays, reef sharks and sea turtles, and occasional some marine mammals such as false killer whales.
Devil's Crown / Floreana Island
  Score:  91% This volcanic crater is a perfect environment for coral, which attracts other marine life; making this one of the best snorkeling sites in the Galápagos. You may see sea lions, sharks, rays, tropical fish, eels and sea turtles or spot a blue-footed booby as it dives in the water to catch fish. The outside of the crown is a haven for birds including boobies, pelicans, frigatebirds, and red-billed tropicbirds.
Punta Vicente Roca / Isabela Island
  Score:  90% Located on the western shores, the waters here are cooler and nutrient rich.  Mantas, stingrays, sea turtles, marine iguanas and sea lions are not uncommon.  You might be lucky to spot a passing whale shark (between June and November).   Another delight is the very large ocean sunfish, or mola mola.   Penguins are also common.  Above the water line blue-footed and Nazca boobies perch along the sheer walls, while flightless cormorants inhabit the shoreline.
North Seymour Island
  Score:  86% The only one of the top 5 snorkeling sites accessible to land-based visitors – a day trip is required to get here.   Located just north of Baltra island, the former WW II U.S. airbase on which the main Galapagos airport is located. White tipped reef sharks (harmless) are common, along with a variety of other tropical fish such as the king angelfish, rays, parrotfish and playful sealions. Galapagos waters are at their warmest from January to May, and at their coolest from August to November.  Those used to swimming in cool waters might do without a wetsuit any time of year, but generally, at least a shorty is appreciated from June to December, and most should be able to do without a wetsuit altogether between February and April.
Marc Patry is Co-owner of Cultural & Natural Heritage (CNH) Tours. CNH Tours provides an unmatched personalized service in helping people organize a Galapagos holiday best suited to their particular interests.
If you would like to be a guest blogger on A Luxury Travel Blog in order to raise your profile, please contact us.
Did you enjoy this article?
Receive similar content direct to your inbox.