Don't worry about lions, hippos, rhino and scorpions. This is one National Park where you can clamber down from the bakkie and explore independently, giving you're the opportunity to bike and hike amongst the 54,000 hectares of this diverse National Park that borders Namibia. Augrabies is 800 km from both Capetown and Johannesburg. More conveniently Augrabies is just a 120km drive from Upington Airport: giving easy access to South Africa's beautiful outdoor playground.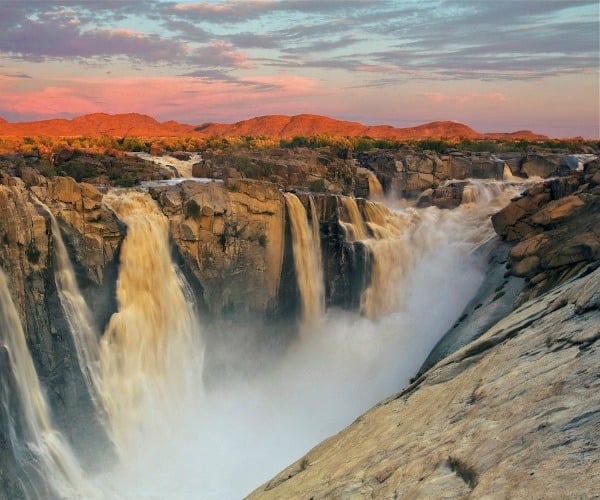 Augrabies Fall is the world's sixth largest waterfall. The sound of water crashing down 56 metres into the granite Orange River Gorge inspired the bushman to call it "Augrabies" – the place of great noise. Broad boardwalks provide easy access. Catch the Falls in daylight, hopefully with a rainbow, and then again between 20.00 and 22.00 in the evening when they are spectacularly lit.
Close to the Falls it's a rocky lunar-like landscape, suggested by the naming of the Moon Rock viewing point. Very, very occasionally there are alluvial diamond deposits. But, as the National Park's slogan goes, Augrabies is much more than just a waterfall. This is the heart of the Green Kalahari, a verdant fertile ribbon running through the middle of an arid semi-desert terrain.
Starting with a sunset game drive, an experienced Park Ranger orientates visitors, and sets the scene for individual exploration. He will sum up thousands of years of the indigenous people's hunter-gatherer existence. Having wounded an animal with a poisoned arrow, fired from a. bow whose string was often the tendon of a Springbok, the hunters would eat the appetite-depressing Hoodia plant, so that they could track the animal until it died, without having to the distraction of having to stop to eat.
You will learn that male giraffes can reach a height of 5 metres and need a 11kg heart and blood pressure of 280/140 to pump blood to their brain. The ranger will also point out graves of the indigenous tribes people, simply topped by a cairn of stones.
Then pick up a map from reception and choose one of the well-signposted hikes beginning with the gentle Gorge Trail at 2km and the Ebony Trail at 2.8km. Serious walkers will need to book in advance if they plan to take on the three day / two night 35.8km Klipspringer Trail. Cyclists love Augrabies' freedom too.
Augrabies wildlife is thriving. Every three years the rangers take a census attempting to count the giraffes, hartebeest, eland and jackals. Hemsbok numbers are on the up but there are more Springbok than this dry landscape can support, so the rangers are planning a capture programme to relocate some of them.
"Leopard? They are elusive and nocturnal. My best guess is three, a male and two females," our guide told us.
Two species sometimes outstaying their welcome are baboons and monkeys, not only do they like to help themselves to visitors' BBQs, they are also guilty of a spot of shop-lifting from the Park's shop. Needless to say they take food rather than stuffed toy souvenirs.
Around the River Orange Gorge the park is luxuriously verdant. Between the Acacia and Quiver Trees, so named because bushmen made a Quiver for their arrows from soft-wood, head-high ferns and wild asparagus flourish. Move away from the Orange River and it's the sort of arid landscape that would prompt Clint Eastwood to make one last Spaghetti Western. Such diversity of terrain enables 195 species of birds to thrive within the park.
Augrabies is a place to relax, with a healthy outdoor lifestyle, for a few days. Comfortable, spacious and effectively air-conditioned chalets, have spectacular views from their patios – providing beds for 120. With 50 camp sites available too there are three swimming pools to cool off visitors. There's even a pool for day visitors to the park to cool off during sweltering summer.
Oranjekom Gorge Cottage, with two picture windows over-looking the Falls and the Gorge, a blissful 10km from the main camp, is a popular romantic honeymoon spot. Not surprisingly it is fully booked for many months ahead.
Augrabies is prime braii country for outdoor living, outdoor living South Africans. But the Quiver Tree restaurant, at the heart of the camp, gives guests a night-off from the BBQ. A Biltong soup or a Springbok Carpaccio for a starter are local specialities as are Kudo Pie or Butterfish for the main course. Overseas visitors find a weak Rand gives them great purchasing value, particularly on the local wines such as a Colombard or Pinotage.