By
Tim Swannie
on Apr 10, 2018 in
Attractions
,
Europe
,
Featured
,
France
,
Going Out
,
Leisure Travel
,
Regions
,
Restaurants
,
Speciality Travel
,
Western Europe
Paris' classic landmarks are undoubtedly worth a visit, but there are a number of unique, luxurious and lesser-known experiences to have here, too. We've put together a mix of the traditional and the more uncommon must-dos that Paris has to offer, all with an added splash of luxury, of course.
Eiffel Tower experiences
No matter how many times you've been to Paris, you may have never truly experienced the Eiffel Tower for all it has to offer. From exploring its architect's dwelling to dining in luxury, we urge you to go deeper into this recognizable landmark. (If this is your first time in Paris, there's no view of the Eiffel Tower that's better than from the Jardins Trocadéro, particularly after 9 p.m. when the lights come on.)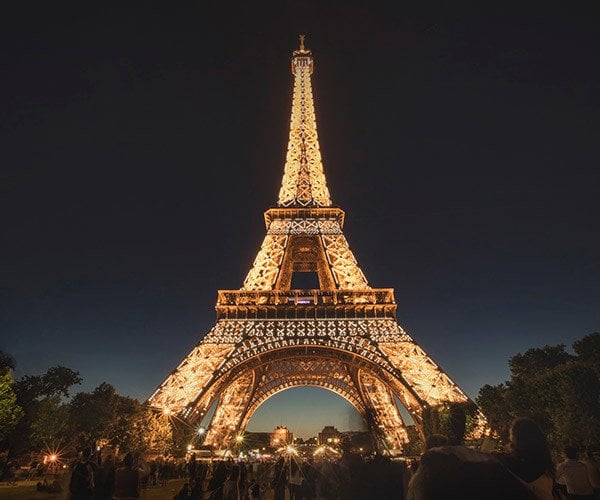 For a long time, the personal apartment of Gustave Eiffel, located on the third level, wasn't viewable to the public. Today, you can visit the tiny space, which still has some of the original furnishings from the architect, who used the space as a private retreat and a place to host his distinguished friends. Take note of the sculpture of Thomas Edison, Eiffel's colleague.
There are also a number of high-calibre restaurants in the Eiffel Tower, including Le Jules Verne on the second level, which serves traditional French cuisine in a modern setting. If you'd like something lighter, order a glass of bubbly at the Champagne Bar.
Premier shopping opportunities
Considered one of the world's main fashion capitals, it's no surprise that Paris is home to some of the most amazing shopping you'll find. Whether or not you're able to make it to Fashion Week, you'll love these style-centred offerings.
The Passages des Panorama, a covered walkway and Paris' original malls that were built in 1799, are today full of charming and intimate antique shops, bookstores, boutiques and cafes. For something different, go to the Théâtre des Variétés, where you can see comedies and concerts.
Paris is also home to numerous designer boutiques, including several flagships. The first-ever Dior boutique can be found on Avenue Montaigne, and there's a relatively new Louis Vuitton temple located on Place Vendôme. You can also see Chanel's original home on Rue Cambon.
World-famous landmarks
You've roamed the museums and flipped through guidebooks during group tours, but you've probably never seen these landmarks in true Parisian style. Whether it's your first time here or your tenth, these sites are always in vogue…especially the way we suggest you visit them.
If roaming the city by foot doesn't appeal to you, book a chauffeur for up to nine people to visit the Eiffel Tower, the Louvre, Notre-Dame Cathedral and Montmartre. You'll get a bit of a history lesson along the way, not to mention skip-the-line entry into the Eiffel Tower and the Louvre, which is worth the ticket alone.
As if seeing a number of the world's finest and most iconic artworks from world-renowned impressionists weren't enough, the Musée d'Orsay also has an on-premises restaurant where you can enjoy a top notch gourmet lunch.
Alternatively you can enjoy a VIP tour of the Château de Versailles to see the palace as kings used to. This tour includes access to rooms that are usually off-limits to the public, like Louis XVI's library and the Royal Quarters.
Evening and nighttime entertainment
Paris is not a city for those who want to tuck in and go to sleep soon after dinner. After a day of sightseeing or shopping, it's time to kick back with a cocktail at one of the city's many exciting or cultural (or both) nighttime activities.
The Cinéma des Cinéastes began as a cabaret (and was the inspiration for Edouard Manet's Chez Le Père Lathuille), and in 1973 was turned into the place for independent films and mini film festivals. As a nod to its cabaret roots, there's a pub here that starts serving food and drinks in the evening. While the theatre plays current movies, it also shows classics from time to time.
The breathtakingly large Belle Époque opera house Palais Garnier requires you to book well in advance if you'd like to see a ballet or opera there, and note that tickets go quickly. For an added adventure, book a behind-the-scenes tour of the building, which was once the setting for The Phantom of the Opera.
You could also opt to see the city from a new vantage point with a scenic sunset cruise along the Seine. If you book with Bateaux Mouches, your date night will include live piano and violin music during dinner. There are numerous tour companies in Paris that will take you along the Seine, and you're bound to pass monuments like the Grand Palais and Notre-Dame. We recommend finding a tour that utilizes a glass boat for the best views, and going at night when the city is lit up.
Finally, watch a show at the world famous Moulin Rouge from a private balcony while sipping champagne and enjoying macarons. If you're traveling with a large party, you can reserve a room that holds up to 24 people.
Rest and relaxation
While exciting and interesting, a trip to Paris can also be exhausting. We've put together a few ideas if you're ready for much-deserved R&R.
Ken Club, which you'll want to consider joining if you move to Paris, has a hammam, or you can take a class any day of the week at Tiger Yoga Club. Book a treatment at Institut Paloma, and then get a new look with a cut and color from David Mallett. Men can visit Bonhomme for head-to-toe barber services and skin treatments.
Whether you are a frequent visitor or you're looking to move to Paris, you'll be forever finding new things to do, see, eat, wear and explore. Take advantage of your next trip by indulging in the Parisian way of life at every opportunity.
Tim Swannie is the Director of Home Hunts. Home Hunts is a luxury property buyer's agent based in France, helping international clients to buy luxury homes throughout France, Monaco, London and New York.
If you would like to be a guest blogger on A Luxury Travel Blog in order to raise your profile, please contact us.