The beauty of Barcelona is that it's a perfect city to visit, no matter the time of year. Spring is a particularly great time to visit the Catalan capital, due to the endless celebrations, events and of course, the warmer weather! However, when the city overwhelms and you want to escape the hustle and bustle of La Rambla or the Sagrada Família, Barcelona boasts plenty of beautiful surrounding areas that make for the perfect day trip.
Sitges
Just a 40-minute train ride from Barcelona Sants station, Sitges is a coastal town characterised by its four kilometres of beach and delightful sea-front promenade. Sheltered by the Garraf Massif mountain range, Sitges boasts a warm climate, beautiful architecture and a grand harbour, not to forget plenty of restaurants and bars that serve tasty Spanish and Catalan dishes as you relax and take in the views of the Mediterranean.
Additionally, the trendy town is known for its many events including its annual film festival and crazy 'carnaval' celebrations, as well as its vivid gay scene. Due to its close proximity to Barcelona, Sitges makes the perfect destination for a day trip or short getaway!
Tarragona & Salou
If more beautiful coastline is on the agenda for your day trip, then look no further than Tarragona. Nestled on the Costa Dorada (Golden Coast), amongst seaside towns such as Cambrils and Calafell, Tarragona boasts kilometre upon kilometre of golden sand, fringed by palm trees and rocky coves. The 'Mediterranean Balcony' is the perfect spot to overlook Tarragona's beaches without getting sand between your toes.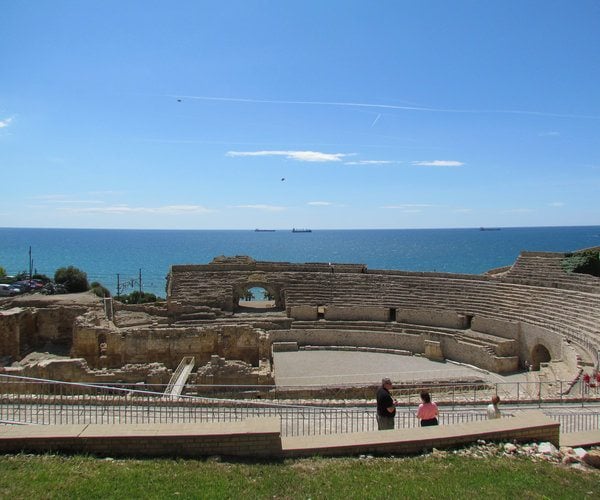 Once an ancient Roman city, Tarragona still maintains plenty of its history. The now Catalan city is famous for its Roman ruins, including the grand amphitheatre (L'Amfiteatre de Tarragona) that sits by Tarragona's main beach, Platja del Miracle, and the Ferreres Aqueduct, also known as the Pont del Diable. Other historical sights in Tarragona include the Fortí de Sant Jordi, and the Catedral de Tarragona.
Just a few kilometres south of Tarragona is the popular holiday destination town of Salou. Take a stroll along the famous Avenida Jaume I or relax on one of the resorts many beaches as you enjoy the fresh Mediterranean air – you won't be disappointed! Salou is also home to Spain's largest amusement park, PortAventura, ideal for the adrenaline junkies amongst us! Both Tarragona and Salou can easily be reached by train from Barcelona Sants.
Montserrat
Located north of Barcelona, Montserrat is an incredibly beautiful mountainous area that makes for an interesting day out from the city. The main sight and attraction on the mountain is the Benedict Abbey of Santa María de Montserrat. This monastery attracts pilgrims from all over the world and is Catalonia's most important religious retreat. Alongside the monastery and basilica there are a selection of shops and eateries, two museums, and guided tour services.
What's more, if you're a fan of walking or hiking, there are many different trails leading you to great vantage points on the mountain, where you can see spectacular views of Barcelona. But don't worry; if you're looking for a more relaxing trip, there is something for everyone!
To get to Montserrat, you can easily take the train from Plaça d'Espanya to the bottom of the mountain. Once there, you can either jump on a cable car or take the Funicular train up to the top!
Girona
If you want to explore more of Catalonia, whilst not venturing too far from Barcelona, why not head further north of Catalonia's capital where you can unwind in the romantic 'Ciudad de los Cuatro Ríos' (City of the Four Rivers). Located between the Pyrenean Mountains and the Costa Brava, Girona is a small city bursting with character and charm with plenty of sights to explore, making it the perfect day trip from the Catalan capital.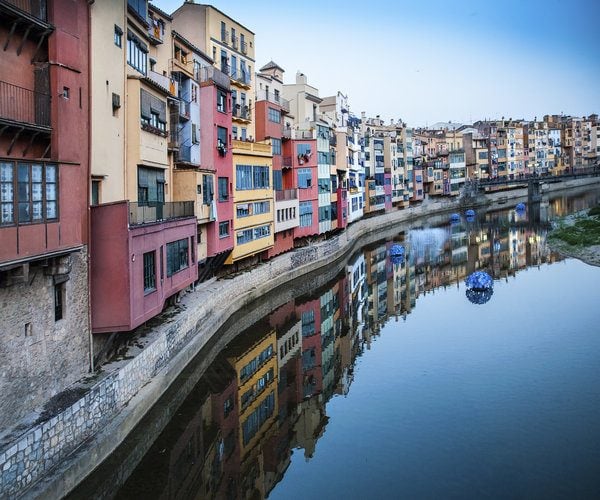 The Game of Thrones fans amongst us may already recognise Girona, as a few important scenes from the popular series were filmed here. Locations where the show was filmed in include the steps of Sant Marti, Els Banys Àrabs and La Catedral de Santa María.
Girona boasts plenty of picture-perfect spots, including the famous Roman walls and the colourful houses that line the River Onyar. What's more, getting to Girona from Barcelona is straightforward and stress-free. We would recommend taking the high speed AVE train from Barcelona-Sants station with a journey time of around 40 minutes each way.
So now you're clued up on Barcelona's surrounding day trip hotspots, jump on the train and get ready to explore Catalonia!
Sandra Roig is Marketing Director at AB Apartment Barcelona. AB Apartment Barcelona is an apartment rental agency offering over one thousand short and long term apartments across Barcelona.
If you would like to be a guest blogger onA Luxury Travel Blogin order to raise your profile, pleasecontact us.