Italy is often used as the setting for famous films precisely because it offers the most beautiful backdrop. Here's our favourite five film locations in Italy and the best films to watch if you fancy escaping to Italy from the comforts of your armchair. If you're planning a trip to Italy, then these viewing tips will definitely get you in the mood for your next holiday! They will bring to life the magic of Italy far better than any guidebook ever will. So sit back, relax and settle in to enjoy some of our favourite films set in Italy….
Italian Lakes
The Italian Lakes is home to numerous films from the James Bond franchise whose directors are obviously as bewitched by the beauty of the area as holidaymakers are. And who can blame them? The dramatic mountainous backdrop, crystal lake waters and spectacular villas and gardens make for an incredible film set. Most recently, Lake Como featured in Daniel Craig's first foray into the Bond franchise with scenes filmed at Villa Balbianello on Lake Como for Casino Royale in 2006 whilst Quantum of Solace then featured a car chase around Lake Garda in it's opening sequence. However, the lesser known lakes also feature heavily too. Remember that amazing opening sequence in GoldenEye when Pierce Brosnan dives off the dam? Well, that's at the Verzasca Dam at Lake Maggiore. Fancy re-enacting the scene yourself? Then companies now offer bungee jumping on the same site. But don't worry…. for those not quite that brave, then it's possible to walk across the dam.
Tuscany
We have lost count of how many times Tuscany has featured in film making over the years. Most recently, it was the location of the villa in 'Call Me by Your Name' when audiences were as swept away by the stunning Tuscan villages and rural setting as much as the romantic storyline. However, we fell in love with the region years before that after watching 'Room with a View'. Who can not be charmed by the glories of Florence as Helena Bonham Carter throws open those wooden hotel shutters?!! The films set in this central belt of Italy over the years are simply too numerous to mention but a couple of others that will certainly make you fall head over heels for the joys of Tuscany include 'The English Patient' and 'Under the Tuscan Sun'.
Amalfi Coast
Whilst some may assume that 'Under the Tuscan Sun' is set solely in Tuscany, you'll actually be pleased to hear that it also has scenes set on the Amalfi Coast. Frances Mayes strolls casually through the streets of Positano and along it's beach and the setting provides a stunning backdrop. But for those looking for more to whet their appetite, 'The Talented Mr Ripley' is probably a better starting point. What better location could there be for films such as 'The Talented Mr Ripley' than the Amalfi Coast? With dramatic cliffs dropping into turquoise seas, it's arguably one of Italy's most glamorous settings and certainly, an armchair viewing of this film can't fail but inspire you to explore this wonderful stretch of Italian coastline. However, do remember that the film is set back in the 1950s and it's important not to become too nostalgic… modern Italy has changed and modern visitors shouldn't expect it to be just like a film set – they will certainly find more tourists these days – but it's still incredibly breathtaking.
Puglia
The South of the country and Italy's heel has seen less action from filmmakers over the years but the 2014 film 'Walking on Sunshine' must surely be one of the best portrayals of the stunning scenery and landscape of Puglia. It certainly gives you a great insight into how wonderful it's beaches and coastline are. It's a real 'feel-good' film with an upbeat 1980s soundtrack. No doubt Italian tourist boards hoped that the film would do for Puglia what Mamma Mia did for the popularity of the Greek Islands. And there is no doubt that the popularity of the region is growing at a tremendous speed as more and more people discover Italy's best key secret!
Basilicata
The striking scenery of Basilicata in the South of the country served as the backdrop for Mel Gibson's Passion of Christ. Perhaps unlike any of the scenery filmgoers had previously seen, this opened up a new part of Italy to many that had perhaps never even heard of this region nestled in the South of the country. Because of it's architecture, Matera in Basilicata often serves as a biblical backdrop in epic films. Not only was in the backdrop for the crucifixion scene in 'The Passion of Christ' but the Jerusalem scenes for the 2016 re-make of Ben Hur were also filmed here. The town is now a World Heritage site and will be Europe's Capital of Culture in 2019 so there can be no better time to get off your armchairs and pay your own visit to this remarkable Italian destination.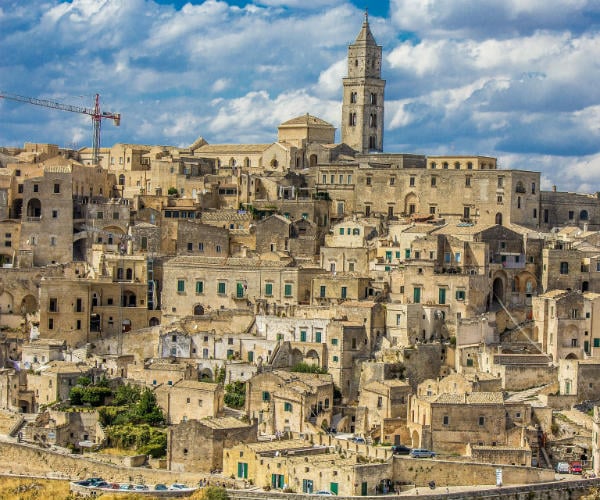 In the meantime, happy armchair viewing of la dolce vita in Italy!
Jo Mackay is Owner of Bookings For You. Bookings For You is a company offering apartment and villa rentals in Italy and France.
If you would like to be a guest blogger on A Luxury Travel Blog in order to raise your profile, please contact us.