By
Julian Carter-Manning
on Apr 11, 2018 in
Accommodation
,
Adventure Travel
,
Africa
,
Camping
,
Family Travel
,
Featured
,
Hotels
,
Leisure Travel
,
Regions
,
Speciality Travel
,
Tanzania
Many people feel nervous at the thought of going on safari with their kids, and many properties don't accept children below a certain age. However, taking your family on safari can be an amazing adventure, and it's all about making sure you choose the right places to stay – ones that can tailor the safari and really help your little ones get the most out of the experience! The following are 5 of Tanzania's best luxury safari properties for families, located in a range of parks and other areas throughout this magical country.
Chem Chem Safari Lodge
This lodge is located within the Burunge Wildlife Management Area, which consists of 20,000 hectares of private land that sits between the national parks of Tarangire and Lake Manyara. Complete with spa facilities, gym, and pool, Chem Chem has all the luxury you need. The property's family accommodation consists of one lodge suite with a children's annexe and two bathrooms. The pace here is wonderfully laidback, and what makes the lodge really special is the array of activities and cultural opportunities available. Children can interact with local Maasai warriors and learn their way of life, as well as building a fire, throwing a spear, and playing football with the local school. Bush walks and tracking are also popular here, as are game drives with picnic lunches in Tarangire and sundowners on the edge of Lake Manyara.
Singita Serengeti House
Perhaps the most luxurious private house in East Africa, Singita's Serengeti House boasts stunning views from the slopes of Sasakwa Hill and has a media room, tennis court, tented spa, and full gym. As the house is booked exclusively, your experience will be as tailor made as it can get, which is ideal when travelling as a family – and the property also offers a babysitting service… just in case! You don't have to worry about other guests, which means you can enjoy that blissful sense of freedom and relaxation, and all within a private reserve located just outside the Western Serengeti, getting you away from the crowds and providing access to some great resident wildlife.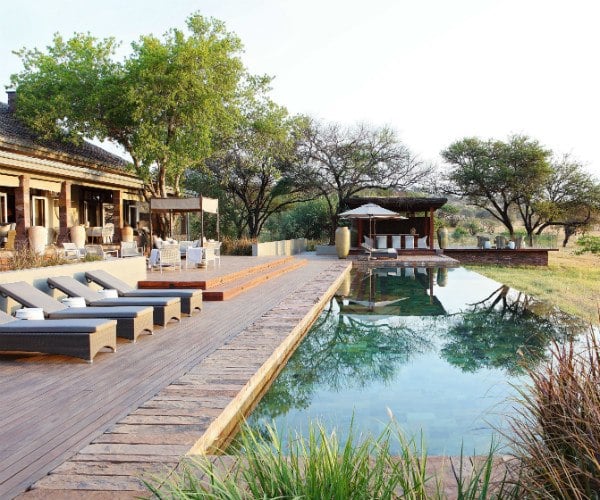 Nomad Mkombe's House
Situated in the far northern tip of the Serengeti National Park, Mkombe's House is another private house. It can accommodate up to four adults and six kids of any age, and its setting amongst rocky kopjes makes it feel all the more adventurous – and of course there is a pool! Between July and October, the Northern Serengeti sees the vast herds of the Great Migration arriving, so if you are here during those months you have chances to see an epic river crossing, with wildebeest, zebra, and gazelles travelling back and forth over the River Mara. If you want a really authentic and family-orientated experience that guarantees some of the best safari action, this is it.
Beho Beho, Bailey's Banda
This lodge is found in Southern Tanzania's Selous, which has an almost tropical atmosphere due to its abundance of water and location on the coastal plateau. The Selous offers a different experience from the famous northern parks due to its climate and offering of boat safaris, so it's an exceptionally good place to visit if you are looking for a contrast from the Serengeti, the Ngorongoro Crater, and so on. Beho Beho is another superb lodge for families! With a private villa and just two en-suite rooms, it offers the perfect hideaway for a small family with older children who simply want to have time to themselves whilst enjoying some of the best guiding in East Africa.
Jabali Private House
The fantastic yet lesser-known Ruaha is actually the largest national park in Tanzania and a favourite among guides, with many of the best safari experts making it their home. If you want to get away from the crowds while staying in a similar environment to the northern parks, this is where to go, and it is renowned for its concentrations of both elephants and big cats. Jabali Private House is a stunning, brand-new property in the Asilia portfolio and an excellent addition to the small number of camps in Ruaha. It has three bedrooms, accepts kids of all ages, and makes a brilliant base from which to explore the thrilling wilderness.
Julian Carter-Manning is a Co-founder and MD at Yellow Zebra Safaris. Yellow Zebra Safaris is an award-winning luxury and adventure travel company specialising in 'Safari Africa'.
If you would like to be a guest blogger on A Luxury Travel Blog in order to raise your profile, please contact us.