The level of luxury in hotels in Australia has risen markedly in recent years. The model for luxury in Australia often combines some of the country's stunning natural attractions with a high thread count on the sheets and amazing food and wine. All five of the hotels on this list are located in an area of stunning natural beauty. Luxury here comes with an enticing to do list of activities to allow guests to have an authentic experience with the natural surrounds of the area.
Capella Lodge, Lord Howe Island, New South Wales
Lord Howe Island is limited to 400 visitors per day to protect its stunning beauty and Unesco listed coral reef. The island is only 11km long and 2.8km wide with 75% of it permanently reserved as a rainforest and marine park.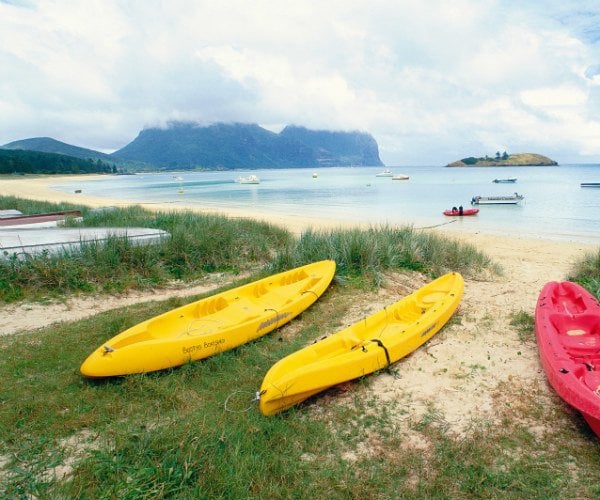 The seas around Lord Howe Island are well known for amazing seafood and you can spend on those seas fishing. Whatever you catch will be prepared for your dinner by the chef. Or if you would prefer a different type of fish experience go on an excursion where you will be able to hand fee fish. It is also possible to stay with a hands-on experience by going foraging for ingredients for your supper. 
The lodge consists of 9 contemporary suites with amazing views. If there is a larger group of you there are 2 lofts and 1 rather large pavilion. The lodge has its own award-winning hotel and there is also a small spa on site.
There are quite a few options available to offset all that food and wine. If you are after a big day out try hiking to the top of Mount Gower, the highest peak on the island at 875m. This 14 km walk takes about 8 hours. The hike is guided by sixth generation local Jack Shick.
Longitude 131, Alice Springs
Located in the spiritual and geographic heart of Australia, Longitude 131 is the place to stay when visiting Ayers Rock. It is most famous for its amazing outdoor dinners. Table 131 features locally sourced ingredients from the outback matched with brilliant Australian wines all under the stars. If you enjoy the local produce go out on a Bush Tucker tour where you may get to try local delicacies like witchetty grubs or the more appealing sounding bush tomatoes. 
Visitors to Ayers Rock are asked to respect the local indigenous community by not climbing the Rock. Longitude 131 offers a different kind of lunch by allowing guests to fly to the top of nearby Mount Connor and enjoy a gourmet lunch with a difference and outstanding views.
The resort consists of 16 tented pavilions that have all been designed to take advantage of stunning views of the outback, Ayers Rock and the amazing changing light in this part of the world. The pavilions are beautifully furnished with every mod con you could wish for.
Southern Ocean Lodge, Kangaroo Island, South Australia
The lovely Kangaroo Island is Australia's mini Galapagos. Located just off the coast of South Australia the island is full of local wildlife like seals and kangaroos and some stunning views. The design is modern with each of the 21 suites having amazing coastal views. 
Head out on a full day gastronomic tour of the island complete with visits to the local beehives and of course wine tastings. Once the sun drops you must experience the wonderfully named Kangas and Kanapes – the Aussie version of the safari sundowner! The lodge also offers master classes in cooking and a unique gourmet lunch in an old shearing shed. 
In addition to the many Kangaroos, it is also possible to visit a fur seal colony, see wallabies, take a night safari and experience some stunning walks. Finally, the lodge has its own spa where you can enjoy luxury treatments are a day exploring.
The Lakehouse, Daylesford, Victoria
Daylesford has relatively low awareness on the international front. However, it is very well known to residents of Melbourne and an extremely popular weekend away. This charming spa town was built around natural hot springs with the lovely Hepburn Springs spa in the next town. The Lakehouse has been the place to stay in Daylesford for many years. 
The Lakehouse Restaurant has been winning national awards for its food for years. The menu is seasonal and organic and many a wedding proposal has taken place at this amazing place. The Lakehouse runs cooking classes, foraging expeditions and mushroom, truffle and morel hunting in the autumn.
There are a number of room styles to choose from – studios to suites to a complete house. My favourites are the rooms which overlook the lake. The Lakehouse has its own spa or hop in the car and drive 15 minutes down the road to visit the Hepburn Bathhouse.
Daylesford is a lovely little town with more great restaurants, cute shops, art galleries and antiques. A highlight of the region for me is the stunning Lavendula Lavender Farm which is about a 20-minute drive from the Lakehouse. Check its seasonal hours before going but this is a stunning Instagram friendly farm with some fantastic lavender flavoured eating delights. 
Cape Lodge, Margaret River, Western Australia
Margaret River is a region in Western Australia about a 3-hour drive south of Perth. This stunning area is known for its amazing wines and also fantastic beaches. It is very Napa Valley-esque with lots of fantastic restaurants and some of Australia's best wineries.
Cape Lodge is actually a winery as well as a luxurious retreat. One of its neighbours is one of my favourite wineries, Vasse Felix. The lodge has 22 rooms as well as a stunning "residence" which consists of 5 bedrooms. In addition to producing some great Sauvignon Blanc and Shiraz Cape Lodge is foodie heaven. Its restaurant, Cape Lodge Restaurant, has won multiple awards and changes its menu daily to maximise seasonality.
Whilst at Cape Lodge you can go on a black truffle hunt, go for a private behind the scenes tour in the area including a visit to the brilliant Cape Mentelle or do a cooking class. Gourmet Weekends are held throughout the year with master classes and food and wine tastings galore.
There are also many activities to do in the Margaret River area. Between July and November, the annual whale migration takes place and there are regular whale watching trips. Burn some of those food and wine calories by going surfing, walking, horseback riding or cycling. There are some stunning caves to visit in the region and Cape Lodge has a treatment room in the Main Lodge.
These are just a few of the some of the many amazing food, wine and accommodation experiences on offer across Australia. Whichever part of this large country you are visiting, you can be sure of finding some unique food experiences and brilliant local wine.
Amanda OBrien is Owner of The Boutique Adventurer. The Boutique Adventurer focusses on luxury adventures in emerging destinations that end with a high thread count on the sheets in the evening.
If you would like to be a guest blogger on A Luxury Travel Blog in order to raise your profile, please contact us.