By
Paul Johnson
on May 01, 2018 in
Accommodation
,
Business Travel
,
Europe
,
Featured
,
Going Out
,
Hotels
,
Regions
,
Restaurants
,
Speciality Travel
,
United Kingdom
,
Western Europe
Tucked away towards the rear of St. James' Court, a Taj hotel, and only a short distance from Buckingham Palace, is the exclusive, five-star Taj 51 Buckingham Gate Suites and Residences. This luxurious, all-suite hotel was built at the turn of the 20th century and today consists of 86 luxury suites, ranging from one to nine bedrooms. On entering, you could be forgiven for not realising that you are in a Taj property as the Indian influences are very subtle and the feel of the establishment is more contemporary than post-colonial.
The welcome
I arrived very late at night but was warmly greeted by the gentleman on night duty. I had a very busy day the next day and just needed to print out some copies of a single page document ahead of a series of back-to-back meetings. He personally accompanied me to my room, quickly showed how things worked and said he would take care of printing the document for me.  The next morning I awoke to find they had been pushed under my door which meant I could enjoy breakfast at a more leisurely pace.
The room
On entering the suite I was greeted with a beautiful furnished living space adorned with a palette of bronze, brown and green, offset with the occasional splash of fuschia.
The day's newspaper, still and sparkling water, and a selection of magazines were all provided.
There was also a desk and a series of power points so that I could easily work and charge my various gadgets.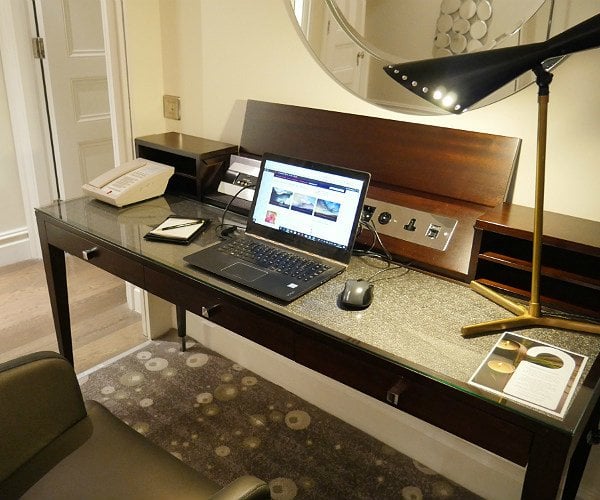 At the end of a short corridor was my bedroom, designed to a similar contemporary style.
The bathroom
Just off from the corridor was the bathroom, complete with a bath with a TV set within the tiles, twin basins and a separate shower.
Supplied amenities included the Taj's own-brand toiletries as well other useful items such as a shaving kit, toothbrush, etc. should you have forgotten to bring your own.
Dressing gowns were provided, too.
The facilities
The accommodation also had its own kitchen with oven, microwave, hob, fridge, kettle and Nespresso machine.
Despite having these facilities to hand, whilst staying at the hotel, I dined at Bistro which offers international cuisine along with some Indian favourites.
I had a mouth-watering seafood bouillabaisse served with garlic toast bruschetta of marinated tomatoes…
…followed by Kadhai Jingha – stir fried prawns and bell peppers in onion and tomato sauce, flavoured with 'mild' spices (although it had a fair 'kick' to it!) and served with paratha, which came with a side of mini poppadoms.
Additional dining options on site include Bank, Kona and the Michelin-starred Quilon Restaurant.
Breakfast was served at Kona – a small, intimate dining area on the ground floor of the hotel – with both continental and English breakfast options, as well as an eggs menu (with everything from the classic Eggs Benedict to interesting options such as a fluffy egg white omelette with Dorset crab and avocado, served on grilled asparagus and cherry tomatoes), and a number of 'sweet indulgences'.
Other nice touches
Chocolates were left on the pillow each evening and a plate of treats was left in my room when I was out one day.
There was also a bowl of fresh fruit on arrival.
Cost
One bedroom suites at the hotel typically start from around £300 per night when opting for an extended stay of 7 nights or more. The Presidential three-bedroom suite starts from around £2,200 whilst for the Jaguar or Cinema suites you are looking at closer to £3,200 per night.
Location
I was in London for business and the location was convenient for me for a series of all-day meetings held at the Queen Elizabeth II Centre, opposite Westminster Abbey and less than half a mile away.
Guests visiting as tourists will find the hotel is well situated for St. James's Park Underground station (4 min walk) on the Circle and District lines. Victoria station is also less than a mile away. Nearby tourist attractions include St. James' Park, Westminster Cathedral, Westminster Abbey, Big Ben and Buckingham Palace, to name just some.
The best bit
It is hard to choose a best bit when everything about my stay was so perfect, from the quality of the fixtures and fittings to the décor and attention to detail. But if I was to choose just one thing, it would probably be the quality of service – be it the attentiveness on my arrival, the staff at breakfast, the doorman recommending that I took one of the Taj umbrellas with me, or the waiting-on staff at Bistro, everyone was consistently charming and thoughtful – a detail that really sets a true luxury hotel apart.
The final verdict
Taj 51 Buckingham Gate Suites and Residences is at the forefront of luxury hotel accommodation in London, yet offers discreet, informal apartment living in a home-from-home environment. It's particularly well suited for anyone on a business trip or extended stay in the capital.