By
Alfonso Tandazo
on Jun 15, 2018 in
Attractions
,
Brazil
,
Colombia
,
Ecuador
,
Going Out
,
Leisure Travel
,
Peru
,
Regions
,
South America
,
Speciality Travel
,
Uruguay
Bathed by the waters of the Pacific and Atlantic Oceans, and by the Caribbean Sea, South America can boast — arguably — the most beautiful beaches in the world. From remote fishing villages whose charm lies in simple and magnetic nature, to sophisticated and modern resorts with luxury hotels and all kinds of water sports, this southern continent has it all.
The beaches of this continent are famous for their magnificent sunsets, for the variety of activities they offer, and for the cuisine that reveals exotic flavors such as Peruvian ceviche and the most delicious Uruguayan pasta.
Culture, cosmopolitanism, tradition, luxury, sports and natural beauty: each of the places we are proposing has its own combination of charm. In this short list, we have included sites that are well-known but not tourist-saturated. As such, so that you can safely enjoy them in tranquillity and peace. In these unique places, your next vacation as a family or as a couple will be the closest thing to a dream.
Here's our menu:
Playa de los Ingleses, Florianópolis, Brazil
In southern Brazil, there's a treasure that's difficult to hide. It's a beach that stretches almost three miles, with white sand, open sea, turquoise waters and few waves. It's one of the most popular resorts in the well-known Brazilian island-city of Florianopolis, which is visited mainly by Argentine, Uruguayan and Chilean tourists.
The pleasant temperature of the waters — about 74 degrees on average — guarantees a pleasant swim, and the tranquility of its seas makes for a safe experience.
Florianopolis' Playa de los Ingleses ("English Beach") owes its name to a vessel sailing under that flag that shipwrecked on these coasts in the 1700s. Today, this is one of the tourist complexes with the largest and most varied infrastructure on the island. A diversity of accommodation options range from luxury hotels to charming campsites and rental houses, while restaurants, cheerful bars, all kinds of shops (especially souvenir shops) welcome visitors on the streets off this beach.
Playa de los Ingleses is undoubtedly one of the most beautiful in Florianopolis, but, of course, it's not the only one. In this attractive Brazilian region, there are more than 42 beaches, each with its owns characteristics, with the great majority possessing solid tourism infrastructures and the services needed for a pleasant stay. Competing in beauty and amenities with the best beaches in the world, this coast is a mixture of natural charm, comfort, fun and cosmopolitanism. Many foreigners who came to visit have stayed to live in this picturesque and vibrant area.
In addition to the natural beauty of this and other area beaches, you can enjoy the human warmth of the people of the nearby fishing villages and larger cities, as well as the cultural richness of a lively region full of traditions, art and folk festivals.
Huanchaco, Peru
This coastal region of Peru — the first in Latin America recognized as a "World Surfing Reserve"— was the birthplace of world-famous "ceviche" (a tangy dish of fish and raw seafood).
These two bits of information should allow you to imagine the pleasures that a visitor can experience on Huanchaco's exotic beach, where sun, sea, surf, water sports, culture and delicious cuisine combine.
This beach is also famous for its "totora horses," a type of boat made from strong reeds woven together and interlaced to support great deals of weight. These vessels have served primarily for fishing for more than 3,000 years, when the early Mochica people devised them and began using these boats.
Silhouettes of these famous boats, considered by some as the forerunners to surf boards, create the postcard images that have made this Peruvian resort famous. For travelers, an unforgettable scene is created by fishermen pushing these traditional boats into the sea and fianally breaking through the waves. This is how they begin their daily tasks that later conclude with the unloading of all kinds of fish, which are then sold in local markets.
In this same area, there are plenty of hotels as well as a variety of restaurants serving splendid seafood dishes that, of course, include renowned Peruvian ceviche.
Tortuga Bay, Galapagos, Ecuador
Located on Santa Cruz Island, the second largest island of Ecuador's Galapagos archipelago, Tortuga Bay beach is an unexpected and almost overwhelming paradise.
The bay is divided into two inlets that have allowed the formation of two beaches. The first, known as "Playa Brava," is a striking white-sand beach that's perfect for sunbathing and surfing.
But even the charm of this first "stopover" beach doesn't fully prepare you for what awaits on the second stretch, known as "Gentle Beach." A curving path that cuts through a forested area and crosses a mangrove leads you to this concealed natural treasure. It opens before your eyes like a bright oasis where you can literally swim with the sharks (albeit benign Galapagos ones) and snorkel alongside enormous Green sea turtles. The beach is also shared by other exotic species such as marine iguanas, Sally Lightfoot crabs, flightless cormorants and playful sea lions.
As there are usually few people on this second beach, it has a pristine and calm aspect, ideal for enjoying the silence and the imposing natural beauty of this spot.
Discover this intense and unforgettable experience in the Galapagos Islands, one of the most important and fragile natural wonders of the planet.
San Andres, Colombia
They say that the sea surrounding the Colombian island of San Andres has up to seven colors. Blue, green, turquoise and even lilac … the waters of this island's bright sandy beaches are a feast for the senses.
This Colombian island, located in the southwest Caribbean, is the destination chosen by thousands of travelers every summer. The reasons: dozens of dive sites, large stretches of sand, water sports and ecotourism activities. Plus, all of these are offered in a cosmopolitan, vibrant and cheerful environment.
The history of San Andres records the mixture of various cultures and nationalities, from the English and Dutch to the Spanish and Africans. In addition, Antillean pirates and corsairs prowled this area. The mixture of cultures and ethnicities has given rise to a rich and diverse population, which amiably interacts with visitors. A richness of languages and dialects is heard on the streets, as are the types of music that sound throughout the island – including reggae, reggaetón, calypso, merengue, bachata, soca and salsa.
If you're looking for an intense and fun-filled getaway on a beach, this island is yet another choice.
Punta del Este, Uruguay
If your idea of a vacation is to kick back on the beach, but without sacrificing the luxury and comfort of a modern city, your perfect option may just be the elegant beaches of Punta del Este (Uruguay). This summery destination of celebrities and international jet-setters is recognized as the most exclusive resort in the region. Its bright sand, clear waters, beaming sun, lush forest and quality touristic infrastructure has come to identify this region's beaches with VIP tourism and glamor.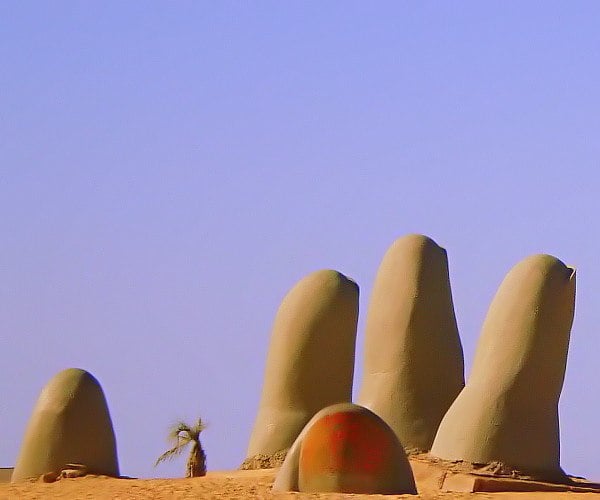 In the "Pearl of Uruguay," as Punta del Este is known, you'll find luxurious summer residences, luxury-class hotels, museums, well-appointed promenades, trendy bars, restaurants and art galleries, and much more. Speaking of art, the meeting point of this area's two most famous beaches — Playa Mansa and Playa Brava— is where the famous sculpture of a buried hand is located.
The diversity of beaches in this coastal area of the South Atlantic coast offers a series of tourist enclaves with varying profiles and styles. However, each combines rest, relaxation and adventure, as well as recreational activities such as surfing, sailing, jet-skiing, golf and polo.
Alternatively, if what you're looking for is simply some rest, there's always the option of looking at over the most beautiful coastal sunsets of the continent while enjoying the very best in Uruguayan cuisine. While the country is famous for its delicious firewood-roasted meats, Uruguay also boasts dishes based on prime meat products like sausage, bifes, ribs, etc. Then too, be sure to try the delicious mate infusion and a traditional "dulce de leche" as dessert.
As you can see, South America is a paradise full of both vibrant and more serene beaches, ones that are solitary and others the centers of social buzz. While fine cuisine and good climates always accompany the experiences you can enjoy in each, just don't forget that to design your ideal trip for this coming summer or next, it's best to reach out to experts.
Alfonso Tandazo is President and CEO at Surtrek Tour Operator. Surtrek Tour Operator is a well-established firm, specializing in custom-designed luxury tours in Ecuador, the Galapagos and throughout the rest of South America.
If you would like to be a guest blogger on A Luxury Travel Blog in order to raise your profile, please contact us.