By
Michael Edwards
on Jun 16, 2018 in
Accommodation
,
Attractions
,
Europe
,
Food and Drink
,
Going Out
,
Hotels
,
Regions
,
Switzerland
,
Travel Miscellany
,
Western Europe
With a beautiful valley, serene lake and small-town charm Poschiavo is some package. The North – South valley, a finger of Switzerland, is surrounded by Italian mountains.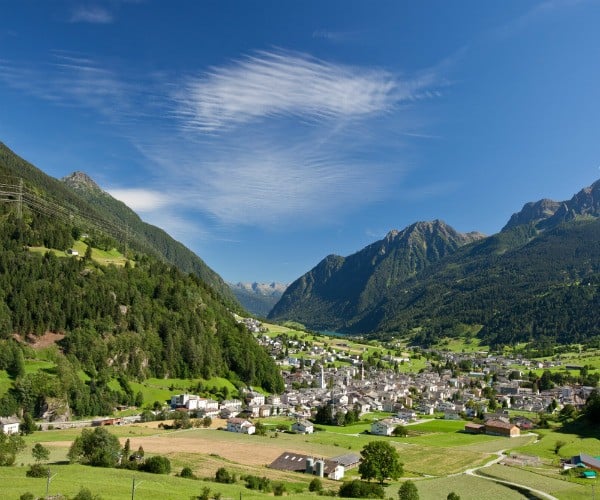 Italian language, a love of pasta and risotto make Poschiavo seem a part of Italy but the people are proud of their Swiss efficiency. When the trains, running from Italy's Lugano are late, folk are quick to blame the Italians. Way south of Zurich, remote Graubünden is almost Switzerland's forgotten canton.
1. Arrive in style
There's only one way to arrive in Poschiavo. Stylishly on the Bernina Express. Starting from Tirano in Italy this train pays homage to Europe's Golden Age of Rail as it ascends to the Glacier by the Bernina Pass. From lemon ice-cream to eternal ice – as the marketing gurus claim. This UNESCO acclaimed rail route is breath-takingly special.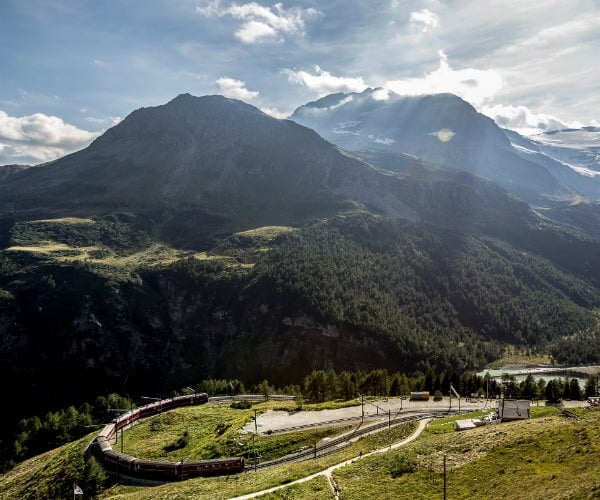 A circular century old viaduct, as the train snakes and ascends, is a photographer's dream, Instagram magic. It is a clever design device helping trains gain height without exceeding a gradient of 7 degrees.
Climbing past stone igloos, once used to keep dairy products and wine cool, the train eases past rushing melt water streams, hanging valleys, tall pines and bell-clanking cows.
2. The Hotel Albrici
Wooden-panelled to keep out cold Alpine winters the Hotel Albrici, once given as a very generous present to the Archbishop of Milan, preserves the spirit of Poschiavo's past.
There are just ten guest rooms in this small but historic hotel. Book a room with views across the piazza towards the terrace of another restaurant, left to Poschiavo's three towers, then onto the backdrop of towering mountains.
3. A turbulent history
Looking back those Protestants who fled Italy during the early years of the Reformation, may feel that Catholic Poschiavo, with its strong Italian links, was not the best choice.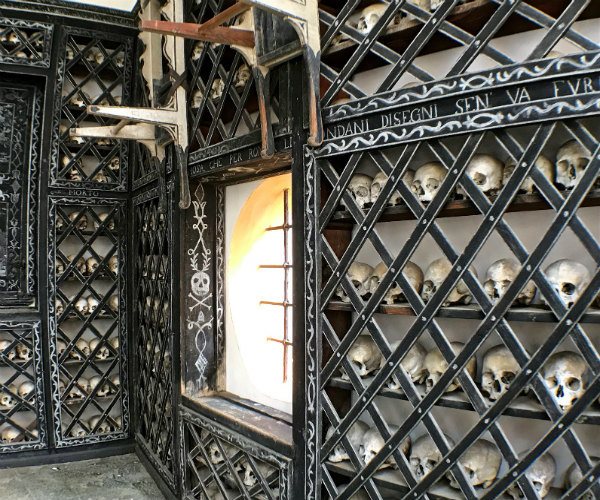 Skulls adorning the ossuary opposite the Catholic Church could tell some tales of deadly confrontations between Catholics and Protestants. Beneath one skull reads the inscription, "Think about what you do today because tomorrow you may be here." Good advice for Protestants in a town where they were heavily outnumbered by Catholics.
Briefly, in the 16th Century, the two faiths shared a church before they fell out, again, and the Protestants built their own.
4. Local produce
Sheltered by the Alps from the worst of Northern weather, Poschiavo grows fine raspberries and strawberries. Flowers and herbs thrive too, for the herbal teas produced by local business Raselli.
With a strong Italian influence, a typical lunch might by slices of mortadella, rabbit or veal on a bed of pasta. Every region takes great pride in its own versions of mortadella and salami.
5. Fine wines
There are winners and losers with global warming. Graubünden, growing Italy's Bortalino grapes on narrow hillside terraces is beginning to look like one of the winners. Switzerland's vineyards are gaining a climate that was once God's gift to Bordeaux. The result is some deep, full bodied reds that would grace a Bordeaux tasting.
6. Via di Palaz
In the early 19th century Poschiavo was a poor rural village. Many of its citizens left to seek their fortune, using their skills as confectioners  around Europe. Many succeeded, yet they longed to return to the beautiful mountain landscape of their youth.
In the 1850s enterprising Mayor Lardelli commissioned an Italian architect to lure these wealthy families back to Poschiavo. The brief to architect Sottovia, who suspiciously seemed to have left Italy in a hurry, was to design some palatial state-of-the art residences. They were south-facing, with bathrooms and running water. Large convex windows gave great views but kept out prying eyes. Some of those original window panes still remain.
Across the road, provided for easy access to horses and carriages, were long gardens. Today the elegant neo-classical houses with their gardens of roses and lupins are the starting point for every Poschiavo tour.
7. MS Sassablo
Initially a cruise on Lake Poschiavo, a mere five-minute train ride from the station, seems like just another boat cruise.
In fact, it is an inspirational story of enterprising community spirit. Flávio, the dynamic owner of La Romantica hotel, accidentally saw an advert for a 50-seater boat on an internet search. Initially buying the boat, for 69,000 Swiss Francs, was a joke. Steadily he came to realise that quiet Poschiavo needed to take destiny into its own hands to attract more visitors.
Today bakers, butchers, cheese makers, farmers and hoteliers each own a seat on the boat, named after a nearby mountain. Locals have taken their Captain's License to crew the boat as volunteers. So passionate is Flávio that you scarcely notice the stunning mountain backdrop.
8. Lunch at La Perla restaurant, Hotel Prese
Set aside at least a couple of leisurely hours for lunch at Hotel Prese. Built in 1856, the Hotels' spacious dimensions, are a memory of a more elegant and less hurried age. On a fine day you can lunch on the terrace, viewing fishing boats against an impressive snow-capped mountain backdrop.
Le Prese's neoclassical construction, with gentle pastel shades, again reflects Poschiavo's Italian links.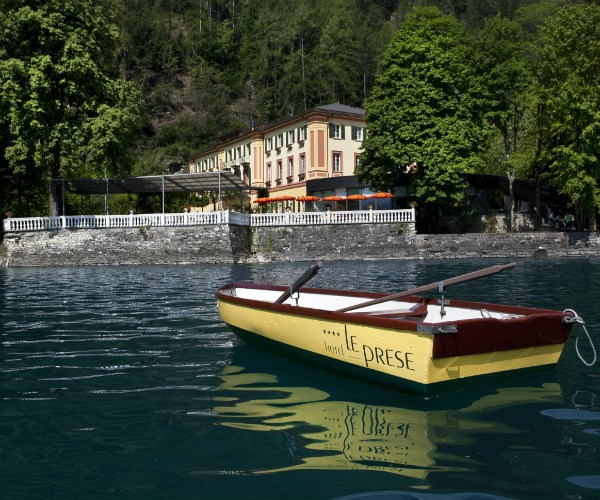 Lunch is light and immaculately presented. Terrines of trout topped with salmon caviar, both fresh from the lake followed by some pasta or a risotto. Deserts are decorated with freshly picked raspberries, redcurrants and strawberries.
9. Poschiavo's looking good
You'll see photos of the floods of 1987. Hot weather increased the flow of melt-water. Then torrential storms breached the dams above on the mountainside. At the time it was catastrophic with a metre of water in the central piazza. There's a picture of a car floating towards the church.
Yet in retrospect the people of Poschiavo are grateful for Sant'alluvione. It made them undertake many restoration projects that had been postponed for too long.
10. Angler's paradise
If you're an angler, a week in Poschiavo is paradise. The enterprising Flávio has a room at La Romantic Hotel for cleaning fish. He then freezes and vacuum packs the fish for anglers to take them home.