By
Leah DeAngelis
on Jun 27, 2018 in
Accommodation
,
Attractions
,
Food and Drink
,
Going Out
,
Hotels
,
Idaho
,
North America
,
Regions
,
Restaurants
,
Travel Miscellany
,
USA
Boise, the capitol of Idaho, is a fast growing city that has the pulse of a sophisticated metropolis and the heart of a small town. People are open and friendly, things move at a relaxed pace, and the town is full of surprises.
From white water river rafting, to cycling on the famous Boise River Greenbelt to dining al fresco on the patios of locavore focused restaurants, Boise is a family friendly city that offers plenty of activities to keep every age group entertained. Here are five things to do this summer in the beautiful City of Trees.
Inn at 500
Conveniently Located downtown, within walking distance to restaurants, pubs, museums, shops, and the capitol, Inn at 500 is a brand new luxury boutique hotel that makes an ideal home base in Boise. Gallery level art displays, plush comfortable surroundings, and attentive service including butler pantries in each room add to the feeling of luxury. Majestic views of the capitol are seen right outside the hotel entrance as well as from some rooms.
A complimentary car service will take you within a four mile range, while Electra Townie bicycles are available to cruise around town or the greenbelt which is just a couple of blocks away. Inn at 500 is dog friendly and that immediate access to the greenbelt is ideal for dog walking.
Boise Brewing
Located less than a block from the Inn at 500 is a real gem of a pub. Boise Brewing is the kind of place you might miss if you didn't know to go, but the locals know it well. It's a small, unassuming, community owned brewery with some of the best farm to glass craft beer you will ever tase. Flavors like Snowboarder Porter, Broad St. Blonde, and the coveted Red Velvet Cream are worthy of bringing home in a growler. There is a small dog and bike friendly patio and the atmosphere is industrial yet cozy.
River rafting
Idaho is considered one of the top states in the US for river rafting. From half-day river rafting excursions to week-long river rafting trips, you can find the perfect fit for your level of experience and threshold for excitement. Beginners will find plenty of options and there are trips for more advanced river rafting. Experienced outfitters and expert guides will match you to the appropriate adventure. Cascade Raft & Kayak is known for their excellent safety record and family friendly rafting. They have a cafe with riverfront seating for deli style post-rafting refueling.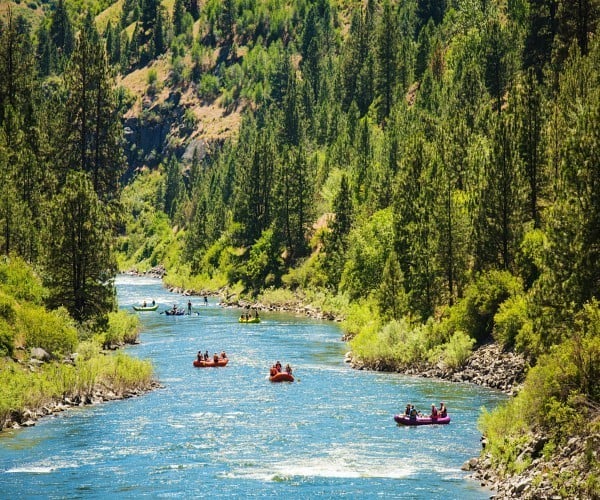 Basque Block
Idaho is home to the largest Basque diaspora in the country. Basques began to settle in Idaho in the early 1800's and worked primarily as sheep herders and ranchers. With a population of about 16,000, it's a proud community, rich with history and passionate about keeping Basque traditions alive. The Basque Block is part of the Old Boise Historic District downtown and is comprised of several Basque business including the Basque Museum and Cultural Center, the Basque Market where you can purchase traditional baked goods and deli foods, and the Cyrus Jacobs-Urberuaga House, which was the first boarding house for Basque immigrants.
On Wednesdays and Fridays at the Basque Market, you can get authentic Paella which fills the street with the fragrant smell as it's prepared outside in the open air in a giant paella pan and served with freshly baked bread.
Fork
A meal at Fork is a Boise must, preferably on the intimate patio under bright red umbrellas and bistro lights. Fork's "Loyal to Local" concept operates on the farm to fork principal utilizing ingredients from northwest farms, bakers, breweries, distilleries and other local food providers. This makes the food taste extra fresh and flavorful. Even the furniture, and tableware are sourced locally and crafted from recycled goods.
The salads are exceptional and Fork is famous for their delicious Fried Asparagus. You can cycle right up to the front door where they have a bike rack, and enjoy a leisurely ride on the greenbelt after a satisfying meal.