By
Claire Powell
on Jun 29, 2018 in
Africa
,
Australia
,
Chile
,
Europe
,
Featured
,
Food and Drink
,
Going Out
,
Iceland
,
Morocco
,
Oceania
,
Regions
,
Restaurants
,
South America
,
Travel Miscellany
,
Western Europe
,
Zambia
When the weather is fine there's nothing better than getting outside and enjoying your surroundings: the only added extra you need is some delicious local food. Here we've rounded up our favourite outdoor dining experiences on the planet.
Asado de Cordero, Patagonia
One of the highlights of visiting Las Torres del Paine National Park is the abundance of Patagonian lamb, something everyone who visits the area should try. The South American art of lamb barbecue, or asado de cordero, is a traditional dish of Patagonia and definitely not for vegetarians. Considered one of the best meats in the world, the Patagonian lamb has achieved great international acclaim due to its delicious taste and exceptional quality, thanks no doubt because of its origin in one of the least polluted parts of the world. Raised on natural pastures, the lamb is full of natural flavour and is more succulent than its counterparts from around the world. While enjoying a traditional asado, you can observe gaucho demonstrations that include sheep shearing, sheep dog herding and the breaking in of horses.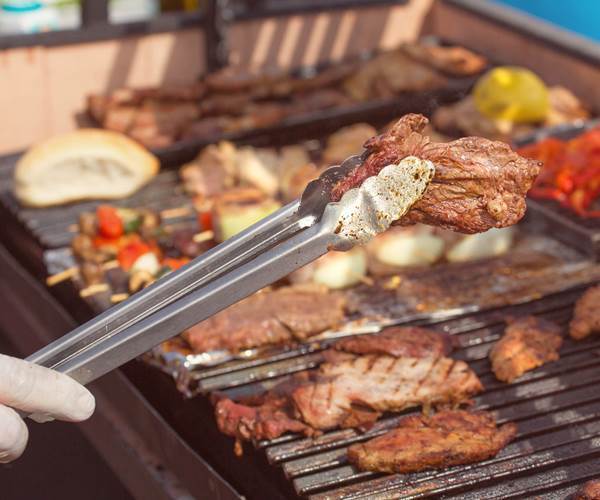 Desert Camp, Morocco
Quite literally in the middle of nowhere, our Desert Camp in Morocco is a cluster of sparkling white tents nestled in the tawny desert sands of Merzouga, reached only by camel, 4×4 or helicopter. The Arabic caidal tents are the perfect place from which to relax and enjoy the permanently shifting sands with a mint tea, while a traditional meal is cooked for you over the campfire. A tagine is usually the order of the day, but on special request you can enjoy the Mechoui – a whole roasted lamb that takes two hours to prepare, which you can observe so you can recreate your meal at home.
Zambezi River lunch, Zambia
Lunch locations don't come more spectacular than in the Zambezi River. Yes, in the river. After a long morning on safari your feet will crave refreshment as much as your mouth craves a gin and tonic, so peel off your shoes and socks at Sausage Tree Camp and settle in for the lunch of your life. Ankle deep in a shallow area of the Zambezi, with Zambia on one side and Zimbabwe on the other, you'll dine to the sound of the rush of the river and the ever-present birdsong as your chef prepares a three course meal with full table service and a bar for that gin and tonic. If that wasn't spectacular enough, hold on to your biltong as your lunchtime companions could include elephant, zebra, eland, zebra and various other species of antelope ambling by.
Norse picnic, Iceland
Thórsmörk in southern Iceland: a mountainous ridge named after the Norse god Thor, between the tongue-twisting glaciers of Tindfjallajökull and Eyjafjallajökull, the latter famous for its temperamental eruptions in 2010. Tricky to reach without mountain vehicle, its multitude of small gullies and valleys clad with low-hanging birch trees, create seemingly endless possibilities for the nature lover. On a short trek around the glaciers we can arrange an Icelandic feast in the land of the gods at Basar, surrounded by the beautiful ecosystem of more than 170 plants, moss and lichen species. Some 12,000 years ago the lush area was a surging fjord, and outlet glaciers still tumble and crawl down into the gullies, some ending in spectacular glacial lagoons. Finish up your meal with a stop at Seljalandsfoss waterfall, to complete your Norse adventure.
Fine dining at Uluru, Australia
Meaning 'beautiful dune' in the local Anangu language, Tali Wiru is the embodiment of fine dining, under the Southern Desert sky. Instead of walls, this open air restaurant boasts impressive views of Uluru and the distant domes of Kata Tjuta: there's no need for music as the stillness of the desert at night-time provides all the ambience you need. Kick back with champagne and canapés in front of a crackling firepit while you enjoy the amazing spectacle of the setting sun, the earth and the sky meeting in a blood-red fusion that takes your breath away. A four-course table d'hôte dinner is served atop a sand dune, where you can enjoy a gastronomic adventure matched with premium Australian wines. Later you'll be entertained by Aboriginal stories and a didgeridoo performance, experiencing the culture, history and spirituality of this incredible land.
Claire Powell is Digital Marketing Manager at Abercrombie & Kent.
If you would like to be a guest blogger on A Luxury Travel Blog in order to raise your profile, please contact us.