In the shadow of Moscow's landmark Radisson Royal Hotel, and right in the heart of historic and business district of the city, lies the two-storey Matryoshka restaurant by Maison Dellos. It opened its doors in February 2017 under the supervision of Vlad Piskunov – an author of various cookbooks and presenter of a number of culinary shows on TV, as well as the man behind the historical and gastronomical "Moscow Dinners" project.
The interior design of the restaurant design is inspired by the 1920s, the era of so-called "industrial palaces" that were once popular in London and New York.
The interior of the "Matryoshka" harmoniously combines modern fashion trends, elements of antiquity and industrial motifs such as custom-made cast-iron stairs and handrails, lamps and aged tiles, and an antique fireplace and boiserie. There are also large panoramic windows with views of the Moskva River and an open kitchen.
The bar has been reclaimed from a French pharmacy and is headed by Denis Kryazhev, the chef mixologist of Maison Dellos – one of the best mixologists in Russia, and winner of Diageo Reserve World Class 2012 and Bartender of the Year 2013 according to the GQ magazine. The wine list includes about two hundred items with the main focus on the older wines from the northern regions and, of course, a great selection of Russian wines.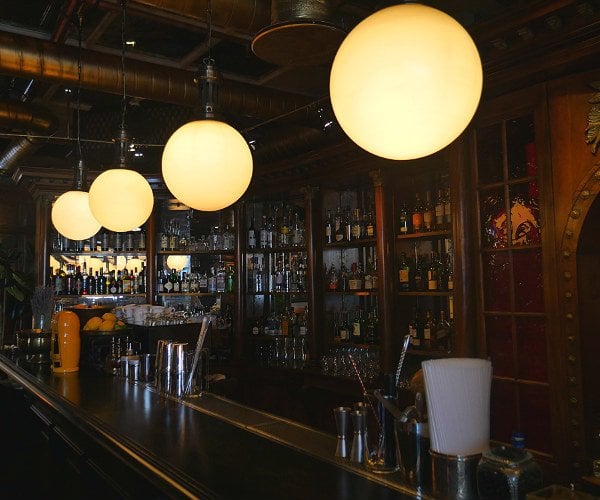 The menu is centred around the best products from different parts of Russia, such as white salmon from Yakutia, Zander from Volga River, salmon from Murmansk, black nut from the Caucasus, cloudberries from Arkhangelsk, Altai honey and so on. The emphasis is on food from the 19th and 20th centuries – local Russian produce and traditional Russian cuisine, whilst at the same time, with a contemporary touch making it sill relevant today.
The dumplings – something I hadn't previously associated with Russian cuisine – were a real highlight for me. Pictured are pork dumplings and scallop dumplings; the latter, stuffed with Sakhalin scallops, sea kale and oyster sauce, were particularly good.
Lard (salo) with onion, brown bread and mustard was also on offer. I tried it again but still need some convincing with this one!
For my main I had the 'lamb rack with porridge' – rack of lamb 'with buckwheat porridge, roots and soaked-baked apples', with the sweetness of the apples complementing the dish well.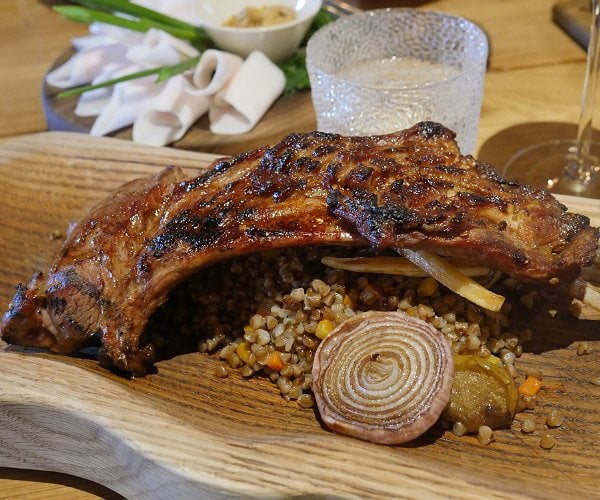 I forewent dessert, but the menu included temptations such as igingerbread with berries and curd cheese' and 'apple-almond cake with ice cream'.