Greece's second largest city, Thessaloniki, is impossible not to fall in love with. Even the ancient Greek gods could watch over it tenderly from their home on Mount Olympus. Thessaloniki is the Balkans' answer to Istanbul; a beautiful melting pot of different cultures, architectural genres, where ancient wonders blend seamlessly with outstanding modern architecture.
Thessaloniki – home to spectacular sea views and magical mythology
Spectacular sea views, remarkable cuisine, amazing architecture, natural and man-made beauty, incredible history and magical mythology have meant that Thessaloniki has been gaining important accolades over the last few years.
A wonderfully vibrant, striking city, Thessaloniki is best appreciated from accommodation which is not only central, but incredibly luxurious. Imagine waking up to unobstructed, vast sea views in an impressive, welcoming luxurious suite that is only a short walk away from Thessaloniki's top monuments.
Daios Luxury Living a beautiful boutique hotel on Thessaloniki's seafront
Daios Luxury Living is a superb boutique hotel, perfectly positioned on the city's seafront, where you can watch the sun set on the horizon and wake up to blissful, seemingly never-ending azure blue sea views.
On entering Daios Luxury Living, it's hard not to be struck by its impressive, instant first impression. This boutique hotel has reinvented the concept of the finest luxury accommodation, while embracing that wonderful, warm feeling of being in a home away from home. Its welcoming atmosphere blends naturally with the hotel's stunning natural materials and Italian decor.
Central to the charm of Daios Luxury Living is how the hotel is both incredibly elegant yet authentically simple at the same time. Visitors can enjoy an unforgettable feeling there, as the elegance embraces them, in an atmosphere of exclusivity and privacy. Unique, exquisite culinary experiences are made even more astounding by the incomparable sea views.
There's no wonder that Daios Luxury Living is considered to be one of northern Greece's finest luxury boutique hotels, perfect for guests who are visiting the city for either business or pleasure. In fact, if a Greek God was to visit from Mount Olympus, he would almost certainly choose Daios Luxury Living!
All the luxury rooms and suites evoke a wonderful atmosphere of elegance and exclusivity, where guests are transported into a world of luxurious well-being and unpretentious comfort. All accommodation exceeds expectations, with flourishes provided to ensure both the best in technology and pampering.
Daios Luxury Living has been designed to be in harmony with its environment, as the hotel mirrors the fabulous light of the Greek sea. The interior utilises an earthy colour palette triggering a space that has a tone of the ultimate luxury, while feeling comfortable and welcoming. This superb boutique hotel is a glorious example of not only top-end luxury in an amazing location, but also of a wonderfully unique accommodation experience and the highest hospitality standards one could hope to encounter. This is a luxury hotel service not to be missed.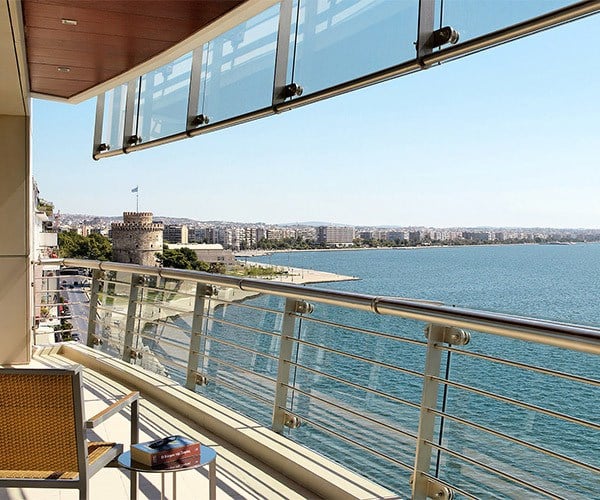 Daios Luxury Living is simply a place of peaceful perfection. The hotel is devoted to ensuring that guests get to enjoy a whole host of services that cater for your every whim, from in room fine dining to aircraft hire. Connoisseurs of true luxury will be delighted with the hotel's fabulous fully equipped gym and range of beauty treatments. Pamper yourself with one of their exceptionally relaxing treatments, such as a wonderful aromatherapy massage.
And all of this is only a few minutes away from Thessaloniki's renowned landmarks such as the White Tower, the Port or the Aristotelous Square. When you've visited these highlights, the next step is to go shopping in the city's famous shopping streets that surround Daios Luxury Living.
Disclosure: This post is sponsored by Daios Luxury Living.