Visiting Namibia is an experience that you'll never forget – you'll feel peacefully small in this vast desert environment and when looking up at the blanket of diamond studded skies at night. This under the radar destination has so much to offer curious travellers, but it is often overlooked in favour of countries in East Africa. If you want something a little different for your next trip, think seriously about Namibia!
First of all, the landscapes here are simply breathtaking. There's the Namib and Kalahari Deserts, of course, but also the rugged, wild cliffs and beaches of the Skeleton Coast which run along the Atlantic Ocean. The Etosha National Park and neighbouring reserves have everything from salt pans to savanna, woodland to hills, and as there is a well established network of landing strips, you can easily fly on a small plane between the different locations.
Now, after several years of careful development and investment, Namibia also has some of the finest luxury lodges and camps in Africa.
Hoanib Valley Camp
Opened in 2018, Hoanib Valley Camp was one of the hot favourites for Harry and Meghan's royal honeymoon. We can totally understand why! It is quite a private camp, comprised of just six tents. Each tent blends with the colours of the surrounding landscape, and the geometric designs of the local Himba people are reflected in the fabrics, artworks, and furniture.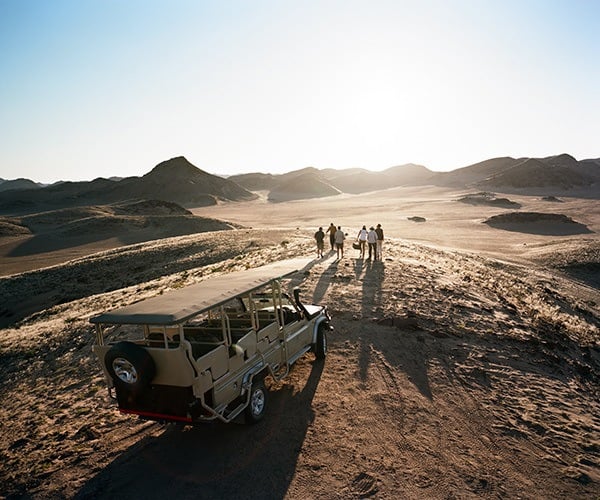 The camp has been built in partnership with the Giraffe Conservation Foundation, so if you are interested in learning about Namibia's desert adapted wildlife – and the giraffe in particular – there is no better place to stay. There are also opportunities for rhino tracking, game drives, and some fascinating cultural meetings with the nearby Herero people.
Shipwreck Lodge
Shipwreck Lodge is a remarkable property, the design of which has been carefully crafted to match that of the Skeleton Coast and its numerous shipwrecks. The 10 stunning suites will definitely remind you of the bones of a whale or a ship broken upon the shore, and from the decks you can look straight out across the desert sands to the waves of Atlantic Ocean.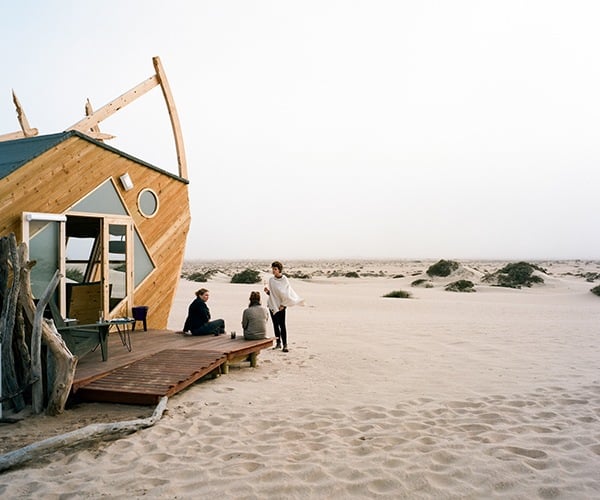 Walks along the beach are a great way to appreciate the coastal ecosystem, and there are opportunities for fishing, too. You might well see pods of whale swimming by, which is always an impressive site. Further inland, you can spot elephant and hyena, and it's also possible to take a drive to the Mowe Bay seal colony.
Sossusvlei Desert Lodge
 On a flat plain among the dunes of the Namib Desert lies Sossusvlei Desert Lodge, a luxurious retreat from the modern world. The naturally inspired decor seamlessly blends the suites with the desert, enhanced by panoramic views from your windows. You'll enjoy stargazing – here you'll be far from any city lights and the onyx skies are the perfect canvas – both in the observatory and through the skylights above your bed.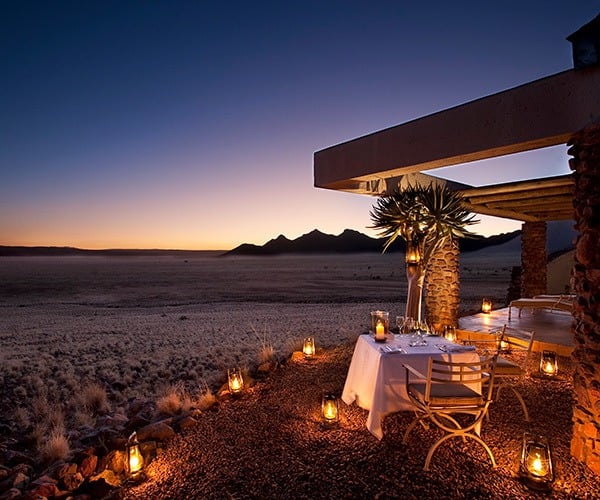 Fill your days with game drives to see desert adapted animals such as oryx and Haartman's mountain zebra as well as dune lunches with sweeping views of your surroundings. You may choose to take a hot air balloon ride one morning, watching as the sun illuminates the desert before upping the adrenaline with an exciting quad biking excursion across the sand.
Sorris Sorris Lodge
Stay in one of only nine private villas in the rocky heart of Damaraland. Set into a cliff side with a backdrop featuring Brandberg Mountain, no detail is forgotten here – you'll be personally welcomed by staff with a glass of champagne, setting the tone for your entire stay. The lodge is inspired by Scandinavian simplicity, featuring stunning photography and sumptuous king sized beds against wood panelled walls.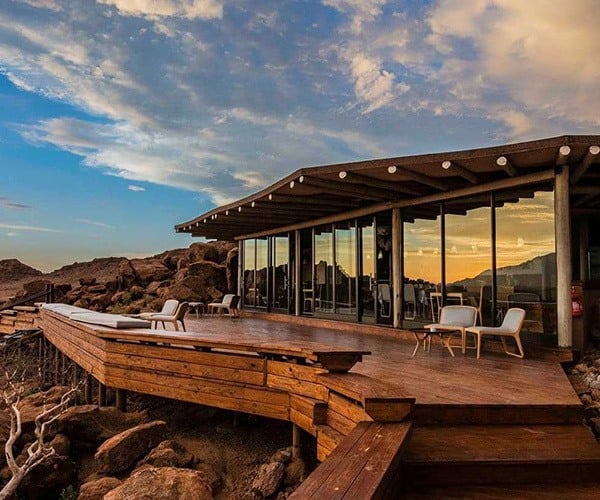 Wake up and take to the skies with breakfast in a hot air balloon, observing the incredible rocky landscapes from above as the sun rises. Fill your days searching for Namibia's desert-adapted elephant as they roam in search of water. You won't want to miss exploring with a guide to see the incredible Bushmen rock art for which Damaraland is esteemed.
Onguma Tented Camp
For a true safari stay, look no further than Onguma Tented Camp, overlooking a thriving waterhole in the Onguma Game Reserve bordering the Eastern edge of Etosha. A family of black rhino is a highlight among the abundant wildlife. The game drives here are superb – world class game viewing, a private hide for close encounters and bush lunches are just a few of the things you'll experience.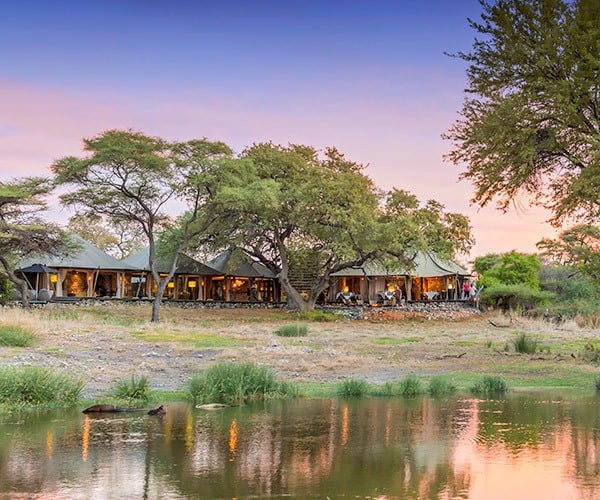 Here you'll stay in a luxuriously large tented suite where you can relax in freestanding bath tubs and while having a refreshing drink on your private patio. Afternoons at the main camp area can be spent in the plunge pool or on the viewing deck watching zebra and antelope visit the waterhole.
Laura Burdett-Munns is Managing Director at Africa Exclusive. Africa Exclusive has been creating the finest tailor-made safaris since 1990, specialising in luxurious accommodation in beautiful remote places.
If you would like to be a guest blogger on A Luxury Travel Blog in order to raise your profile, please contact us.