The Swiss Alps have always protected Lugano from the extremes of European weather and hordes of visitors. Movie idols Clark Gable and Sophie Loren knew they could relax and enjoy Lugano's cafe society without being mobbed back in their day. Although a 57 km tunnel through the Alps opened in 2016, reducing the rail journey from Zurich to just two hours, Lugano still remains pleasantly remote.
Even if you fly in to Milan it is still a trek north to Lugano. For most visitors Lugano is beyond weekend break range, so it becomes a place to linger and explore for three or four days: taking the funicular railways to the top of the surrounding peaks, hiking the trails, lingering over lunch at some of the "cave" restaurants – which began their lives as cool storage facilities for cheese, cooked meats and wine.
Lake Lugano
Clear watered Lake Lugano is up there with Lake Como and Lake Maggiore when it comes to size and beauty: it's waters gently lapping between the granite that makes up the two peaks of Mount Bre and Mount San Salvatore.
The Lake is a playground for locals who paddle-board, sail or swim in its tranquil waters and it even has a small beach. There are motor boats for hire but it would be sacrilege to break the serenity with the full-throated roar of an engine. It is more environmentally friendly to take the water-bus that calls in to the villages on the Lake's shores. Travellers on the Grand Tour of Europe arriving in Lugano in the Eighteenth Century were so overwhelmed with the beauty of the views they christened it Paradiso.
The Grand Tour
Lugano's Hotel International au Lac, recognised by UNESCO as a "Historic Hotel" gives guests a taste of the Belle Époque of the Grand Tour when travellers enhanced their education by visiting Europe's Cultural highlights. Many took a break in Lugano before heading for Milan and Florence.
Room 221, almost always booked, has been recreated with the original gold-gilded decor and Louis XVl furniture from those optimistic days of the early 20th Century. Within the hotel a small museum recreates the glamour of an era when travel was more leisurely but often luxurious.
Mediterranean feel
Sheltered by the Alps from the worst of wintry weather there is a real charm to standing amongst palm trees and looking north to snow-capped mountains.
Lugano has it's own micro-climate which is often warmer than Italian cities significantly further south. The quicker journey from Zurich has encouraged some of its people to take the train south to Lugano for the weekend. They enjoy some pasta or risotto al fresco whilst it is still chilly winter back home.
A marriage of Swiss and Italian
"I married an Italian," my guide announced, "we are so close to the Italian border that around 15% of marriages in Lugano are Swiss- Italian. It is a good combination," she smiled.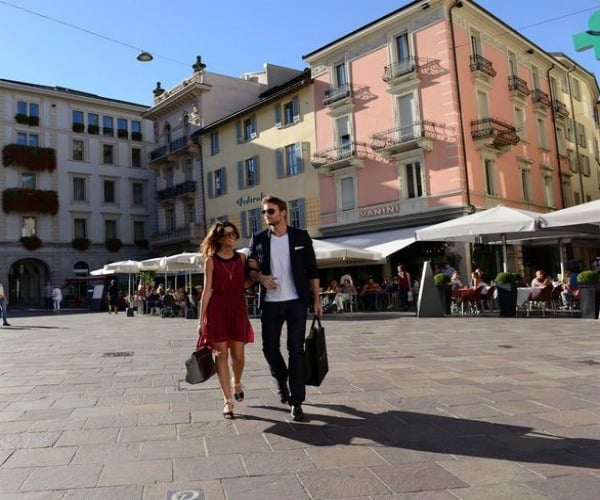 Swiss efficiency tempered by Italian romance and love of fine food and wine works well.
The Parco Ciani
Lugano takes its 63,000 square metre park, running alongside the shores of Lake Lugano, very seriously. As well as free WiFi throughout there is a library from which you can borrow books, magazines and newspapers.
In reality there are two parks. Paths, lined by fountains and statues, wind through formal shaded flower beds and lawns. Then there is a wilder forested area of lime, maple, oak and plane trees all typical of the natural habitat of the Ticino region.
Via Nassa
Once the fisherman set up stalls in the arches of the Via Nassa to sell their day's catch, including trout, from the 50 square kilometres of the glacial Lake Lugano.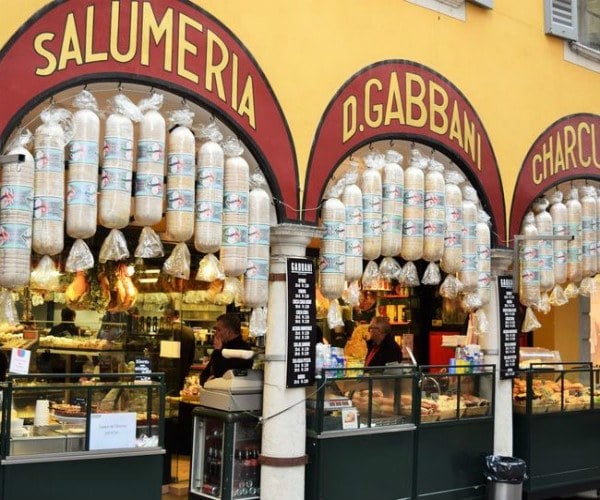 Today those arches are filled with designer shops and upmarket delicatessens selling to an affluent clientele. Lugano is prospering as Switzerland's third financial city.
Lugano Art and Culture Centre
Appropriately known as LAC this recently opened futuristic creation is more than a gallery and museum. An inclusive ethos welcomes locals and visitors alike to its programme of events.
On Thursdays there's an informal aperitif / dinner event open to all. With English widely spoken it is easy to become an honorary local citizen.
The Bernina Express
To leave Lugano in style take the Bernina Express. Initially it is a comfortable red coach that travels along the banks of first Lake Lugano and then Lake Como.
Then after lunch in the Italian City of Tirano it is time to take the train which ascends back into Switzerland. It passes through 75 miles of spectacular Alpine Scenery, with the help of 55 tunnels and 196 bridges, through St Moritz before arriving at Chur.