By
Helen Dugdale
on Sep 20, 2018 in
Accommodation
,
Attractions
,
Canada
,
Going Out
,
Hotels
,
Leisure Travel
,
North America
,
Regions
,
Restaurants
,
Speciality Travel
Vancouver is a city of great wealth. A place where if you have an endless pot of disposal income you can live a life of luxury and leisure. If you find yourself in the city for 24 hours or more, here are five top things to do and places to visit to bask in the finest things that this attractive North American city has to offer.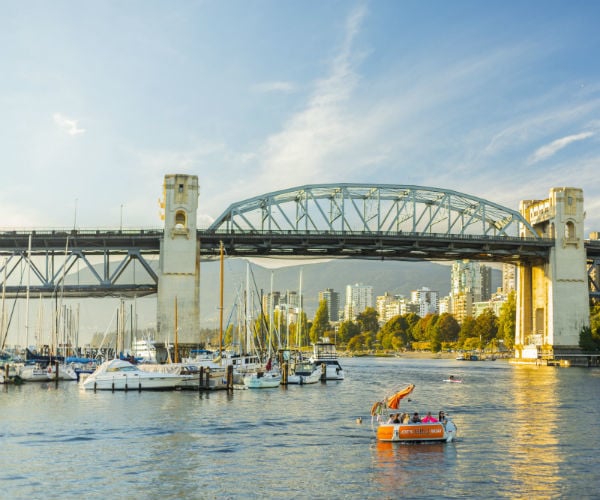 A place to stay
There's an abundance of large chain hotels sprawling across several blocks of Downtown Vancouver. For a room with a view, then check into Pan Pacific Hotel with its hard to beat panoramic vista of the Coastal Mountains, Coal Harbour and city skyline. This, modern four-star hotel boasts 503 rooms with floor-to-ceiling windows, so you never have to block out this beautiful land. If you prefer a boutique affair, then the Opus Hotel is cool and hip, but still super friendly. TripAdvisor fans voted it the 'Top 5 Trendiest Hotels in the World'. The hotel has 93 rooms, welcomes pets and is just metres away from all the bars and restaurant in the trendy downtown district of Yaletown. False Creek waterfront is just two blocks away if you feel the need to escape the city and see the water.
A place to dine
No matter what your taste buds are crying out for, Vancouver's eateries will find something to satisfy them. Bluewater Café is a haven for seafood fan. Committed to serving only the most sustainable wild coastal species. The fish is delivered fresh every day to the kitchen where the chefs work their magic. You can even pick your own dinner from the two live tanks, home to Alaskan King Crab, Atlantic Lobster and Spot Prawn.
To really spoil yourself and your fellow travel companions, then nothing beats breakfast, lunch or a decadent dinner at Hawksworth Restaurant. Glamourous, but relaxed the very best in contemporary Canadian cuisine comes from their kitchen.
Hit the shops
Whilst in the city it would be rude not to pick up a few new outfits or accessories to your wardrobe. Home to Lululemon, the brand of leisurewear that 80 per cent of Vancouverites live in, is definitely worth a visit. To make it easier there seems to be a Lululemon store on every corner.
The city has all the usual North American chain shops you'd expect to see alongside an ocean of exciting independent brands. One brand that particularly stands out from all the rest is Kit and Ace. Established in 2014, they promise their clothing range allows the wearer to lounge, lunge or lunch – all in the same outfit.
If you're looking for something in particular or for an important and swanky event, then why not consider booking a personal shopper? Many of the stores offer this service, including Aritzia, Anthropologie and Holt Renfrew. Just call ahead, book an appointment and the personal shopper will take the headache of choosing your perfect outfit. Some shops even offer complimentary Champagne to sip while you sit and shop.
A place to get in shape
If you fancy burning off some of those calories consumed, then head to one of the many Pilates or yoga studios that are dotted throughout the Downtown. Vancouver Pilates Centre on West 16th offers both matt and reformer Pilates. It's owned by Dianne Miller who brought Pilates to Canada back in 1984, so you know you'll be in great hands with her team. If you're more of a yogi, then Semperiva Yoga with its four studios will fulfil all your postural requirements. The Waterfront Studios at Pier 32, Granville Island has bags of natural light, water views, and is a haven for a calm yoga session.
A perfect beach
When the weather is kind there is no prettier city than Vancouver. With nine beaches just, a stroll or short drive away, it means no matter where you are in the city, there's a sandy nook to head to when you're indeed of some down time. Each beach has its own personality and reason for visiting. Kitsilano is popular with toned 20-somethings and young families. There is an outdoor swimming pool just a stride away and restaurant and bar close by to grab some snacks. Or for somewhere quieter to read your novel, a little more refined and off the beaten track then try the usually serene Jericho Beach, which is surrounded by multi-million-pound house and apartments. If you're in need of some refreshments while you're there, then pay Jericho Sailing Centre a visit. Non-members receive a warm and friendly welcome and you'll be pushed to find a more delicious Wild BC Salmon Burger than from the Gallery Patio & Grill. When the burger is eaten from the deck overlooking the bay, you'll probably find yourself never wanting to leave.