5 hotels in Southeast Asia that are VERY vegan friendly
Many hotels and resorts are now able to cater for their vegan guests and those who wish to enjoy plant based cuisine, life is getting easier for vegan travel meaning the days of having to eat salad for dinner are a distant memory. However, these '5 hotels in Southeast Asia that are VERY vegan friendly' have raised the bar even higher by offering multiple plant based and vegan options to their guests; our varied selection include a luxury business hotel, two boutique hotels, a wellness retreat and beachside private villas but they all have one thing in common, the vegan food is plentiful and outstanding!
Grand Hyatt Singapore
In the heart of Singapore you will find a business hotel that is leading from the front when it comes to including plant based and vegan food on their menus.
Grand Hyatt Singapore
has long been the choice for business and leisure travellers alike who enjoy the wide selection of rooms and suites, extensive leisure facilities and the multiple food and beverage outlets available.
But during 2018 things changed at this
luxury hotel
as they began to introduce plant based food throughout the property. This has been the innovative approach that the food and beverage director has taken which is not only in line with his personal diet, but also fits perfectly as the hotel wishes to offer guests healthy cuisine that has less impact on the environment.
It's proved to be a real hit, gaining media attention from around the world, whilst at the same time the food loving Singaporeans were literally queuing around the block during the 'Beyond Burger' launch event. Currently there are multiple plant based options in 'Pete's Place' including an Italian buffet lunch and 'mezza9' offers a selection of plant based options throughout the menu. Bravo to Grand Hyatt Singapore!
Puri Ganesha
Bali conjures up images of tropical beaches, blue skies and rice terraces for many, it's long been a favourite destination for pleasure seekers and rightly so as the island (if you know where to look) is unique and breathtaking. Proceed with caution though as many areas of Bali have seen rapid development and an influx of tourists way beyond what the infrastructure can cope with and this is why you need to do your research.
Head north, away from the masses, to the sleepy coastal town of Pemuteran and check in at
Puri Ganesha
where we can assure you that not only will you be blessed by your stunning surroundings but you will be staying at what we believe to be one of the most vegan friendly hotels or resorts we've ever stayed at.
Expect the chef to create dish after dish of wonderful plant based food that is not only delicious but healthy, organic and sourced locally wherever possible. The menus and the kitchen are under the watchful eye of a passionate and talented plant based chef who not only owns Puri Ganesha but has published vegan cook books and created vegan menus for some of the leading hotels and resorts in the world. Puri Ganesha is outstanding, think beautiful Balinese villas, huge private pools with day beds overlooking a deserted beach, and then combine this with some of the most beautiful and satisfying vegan food you've ever eaten and you get the picture. Wow, simply wow.
Ariyasom Villa
Built as a family home in 1941,
Ariyasom Villa
was one of the first houses on Sukhumvit Road at a time when there was not a condominium or shopping mall in sight. The property has been developed and extended in recent times by the family of the original owner and is now a boutique hotel set in beautiful gardens that are somewhat of an oasis in this busy and sometimes crazy city.
It's the perfect place to escape the hustle and bustle of Bangkok and that's before you pick up the menu from Na Aroon, the hotel restaurant which is an absolute treat for anyone who wants to eat healthy, organic and locally sourced vegan versions of traditional Thai cuisine. With dishes that are nearly all vegetarian (there are a few seafood options but no meat) and many of them either vegan or easily veganised, Na Aroon is a great option for the vegan loving traveller or indeed for lunch if you're in the neighbourhood.
In addition to the extensive Thai cuisine that is available guests can enjoy a Western style cooked breakfast complete with 'bacon' and a 'sausage' which was a very interesting and fun option. But for the real taste of Na Aroon and Ariyasom Villa dine on delicious Thai food which is prepared by the chef who has been working with the family for nearly 40 years, you will not be disappointed.
Baby Elephant Boutique Hotel
Siem Reap in Cambodia is the gateway to the incredible Angkor Wat and draws hundreds of thousands of visitors annually. Many guests stay just 2 or 3 days and leave after visiting the temples which is a shame as it has much more to offer including a fast growing and exciting vegan food scene.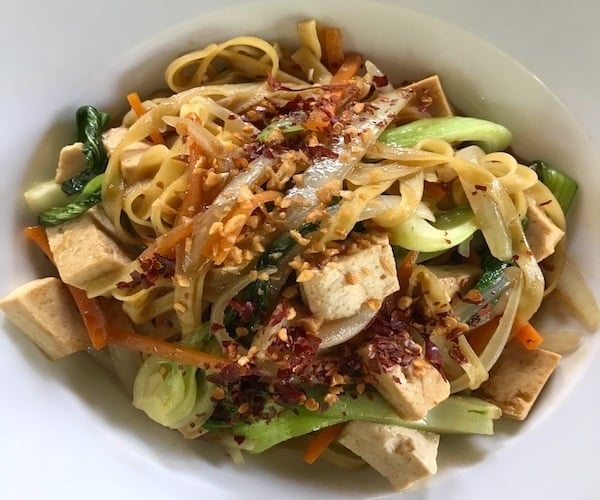 There are luxury hotels that have vegan dishes on their menus alongside traditional street food that is vegan; in this small but busy town you can eat vegan pizza, vegan cake and check into to an all
vegan airBnB
after a long day exploring the temples. However, there is one hotel that stands out from the others when it comes to vegan and plant based food, that is Baby Elephant Boutique Hotel. One of the owners is vegan and has worked hard with the local chef and staff team to introduce not only plant based Cambodian cuisine to the menu but also a selection of Western style vegan dishes including not just one but two vegan burgers and tofu 'fish' and chips.
Expect attentive and passionate service at
Baby Elephant Boutique Hotel
and make sure to sign up for the vegan cooking class during your stay so you can prepare your own Cambodian vegan food when you return home!
The Farm at San Benito
Just 90 minutes outside Manila in the Philippines lies a luxury resort like no other called
The Farm at San Benito
. Situated within a coconut plantation, surrounded by the greenest of green countryside and boasting some of the the most verdant and lush gardens you've ever seen the location is simply stunning.
And then when you realise that Alive! (the restaurant at The Farm) is 100% vegan with many raw options you will quite honestly never want to leave. The food is creative, delicious, healthy and packed with nutritional goodness, just when you think it can't get any better they present another menu that you didn't know existed with even more plant based delights for your pleasure.
We will return for sure… We hope you've enjoyed reading about these 5 hotels in Southeast Asia that are VERY vegan friendly and hope you have the chance to stay at one of them very soon, we are pretty sure that we want to return to each and every one of them at some stage during our time in this enchanting region!
Paul Eyers is Founder of Vegan Food Quest. Vegan Food Quest have become luxury vegan travel specialists as they continue to find, eat and write about the best vegan food in the world.
If you would like to be a guest blogger on A Luxury Travel Blog in order to raise your profile, please contact us.
Did you enjoy this article?
Receive similar content direct to your inbox.