On Greece's most famous whitewashed cosmopolitan island, there are a selection of sublime properties that are sure to offer you the vacation of your dreams. Dotted around Mykonos, we have found some absolute gems for you from Kinglike Concierge, whose villa portfolio is considered to be the best on the island. In fact, King Like Concierge only work exclusively in Mykonos, in order to not only have an absolutely amazing portfolio of luxurious holiday villas, but also to offer a customer experience that will go beyond your expectations. Taking client care a few steps further, King Like Concierge offer you a travel concierge service.
We have chosen five villas to introduce you to their prestigious portfolio.
1. Villa Narcisse
Set in a truly spectacular setting, in the island's most sought-after holiday location, Agios Lazaros, Villa Narcisse perches dramatically on the cliff's edge, overlooking the amazing Aegean sea. Villa Narcisse's wonderfully designed whitewashed exterior, with natural stone accents, contrasts perfectly with the breathtaking environment and views that embrace it.
The villa's infinity pool seems to merge into the local landscape, while two gorgeous pergolas afford not only privacy but striking views. Head to the chic teak deck to sunbathe and perhaps have a glass of bubbly! At night time the outside views are equally spectacular but with a luxurious, romantic night time vibe. As the lights from Omos and its yachts illuminate the sea under the moonlight.
The interior is pure luxurious, minimalistic bliss. Marbled floors, wooden beams, clean crisp contemporary lines are complemented by a series of arches and wonderfully chosen works of art. The villa's six sumptuous bedrooms complete the picture for a holiday made in heaven.
2. Villa Infinity
Situated in Tourlos, one of the island's most exclusive spots, this elegant villa is only a few kilometres from the island's main town. A very popular area for the rich and famous, Villa Infinity's infinite luxuries are sure to make you feel like a celebrity.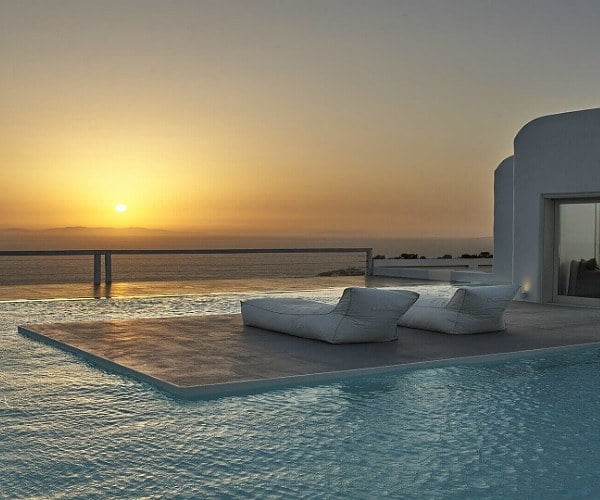 The villa affords complete, spectacular views over the Aegean Sea, yet it has been designed to be protected from the island's strong northern winds. Immaculately constructed, Villa Infinity is exclusively yet elegantly decorated.
The exterior is blessed with incredibly beautiful views, especially from the villa's fabulous infinity pool. Private pergolas have been strategically designed to offer all the privacy you desire.
Inside the contemporary design cleverly incorporates accents that speak to you of the Greek island lifestyle. The exclusive eight bedrooms have all been individually decorated, adding more classy character to this stunning property. An expansive living area complete with a home cinema is the icing on the cake.
3. Villa Acqua Di Mare
This majestic structure overlooks the Panormos Beach, in its exotic Greek splendour. The ultimate Cylcadic style merges wonderfully with minimalistic, modern architectonic facets. Macedonian stones sets off the property's perfectly pristine white walls.
Villa Acqua Di Mare's elevated location ensures that you have maximum privacy and security. Yet at the same time you and your party are only a stone's throw from Mykonos town centre.
Both sea and sun facing, each of the property's eight double bedrooms has amazing views of the Aegean sea, and over to the nearby islands. Two of the bedrooms are designed with your children in mind, with four bunk beds and two twin beds.
Villa Acqua Di Mare blends an authentic Greek style summer vacation with the ultimate in top end luxury and modern living.
4. Villa Edge
Situated in the area of Agios Ioannis, perched on the edge of a cliff, Villa Edge was designed by the renowned Greek architect, Theodore Zoumboulakis. Minimalistic design blends with practicality, with touches such as two nanny guest rooms. This makes Villa Edge a superb choice if you wish to holiday with your children and bring their nannies along. It consists of four double bedrooms and one double guest house.
An elongated swimming pool sits perfectly in the outdoor area, along with a shady lounging area, a pool bar, a changing room and shower, and of course a sun bathing area.
5. Villa Alaia
Located in the Agia Sophia area, with striking panoramic views of Delos island and Mykonos town, Vila Alaia is simply a magical place. On a privileged plot up hill, the property's exterior has been designed over two levels, with an abundance of sitting and lounging areas. Wide steps take you to an expansive sand blasted paved zone, which is home to an overflow swimming pool and some lovely, elegant sun loungers.
The interior is laid out over four different levels. This astonishing villa offers seven elegant guest bedrooms, all of which are ensuite. Three of the double bedrooms have access to the swimming pool, while there are two master bedrooms with king size beds, walk in closets and dressing tables.
Villa Alaia offers state-of-the-art modern amenities, an ambient living room and a large TV room, complete with a surround sound system.
Disclosure: This post is sponsored by Kinglike Concierge.