The south of France can be a truly wonderful destination to enjoy during the winter. Although Provence is more typically associated with the summer months, those in the know make a point of ensuring they take a trip or two during the Autumn and Winter. With the crowds largely gone, you'll be able to enjoy everything this region has to offer without having to share with others!
Because you will be holidaying in the so-called 'low season' you will also be able to take advantage of cheaper accommodation and travel costs, making this an affordable time of year to visit. Flights from London to Marseille can be easily found for around £60 per person making this an extremely cost-effective destination and perfect for a short getaway.
So, what should you see and do whilst you're here? Read on to find out!
The Calanques
Head south from Marseille and between there and the charming port town of Cassis you'll find the spectacular 20 mile stretch of coastline known as the Calanques, a series of rocky cliffs and bays carved out of the limestone. Designated a national park since 2012 it's a hugely popular area for walkers, kayakers and swimmers. At the height of summer however much of this region is closed as the risk of fire is deemed too great.
Whilst the odd hiker might be allowed through, cars definitely won't be allowed in. Peak season for tourists is normally May when this region can be come exceptionally busy. This makes the winter months the ideal time to fully explore this stunning area of coastline. The sun can shine just as brightly as during the summer and with none of the crowds you'll have the Calanques almost all to yourself!
Christmas markets
The French do love a market! They are central to the ebb and flow of everyday life and are enjoyable to visit no matter the time of year. Perhaps it should come as no surprise that all the stops are pulled out for Christmas then. These seasonal markets are pretty spectacular and guaranteed to get you in the festive mood.
There are too many to list here (check with your hotel or local tourist office for one near you) but they generally kick off in early December and will run until Christmas. The Christmas market at Aix-en-Provence is normally exceptional and a good starting point for those looking for some festive cheer!
A trip to Marseille
Even in the depths of winter there is plenty to see and do in this fascinating city. Head to The Panier which is the old quarter where you'll find an endless selection of artists' studios, little boutiques, bars and cafes as well as access to the old port. The Musée de Mediterranée is also located in The Panier and well worth a visit.
If you've got the energy, then take a walk up to the church of Notre-Dame-de-la-Garde. It's beautiful inside and as a reward for your walk up the hill, you'll enjoy spectacular views across the city.
Les Baux-de-Provence
Often called 'one of the most beautiful villages in France', Les Baux-de-Provence is a great day trip with lots to see and do. Built on a rocky outcrop the Citadel of Les Baux de Provence offers panoramic views across the surrounding countryside taking in the Alpilles mountain range and the Camargue.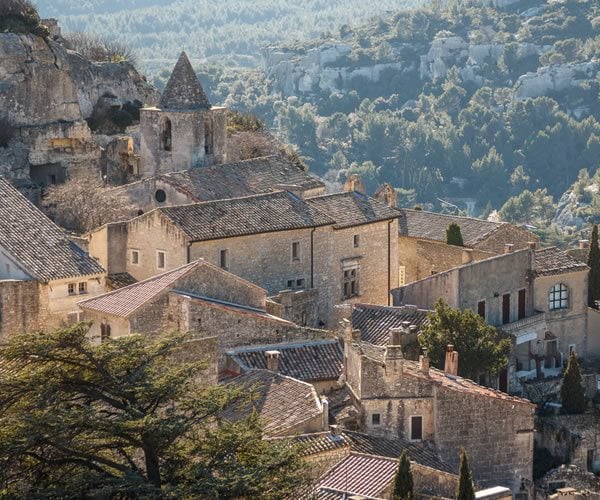 With more than a million visitors arriving each year, winter offers the perfect time to enjoy the charms of this ancient village without sharing the experience with hordes of other visitors.
Cookery course
Whilst temperatures can reach 14C during the winter months in Provence it it's only to be expected that there will be days where temperatures dip. If you're feeling the winter chill then why not spend the day in a warm restaurant kitchen learning to master the art of Provencal cooking? We'd suggest a cookery class led by Michelin star-rated Chef René Bérard at the beautiful Hostellerie Bérard would be a great choice for aspiring chefs!
Wine tour
October and November in particular can be a great time of year to explore the regions wineries and partake in the many wine related events which take place during the Autumn and Winter. And with the harvest over, wineries have more time to devote to hosting tasting workshops as well as tours of their wineries.
If you're around on the third Thursday of November then head to Avigon to watch the Procession of the Brotherhood of the Rhône Valley stroll through the streets to celebrate the official release of the new Côtes-du-Rhône vintage. Naturally there are plenty of wine tastings to be had as well!
Cheval Passion
Horse lovers, this event is for you. From the 16th to the 20th of January 2019, the 34th edition of Cheval Passion will bring together horses and riders in Avignon for a fair entirely devoted to equestrianism. On the program: 1,200 horses, 250 exhibitors, competitions and 90 hours of shows and entertainment.
Truffles
Provence is renowned for the quality of its black truffles. It's with much excitement that the truffle season officially kicks of mid-November with a ceremonial truffle proclamation in the village of Richerenches.
If you love the taste of these 'black diamonds' then this is an event for you! Fear not however if you can't attend…  after the season commences, towns and villages across the region will hold regular truffle markets allowing you to sample as many of these exquisite delicacies as you wish.
Carmargue tour
With barely a tourist in sight, this is a great time of year to explore the wildlife haven that is the Carmargue. You shouldn't find it too hard to find herds of horses and, as the region is on a migratory route, many birds settle here for the winter making it perfect for bird watchers.
The famous pink flamingos look even more striking than normal with their winter plumage being particularly vibrant.
Fete du Millesime
Every year, the coastal town of Bandol welcomes the winemakers of the Bandol appellation to a big festival where everything wine and gastronomy is celebrated! Everyone is welcome – just turn up and purchase an engraved tasting glass at the entrance (normally just € 5) before beginning a wine-tasting discovery tour through the stands. There is also lots of food served as well! This years event is from the 30th November to the 2nd December.
And much, much more!
It's probably fair to say we've barely scratched the surface of just what's on offer at this time of year in Provence. Whilst sunbathing on the beach might be out (unless you are a particularly hardy character!), the lack of crowds mean you will feel like you've got the region to yourself. Local tourist offices are normally very helpful in guiding visitors to local events so make sure you ask on arrival. Briefly, a few extras we've yet to mention are:
Olive picking: Provence is renowned for its olive groves and during November the harvest in in full swing. Lend a hand and whilst you're at it take the opportunity to learn all about olive trees including pruning, planting, harvesting and making olive oil.
New Year's Eve: New Year's is celebrated enthusiastically across France and there are lots of fireworks displays for you to choose from. Marseille is a great contender with a spectacular display set over the Old Port region of the city.
Vin Gogh: Take a trip to Arles where you'll be able to visit the Foundation Vincent van Gogh as well as famous Vin Gogh landmarks such as the Yellow House (which was rented by Vinvent) and the Bridge of Langlois.
Puyricard: Love chocolate? Then you'll want to head to Puyricard, a luxury chocolate factory on the outskirts of Aix-en-Provence. Enjoy tours, courses and of course, tastings, plus learn about the fascinating history of this now iconic chocolate brand.
Su Stephens is Owner of Olives & Vines. Olives & Vines is a luxury holiday company based in the South of France offering stays at their beautifully designed holiday house and boutique hotel in Le Castellet.
If you would like to be a guest blogger on A Luxury Travel Blog in order to raise your profile, please contact us.