By
Missy Johnston
on Nov 19, 2018 in
Alaska
,
Bahamas
,
British Virgin Islands
,
Caribbean
,
Croatia
,
Cruises & Boat Travel
,
Eastern Europe
,
Europe
,
Fiji
,
France
,
Greece
,
Italy
,
Maine
,
North America
,
Oceania
,
Regions
,
Speciality Travel
,
USA
,
Western Europe
Luxury yacht charter is already a special experience; however, for that extra dash of pizzazz, for an extra special experience, let us share with you our "insider recommendations" of what to see and do for the following 10 great yacht charter cruising locations.
The wreck of the RMS Rhone, Salt Island, British Virgin Islands
It truly was a dark and stormy night in 1867 when the RMS Rhone went down between Peter and Salt Island, in the British Virgin Islands, and there she rests to this very day, in waters shallow enough for both a great snorkeling experience, and a great scuba diving experience for any level of snorkeler or scuba diver from beginner to expert. 
The RMS Rhone was one of two ships built in England in the same period that were considered "unsinkable".  The other ship was the HMS Titanic. However, while the Titanic sank miles under the water onto the ocean floor in the chilly north Atlantic, only being explored now in modern history by special technology, the RMS Rhone sank in very shallow warm Caribbean waters during a hurricane and is one of the best opportunities available for even the snorkeling or scuba diving veriest beginner to explore a sunken ship wreck.  For years showing just a mast above water, in the 1950's the wreck was determined to be a maritime safety hazard and was further sunk to a depth of 30-80 feet under water. Now a maritime national park, be sure to visit this site between Peter and Salt Island while on a crewed yacht charter in the British Virgin Islands, for snorkeling and/or scuba diving on the sunken remains of the RMS Rhone.
Club 55, St. Tropez, French Riviera
Most easily visited by ship's tender from your yacht anchored off Pampelonne Beach near St. Tropez, France, this casual, yet very chic, family owned beach restaurant and bar, has graced Pampelonne Beach since 1955. Once said to be Bridget Bardot's favorite beach restaurant, Club 55 has been and still is a perching spot for many well-known celebrities.
Your yacht can anchor right off Club 55 for you to enjoy the beautiful beach and swimming in the lovely waters. When hunger or the need for a cool beverage strikes, head to Club 55 (with reservations in advance).  Tucked into the sand on the beach, Club 55, has dining indoors as well as outdoors under palapa style open air roofs, with additional shade provided by stretched canvas wings, and local trees.  Outdoors, tables and chairs are set right in the sand.  With lovely china and table linens, dining is far from picnic style, nor is the menu picnic food. This is fine dining, at its most casual.
Roman tunnel, Ponza Island, Pontine Islands, Italy
Very difficult to reach, other than by private yacht, this jewel of an island off the coast of western Italy, is the main island within the Pontine Islands. Ponza Island was more popular in Ancient Times then today and was especially beloved by the Romans who prized the island as a vacation spot.  With a great natural harbor on the southern side of the island, the open northern side was the perfect location for Romans to build beautiful large sprawling villas on the cliffsides.  And right under the villas in the cliffs were caves in which the Romans had dug a network of tunnels connecting various salt water pools. 
Today, no one knows why the Romans dug these pools and tunnels or what these pools were used for; whether for keeping a supply of very fresh fish for a wealthy Roman's dinner from pool to plate, or perhaps for bathing inside caves in salt water pools, filled with the cooling waters of the Mediterranean Sea while avoiding the sun. When in Ponza Harbor, rather than cruising by sea around to the other side of the island, or trekking by land over hills and dales, the Romans built a tunnel for a direct connection from the harbor to their villas, right through the island between the harbor and beautiful Luna Bay; a lovely bay of clear blue water ringed by chalk cliffs. Today walk through the Roman Tunnel from one side of the island to the other, just as the Romans did milleniums ago. Visit Ponza Town on the harbor, and while your yacht cruises around the island from the harbor to Luna Bay, walk through the Roman Tunnel to spectacular Luna Bay, emerging from the tunnel to the view of your yacht anchored in the bay, ready for an afternoon of swimming and great water sports.
Lobster boil on the beach, Butter Island, Maine, New England, USA
A long time culinary event in Down East Maine, enjoy a real Maine lobster boil right on the beach of Butter Island, including very fresh lobsters bought right off the boat from the local lobster fishermen.  The key to this culinary extravaganza is to boil all in a huge pot in clean sea water, with fresh clean seaweed separating the different layers of food. Both the fresh sea water and seaweed create a boiled lobster dinner with a sweet complex flavor, impossible to re-create. 
The traditional lobster boil is built of layers of food, placed in the pot from bottom to top in a prescribed order dictated by cooking times.  Those foods requiring longest to cook should be placed closest to the flame, at the bottom of the pot, so that the pot is loaded in this order: potatoes, Portuguese sausage, lobsters, soft shelled clams, mussels, and just before being done, fresh corn on the cob.  Dropped into the pot last should be two raw eggs in their shell, that serve as nature's timer.  The pot is filled with fresh sea water and put over the flames of a wood fire, or propane burner.  The lobster boil is cooked to perfection and ready to be poured out on a bed of clean seaweed on the beach when the raw eggs put in the pot rise hard boiled to the surface of the boil.
Swimming pigs, Big Major Cay, Exuma Islands, Bahamas
Marooned on this tiny cay in the Exumas Islands, are various pig families that subsist on handouts provided by yachtsmen visiting by yacht tender. In their quest for food, these pigs have learned to swim and will swim out to any visiting tender for a handout. Mom pigs teach their babies to swim from the get go, and often a Mom can be seen swimming out to yacht tenders, with little piglets swimming right behind.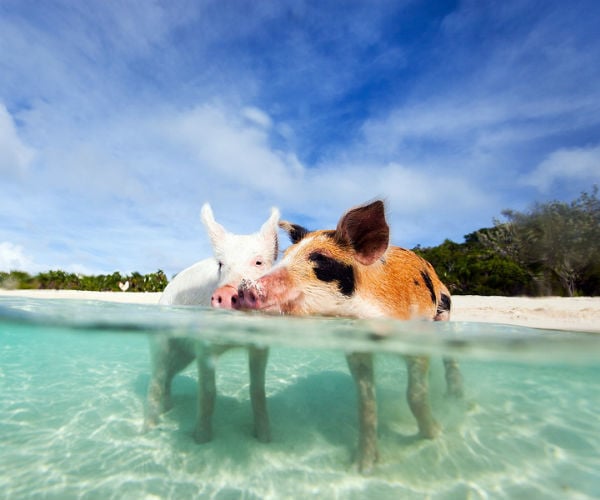 While cute as can be, one should always remember that these pigs are feral, hungry, will try to get into the tender for food, may bite or cause injury with their cloven hooves when swimming, and can knock an adult right down on the beach.  Best to toss food from the tender to the piggies from a safe distance.
Akrotiri excavations, Santorini Island, Cycladic Islands, Greece
Some say this lost city, currently under excavation in Akrotiri on Santorini Island, is the Lost City of Atlantis.  More likely however, that being excavated are the remains of a wealthy Minoan trading city. Excavations reveal an advanced civilization that built three story apartment buildings, and had running water and sewers. To date, only around 5% of this extensive site has been excavated.  The city was lost in the huge explosion of the volcano once in center of the island, in the 1700s BC. This eruption literally blew the top right off the island, and covered this city in ash for millenniums.  Unlike Pompeii, the residents of this city must have had warning before the final catastrophic explosion, as the excavations are uncovering a city deserted except for a few grains of wheat left behind in storage amphorae. 
On site, the excavated area is under cover inside a building where archeologists can be seen working today.  Tickets must be purchased for entrance, and because the excavated area is poorly marked, we suggest hiring a private guide usually waiting to be hired in a kiosk across from the ticket booth.  Be sure to stop in Fira to see the Archeological Museum where artifacts found during the Akrotiri excavations, including beautiful wall murals, are on display.
Sevu Sevu ceremony, Fijian Out Islands, Fiji
A Sevu Sevu ceremony is a cultural ceremony that is a "must do" when requesting permission to anchor in the waters and/or come ashore to a village in the Fijian Out Islands. Your village chief (Captain) must request permission of the village chief or designated person ashore in a ceremony that includes your chief providing a present to the village chief, which is usually dried Kava or the more highly prized dried Kava root.
During the ceremony, around the village kava bowl, permission is asked, and usually granted, to use the waters or visit the village that has claimed ownership of the surrounding area, both land and sea. Do not wear sunglasses during the ceremony or when ashore however, as it is considered rude in the Fiji Out Islands to cover one's eyes. Enjoy a taste of local culture that has always been an important part of Fijian Out Island village life, that happens only when your chief (Captain) takes you to visit the village of another Chief in the out islands of Fiji.
Twin Sawyer Glaciers, Tracy Arm, Inside Passage, Alaska, USA
All publicity about Alaskan Glaciers centers on Glacier Bay National Park, and yet just south of Juneau is lovely Tracy Arm, a fjord snaking off Frederick Sound, headed by the Twin Sawyer Glaciers; one or the other of which calves at least once an hour.  Rather than the vastness of Glacier Bay, here in a microcosm, to enjoy in an afternoon, is everything there is to see and do in Glacier Bay, without being so overwhelming. Cruise to the head of Tracy Arm in the Pacific Northwest to see the Twin Sawyer Glaciers, North Sawyer, and South Sawyer, calve, which happens often.
On the way up Tracy Arm, in the cliff sides on either side of this deep fjord, wildlife can be seen along with waterfalls tumbling over the cliff edge of the fjord; while ice floes, some small and some huge, float past heading downstream. Nearer to the twin faces of the glacier the amount of ice floating in the fjord increases with numerous harbor seals using the surface of the ice floes as sun pads. Put the sea kayaks in the water and kayak around one of the ice floes chipping off a chunk of this centuries-old ice for evening cocktails back on board.  Then watch and wait.  Suddenly with a loud cracking sound, the face of the glacier will calve into the waters below, harbor seals will dive into the water from their various "sun pads", and more ice floes will start their trip floating down Tracy Arm to Frederick Bay.  After, harbor seals slip back on to their sun pads, and all is calm and well with the world….. until about an hour later.
Erupting Stromboli volcano, Stromboli Island, Aeolian Islands, Italy
Called Nature's Lighthouse and used as a navigational maritime aid by ancient seafaring civilizations this very active volcano has been erupting for over 2000 years.  And erupt it does, constantly; however, luckily the eruptions are more like little "burps" than huge catastrophic events. 
These "burps" do created a fabulous display that lights up the sky, particularly at night.  Anchor next to Stromboli Island, and dine on the top deck by the light of volcanic "fireworks".  Hike up the side of the volcano, with an arranged guide, for a terrific view of lava and rocks spewing out of this volcano crater.
Gulin Farm, Vela Luka, Korcula Island, Croatia
Located throughout Croatia, this is a unique food event known as a "homested restaurant", a true Farm to Table experience unlike anywhere else.  Gulin Farm, located in Vela Luka on Korcula Island is one of our favorite" homested restaurants".
Gulin Farm family will start early in the day to prepare foods traditional in their area, under the "Peka Bell", a manner of hours long slow cooking.  Foods will be meats and chicken raised on their farm, seafood caught from their beach, fresh grown vine ripened vegetables, home pressed olive oil from their olive trees and home-made bread.  Ask to watch when the "Peka Bell" is "cracked", releasing the aromas of the food and herbs as captured under the Bell while slowly roasted.
Missy Johnston is Owner of Northrop-Johnson Yacht Charters Newport. Northrop-Johnson Yacht Charters is a luxury crewed yacht charter company offering top notch private yachts with great crews in every worldwide cruising destination.
If you would like to be a guest blogger on A Luxury Travel Blog in order to raise your profile, please contact us.