Siem Reap is fast becoming one of the most popular tourist destinations in Southeast Asia. With TripAdvisor naming Angkor Wat as the number 1 Landmark in the World for the second consecutive year it's no surprise visitor numbers are on the rise. In addition to visiting the award winning and incredible Temples of Angkor, we're going to suggest how else to find the feel good factor in Siem Reap including socially and environmentally conscious initiatives, luxury hotels that go above and beyond to respect the planet and off the beaten path tours.
Visit the awe-inspiring circus
Check out the awesome Phare Circus which for us is a 'must visit' in Siem Reap. Situated on the edge of town in their very own big top you are in for a visual and sensory treat when you catch one of their breathtaking shows. Featuring a unique blend of theatre, dance, music and arts, the performers are all graduates of the excellent Phare Ponleu Selpak which is a non profit Cambodian association which has been improving the lives of children and young people through arts and education since 1994.
Protect the environment
Since 2008 the team behind Naga Earth have been on a mission to protect the environment and improve public health in Siem Reap. They have developed projects that include recycling used cooking oil to produce bio deisel and also a foaming hand soap from the glycerin by-product. For those of you with relevant skills to offer, you can consider their volunteering opportunites. For all others in Siem Reap on vacation, you can support them by dining at one of their many partner restaurants. Our favourites are Haven, New Leaf, and Footprints Cafe who in addition to serving delicious food and partnering with Naga Earth all have their own social and environmentally responsible initiatives.
Join a bespoke photo tour
With a selection of single and multi day tours, Angkor Photography Tours are considered to be one of the leading photo tour companies in the region. In addition to tour options including 'Angkor Sunrise', 'Lost Temples of Angkor' and 'Tonle Sap Lake' they also offer the opportunity to experience unique and expertly curated tours including 'Life in the Countryside' and 'Cambodia by Rail'. Whether you are a beginner wanting to learn more from an expert, or a seasoned pro who would like guiding to secret locations, rest assured you are in safe and steady hands with your professional and knowledgeable guide.
Reduce your plastic use
What started as the coming together of like minded tourism professionals in Siem Reap has blossomed into a huge and ever growing initiative to reduce and ultimately end the use of single use plastic bottles by hotels, restaurants and tourism operators in the region. This campaign is called Refill not Landfill and has fast become the benchmark for anyone in Siem Reap and further afield who understands the enormity of the problem and wants to make positive changes. Quite simply, they encourage and work with their partners to offer refillable metal bottles as an alternative to single use plastic bottles; this combined with multiple refill stations where your bottle can be filled for free provide a planet loving solution.
Stay at the best luxury hotel in Siem Reap
Currently number 1 on TripAdvisor the simply wonderful Jaya House River Park is an oasis of calm and the perfect spot to relax and rejuvenate in Siem Reap. This 36 room gem of a hotel is leading the way in service and style whilst at the same time constantly pushing boundaries in an effort to be both environmentally and socially conscious. Responsible for planting more than 750 large trees on the riverside, they are also the first plastic free hotel in Cambodia, founding partners of Refill not Landfill, supporters of Naga Earth and are contributing to a number of local NGO's. Rest easy knowing that you are choosing a luxury hotel with a huge heart when you choose to stay here.
Stay at the newest luxury hotel in Siem Reap
The brand new Treeline Urban Resort boasts an enviable riverside location in the heart of Siem Reap and this design led luxury hotel offers guests the chance to feel good in so many ways. Of course, the rooms and suites are beautifully appointed and you can be sure to enjoy the serene spa or the rooftop pool but the real feel good factor comes when you check out their planet saving initiatives. In addition to working with Refill not Landfill and Naga Earth, the guestrooms are 100% plastic free with bamboo razors and toothbrushes upon request, the natural amenities are in refillable ceramic containers and solar heating is used for the water which all demonstrate the ethos of this exciting new property.
Join a mountain bike adventure
There are few better ways to explore the temples and the surrounding countryside than on a mountain bike, take the chance and experience ultimate freedom whilst being led by industry leading guides from Grasshopper Adventures on one of the many tours they offer. With offices all over Southeast Asia in 14 countries these guys know what they're up to and you will be sure to enjoy your adventure with them, choose from compact yet enjoyable half day and single day tours to 2 week multi country adventures where you get to explore every corner of this enchanting region. Expect high quality bikes, enthusiastic guides and a support team that will see you through even the toughest of times, whilst rest assured that there will be a tasty meal and comfortable bed awaiting you at each stop.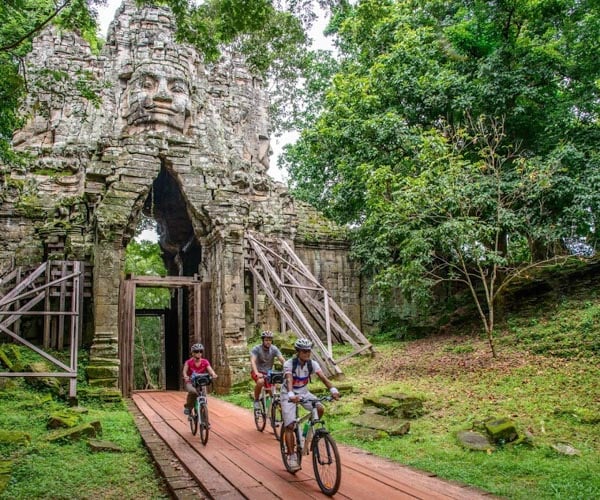 We hope you've enjoyed reading about our various ways to find the feel good factor in Siem Reap. Of course you will want to visit the temples and rightly so, they are mind blowing in so many ways but with our suggestions you can also feel good, get fit and make a positive impact during your Siem Reap travel adventure!
Paul Eyers is Founder of Vegan Food Quest. Vegan Food Quest have become luxury vegan travel specialists as they continue to find, eat and write about the best vegan food in the world.
If you would like to be a guest blogger on A Luxury Travel Blog in order to raise your profile, please contact us.