By
Kelly White
on Jan 16, 2019 in
Adventure Travel
,
Africa
,
Featured
,
Malawi
,
Regions
,
Sierra Leone
,
Speciality Travel
,
Swaziland
,
Tanzania
,
Uganda
,
Zambia
While it's common for Africa's 'Big Cats' to be considered as the continent's primary wildlife species, the animals that often inspire the most awe when out on safari are the larger, 'Big Grey Giants' – elephants, rhinos and hippos. There is nothing quite like witnessing these huge beasts and their surprising grace and agility, so in this blog we're rounding up some of the best places in Africa to see the Big Grey Giants.
Rhinos in Mkhaya Game Reserve, Eswatini
Eswatini is one of the best places in Africa to observe the continent's two rhino species. There is a good, well protected breeding population in Mkhaya in the country's lowveld, where you can get very close to white rhinos, both by vehicle and – even better – on foot. White rhinos are generally easier to encounter than black and stepping out into their territory allows a fascinating insight into their ecology. These huge beasts spend up to half their time grazing, rotating feeding areas to maintain regular 'lawns'. They drink daily, usually at dusk, and cool off by day in mud wallows. Beside favourite wallows you will usually find a 'rubbing post': a low stump polished to a smooth finish by generations of itchy rhinos seeking to rid themselves of skin parasites. You will also find the large (up to waist-deep) middens of grass-filled dung that the rhinos deposit at strategic points around their territory. Furrows in a midden show where its owner has scraped his back feet, picking up a signature scent to spread along the trail.
Black rhinos are much harder to find than white, generally sticking to dense cover, but Mkhaya is one of the best places to get a decent look at this shy creature and rangers can lead you directly to where one has most recently been seen. Tracking a black rhino on foot through thick bush is one of Africa's more adrenalin-charged wildlife experiences. This nervy animal has acute smell and hearing but poor eyesight, so is quick to imagine a threat and may opt for a blind charge as the best form of defence. This can occasionally require you to seek refuge behind – or even up – the nearest tree, although the rhino is just as likely to charge off in the other direction. Nearby Hlane Royal National Park also has a good, well protected breeding population of rhino. From a distant view it's easy to assume that the large number of huge large grey beasts often seen relaxing by the waterhole are hippos. A more careful look will reveal the horns!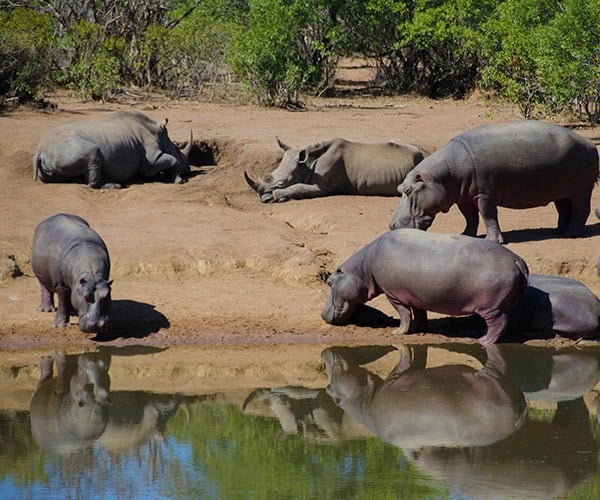 Where to Stay in Mkhaya Game Reserve
The only place to stay in Mkhaya is the charmingly rustic Stone Camp. This is the country's top safari lodge and consists of just 12 cottages. All have steepling thatched roofs and are open-sided, with bedroom and bathroom looking onto the bush. The cottages are linked by sandy paths but screened from one another by dense vegetation. The camp is delightfully situated in shady riverine forest along a dry riverbed, beneath towering sycamore figs, leadwoods and sausage trees. There is no electricity, but paraffin lamps light pathways and cottages after dark. Wildlife such as nyala wanders through at will and birdlife is prolific. The whole set-up strikes an excellent balance between bush and comfort. Hearty al fresco meals are served with wildlife wandering past as you tuck in and warthogs settling down by the warmth of the fire as you retire to bed!
Elephants in Nkhotakota Wildlife Reserve, Malawi
Although Nkhotakota may not yet be able to claim the very best elephant viewing in Africa, it probably won't be long before it can. In 2016 and 2017 Nkhotakota was the site of the largest elephant translocation in history, with over 500 individuals moved in to this emerging reserve. The re-locations started just a year after the dynamic and pioneering conservation organisation African Parks assumed management of the reserve and decided to create something of an elephant sanctuary there.
Relatively little visited up to then, the Nkhotakota sits on the escarpment of the East African Rift Valley and is an area of beautiful and genuinely untouched wilderness. Thick bush is dissected by rivers crashing down the escarpment. Ably assisted by none other than HRH Prince Harry, the #500Elephants project was a huge success. The animals have settled well in their new home and are now regularly seen by those on safari from the few lodges in the reserve.
Where to Stay in Nkhotakota Wildlife Reserve
Nkohtakota's primary lodge is Tongole, a multi-award winning, very highly rated luxury lodge that is reason in itself to visit the reserve. Accommodation is a set of luxurious open-plan suites with huge, sumptuous beds, sunken baths, private decks and breath-taking panoramic views over the Bua River. A little further along the river, Bua River Lodge has new owners with exciting plans for developments. Its varied accommodation includes tents on islands in the river! Finally, recently opened just outside the reserve is the new Rafiki Safari Camp with 3 luxury tents and camping facilities.
Hippos in Liwonde National Park, Malawi
Liwonde has long been Malawi's premier wildlife reserve and during the years when big cats were relatively scarce (it has recently had both lion and cheetah re-introduced), its Big Grey Giants were some of its main attractions. The magnificent and broad Shire River runs through Liwonde and is the only river that drains the immense Lake Malawi. This vast flowing channel is home to one of the most dense hippo populations in Africa with an estimated one hippo every 10-20 m of the river as it passes through the Park!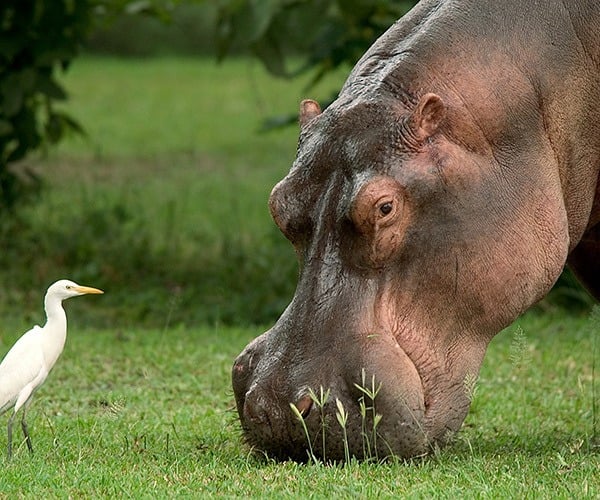 The boat safaris for which Liwonde is renowned will always encounter pods of hippos out in the water, though they will be quick to submerge if the boats get too close. At night, the hippos venture out of the river and head into the bush to graze, their grunting and munching providing much of the night-time soundscape for the Park's overnight guests! With a good elephant population and protected group of black rhino, Liwonde is a park in which it's relatively easy to tick off all three of the Big Grey Giants.
Where to Stay in Liwonde National Park
Just to illustrate the importance and prominence of hippos in Liwonde, the longest established lodge in the Park actually takes its name from the local word for hippo – Mvuu!  Mvuu Lodge is a luxury safari lodge with 'tents' dotted round a lagoon that branches off the main River Shire. Neighbouring Mvuu Camp offers a cheaper alternative. New to the Park, Kuthengo Camp by Robin Pope Safaris opened only last year but also chose a site close to the river and so not far from the hippos! Each of its 4 luxurious safari tents has a private deck with stunning views down to the river.
Rhinos at Ziwa Rhino Sanctuary in Uganda
A visit to Ziwa Rhino Sanctuary is a unique experience because it is the only place in Uganda where you can see rhinos in the wild. Both the Black Rhinoceros and the Northern white rhinoceros are indigenous to Uganda, however, by 1982, both species had been wiped out in the country. The Ziwa Rhino Sanctuary was established to reintroduce the white rhino to Uganda. Through the
breeding and release programme at Ziwa Rhino Sanctuary there has been tremendous success. Last year saw the birth of two rhinos and this year has been even better, with three new baby rhinos born, bringing the total to 25.
Following a short safety briefing, specialist guides lead you through the bush, along trails used by rhinos themselves to find them in their natural habitat. On reaching the target rhino group, guides move the visitors to the best places for photographs and explain rhino behaviour. On the walk back, visitors are shown other points of interest such as medicinal plants, landmark trees, aardvark holes and termite mounds along with other wildlife and birds found in the area.
Where to stay At Ziwa Rhino Sanctuary
In the heart of rhino territory, surrounded by bush and woodland, a haven for birds, is the Amuka Safari Lodge. Comfortable rooms, good food and friendly staff make for a memorable stay. There is even a plunge pool to cool off in. For the budget conscious, there is also a camping option near the HQ. To many, the most exciting activity offered is the night walk where the sounds and often the sights of Uganda's nocturnal wildlife can be experienced. Whether it is a leopard, an aardvark, a pangolin, a genet cat or even a wandering rhino, experiencing wildlife at night sets the heart racing. Whatever the activity, visitors are making an important contribution to the rhino re-introduction project of Rhino Fund Uganda. It is through payment for these activities that funds are raised to run the sanctuary and employ the staff to keep the rhinos safe.
Elephants in Kafue National Park, Zambia 
In the past 10 years the population of elephants in the Kafue has increased by 3%, meaning it is now home to the second largest population in Zambia with more than 8000 individuals in the park. Whilst 3% might not sound a lot, in other parts of Africa, numbers are dipping rapidly. The growth is partly due to the great work from the staff at the Elephant Orphanage Project, which was established back in 2007.
With a growing number of orphaned elephants that need to be rescued, the Elephant Orphanage Project has expanded to run two facilities. The Elephant Nursery – 12km south of Lusaka – where the youngest elephants are cared for, and the Kafue Release Facility, located in the Southern Kafue National Park, on the banks of Itezhi Tezhi Lake, where they are more independent of human support and spend most of their time browsing freely in the park.
Where to stay in Kafue National Park
Konkamoya Lodge is less than half an hour drive from the Kafue Release Facility and offers four luxurious tents furnished in a colonial style able to accommodate up to 8 guests. With no other lodges or camps around, you have the privilege to exclusively enjoy the amazing landscape and the rich wildlife of this unique ecosystem. The Itezhi – Tezhi Lake promises great new horizons for bird watching aficionados and is a big attraction for the rich wildlife of the Southern Kafue, the wildest and still undiscovered section of this amazing National Park.
Hippos in Serengeti National Park, Tanzania
Commonly seen during safaris lying quietly in the water, hippos are thought to be friendly and lazy. But they can be some of the most aggressive creatures in Africa. In fact, they might just be the strangest and most dangerous animal you will witness on safari, half-submerged sixteen hours a day along rivers in their groups, or "bloats," of 10-20 hippos. As the third largest land mammal on Earth, these huge, water-loving creatures can grow to the length of an adult giraffe. When the dry season comes, hippos have to share water pools with around a hundred others of their kind.
The Serengeti National Park is great for spotting hippos. This place is home to large groups of hippos, and at the end of the dry season, up to 200 hippos can be found in one place. The Serengeti is also the home to many sought-after species, such as giraffes, zebras, and leopards. The best place to view leopards in the Serengeti National Park is at the Retina Hippo Pool situated in Central Serengeti, where the Seronera and Orangi rivers meet.
Where to stay in Serengeti National Park
Mbali Mbali Soroi Serengeti is set high on a natural plateau with endless views of the Musabi Plains in the Western Corridor of the iconic Serengeti National Park. The architecture, design and modern decor of the thatched chalets built on the edge of the plateau make Mbali Mbali Soroi Serengeti unique, offering visitors an unforgettable Serengeti safari experience. The three-tier decked main area, with swimming pool and fire place, provides a great spot for wildlife watching, and even the individual chalets have their own verandas with amazing views over the Serengeti's plains.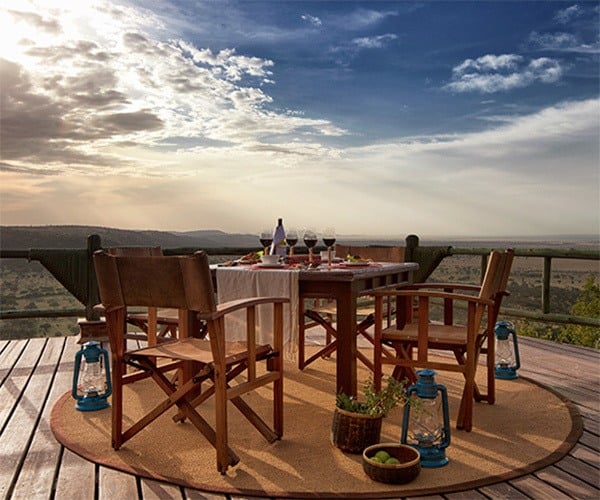 Pygmy hippos in Sierra Leone
Finally, though they may not quite be 'giants', the pygmy hippopotamus is worth a mention as one of the most important high conservation value species of the Gola Forests in emerging Sierra Leone. The Greater Gola Landscape in Sierra Leone and Liberia is one of the last remaining
natural habitats for pygmy hippos and therefore very important for their survival. Research results showed that in the Greater Gola Landscape, pygmy hippos mainly occur along larger rivers in the community forest area.
It is possible to track this endangered hippo species, as well as 11 other primate species, on Tiwai Island Wildlife Sanctuary. Tiwai Island is particularly interesting to people who have an interest in wildlife and the bio-diversity of the island. It is a popular spot for tourists and researchers alike. The accommodation is tents set on raised platforms, and while basic, the tranquillity more than makes up for it. You can go on forest walks, boat trips down the river or visit other neighbouring islands.
Kelly White is Director of the Malawi Travel Marketing Consortium. Malawi Travel Marketing Consortium aims to provide you with the best information to make Malawi your tourism destination.
If you would like to be a guest blogger on A Luxury Travel Blog in order to raise your profile, please contact us.