California is renowned for its theme parks, amongst other things.  Above all, they offer a variety of ways to have fun – only limited by your time, your energy and, adrenalin.  Providing everything from castles, characters, thrill rides and incredible places which help us learn about the world around us.  And history too, the Louff Carousel from 1911 is a national monument. And the world's oldest Park, Knotts Berry Farm, dates back to the 1940s. These parks are seriously tried and tested places to have fun!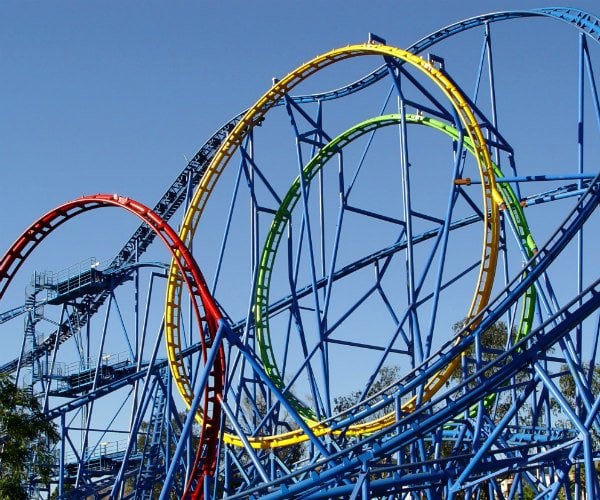 Southern California – SAN DIEGO COUNTY
Legoland California, Legoland Water Park, Sea Life Aquarium (Carlsbad)
This is an excellent place for younger children, with some rides geared for youngsters as young as age 2
Older kids, and adults will enjoy Land of Adventure which twists through temple ruins, and Pirate Reef with water cannons and water slides. (The area is also accessible via Legoland's adjacent water park.)
Look for remarkable recreations of classic Star Wars scenes and Miniland USA, all built out of Lego plastic building blocks.
Sea Life Aquarium, the nearby sister facility, is home to over 4,000 underwater creatures,m including sharks, rays, fish, crabs and even octopuses, living in 41 exhibits. The aquarium has hands-on touch pools, offers educational talks, feeding demonstrations and a walk-through aquarium. In addition, it is a Conservation Partner of the Monterey Bay Aquarium Seafood Watch program.
San Diego Zoo (San Diego) and San Diego Zoo Safari Park (Escondido)
San Diego Zoo hosts one of the world's greatest collections of exotic animals. The Zoo can be found in the city's Balboa Park.
There are over 4,000 rare and endangered animals, found in naturalised settings, including giant panda bears and koalas.
Special experiences include behind-the-scenes tours and expert talks, as well as web cams tracking activities of panda cubs.
San Diego Zoo Safari Park offers a chance to see a wide array of spectacular animals roaming in expansive enclosures, especially from African plains.
Open-air tram tours offer uninhibited viewing and photo opportunities. Special experiences include guided Segway tours and a soaring zip-line ride.
ORANGE COUNTY
Disneyland Resort (Anaheim)
Mickey and friends have been welcoming visitors to this ultimate theme park since 1955. Two distinct parks: the original Disneyland Park (featuring eight themed "lands" including Frontierland and Tomorrowland) and Disney's California Adventure Park.
California Adventure Park is home to Route 66-themed Cars Land with rides and attractions inspired by the Cars movies from Disney/Pixar Studios.
Nightly World of Color shows feature a spectacle of water and light with scenes from Disney films projected onto computer-programmed dancing fountains high in the night sky.  Splash alert in the front rows…
Familiar Disney characters appear in shows and parades and are found at various locations for autographs and photo opportunities.
Consider joining a behind-the-scenes tour, kid-favourite character breakfast or other special experiences.
Adjacent Downtown Disney offers top shopping, sit-down dining and outdoor entertainment.
Knott's Berry Farm (Buena Park)
Built on a former berry farm, this park has been charming children—and grownups—since 1940.
Park debuted with Ghost Town, designed to entertain diners as they queued up for the farm's popular chicken dinners which are still available there, as are slices of the park's signature boysenberry pie.
Six ride-filled areas, including Camp Snoopy based on Charles Schulz's beloved Peanuts comic strip.
Try Supreme Scream – only for the brave who want to defy gravity and experience 3 seconds of weightlesness. Be trasported straight UP  to a record breaking 252 feet at speeds of 50mph on this open-air ride, before power-blasting straight back DOWN – in three seconds flat
Big kids and adults enjoy thrill rides, giant coasters and classic water rides.
California Boardwalk fun zone offers games, amusements and quick food offerings.
Universal Studios, Hollywood
Visit The Wizarding Wolrd of Harry Potter, enjoy some amazing rides and make your way through Hogwarts school of witchcraft and wizadry.
Take the world famous Studio Tour. This offers a real behind-the scenes look at movie making secrets. Enjoy the largest street movie set ever built in Hollywood history. You can also experience the world's largest 3D experience at King Kong 360 3-D (scary stuff)
Visit the Simpson's in Springfield and take the ever so real Simpson's simulated roller coaster ride – hang on tight.
Enjoy a special effects show where real Hollywood stuntment and modern technology re-create scenes from your favourite movies.
I recommend buying the VIP experience to gain full access with no queuing.
LOS ANGELES COUNTY
Six Flags Magic Mountain & Hurricane Harbor (Valencia)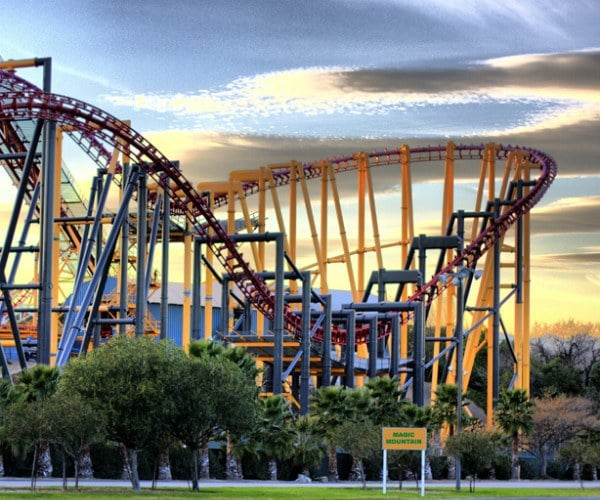 Billed as an ultimate adrenalin-rush park with coasters and thrill rides aimed at pushing the limits, especially for teens and young adults.
Expansive 260-acre Magic Mountain features more than 100 rides and attractions, including 16 roller coasters like the White-Knuckle X2 and Superman: Escape from Krypton, the world's first ride to reach 100 miles per hour.
Little ones enjoy rides and attractions in cartoon-themed Bugs Bunny World.
Nearby Hurricane Harbor water park, open summer and autumn, offers a wide array of water-based rides and attractions, including the tallest fully enclosed speed slides in Southern California. It also has a 1,300-foot river, a wave pool, an interactive lagoon and a kids' play area.
Theme parks & attractions in Northern California
BAY AREA
Six Flags Discovery Kingdom (Vallejo)
Theme park with a wild-animal twist, with shows and exhibits featuring tigers, sea lions, walruses, giraffes, sharks, penguins and orcas.
Gravity-defying roller coasters and thrill rides, like Superman Ultimate Flight and Medusa, make this park a winner for teens and young adults.
134-acre bay-front location.
California's Great America (Santa Clara)
Debuting in 2013, Gold Striker, the tallest, fastest wooden coaster in Northern California.
Special celebrations, like Peanuts Party in the Plaza, keep kids entertained.
Boomerang Bay waterpark cools things off in summer.
At Planet Snoopy, kids romp in a world based on Charles Schulz's Peanuts characters.
Santa Cruz Beach Boardwalk (Santa Cruz)
Pristinely maintained, century-old waterfront boardwalk and play land.
First welcomed visitors in 1907.
Spectacular setting on northern edge of Monterey Bay.
Giant Dipper, a classic wooden coaster with sky-scraping climbs and nerve-jangling descents carried its first set of screaming riders in 1924.
Beautiful 1911 Looff carousel is a registered National Historic Landmark.
Live bands perform on Fridays in summer (free).
So, there you have it, California's theme parks truly offer something for everyone.
If you're interested in an original holiday experience, I have a lot more first-hand knowledge of California and a passion for travelling to share with you.
Kim Robertson is Director at Your Way (Travel) Ltd. Your Way (Travel) Ltd. specialises in long haul, tailor-made, cruise and luxury travel to the USA, Caribbean, Indian Ocean and Far East.
If you would like to be a guest blogger on A Luxury Travel Blogin order to raise your profile, please contact us.