Luxury resorts and vegan food in Phu Quoc
Read all about these Luxury Resorts and Vegan Food in Phu Quoc from our recent trip to the Vietamese island which is a fast growing tourism hotspot. We experienced 3 luxury resorts that were all very different to each other but had one thing in common for sure. Upon request they were more than able to cater for us as vegan guests and went above and beyond to ensure we enjoyed a plant based bonanza in Phu Quoc.
Salinda Resort Phu Quoc
Situated just 10 minutes from the international airport and overlooking the ocean, Salinda Resort Phu Quoc has been a firm favourite with luxury travellers since it opened in 2014. Guests can choose from a selection of well appointed rooms and villas (including many with ocean views) and restaurants serving Italian, Indian and traditional Vietnamese cuisine. In addition to the three main restaurants, 'Cyan by The Pool' offers a selection of light bites that can be enjoyed 'al fresco' and next to the pool.
Vegan food at Salinda Phu Quoc
With clearly marked vegetarian options (many of which were vegan) on the menus at Salinda Phu Quoc, and an exclusive vegetarian menu at their signature restaurant we certainly didn't go hungry during our stay. We loved the dim sum, sushi and fresh spring rolls which were prepared upon request for breakfast and were very excited when vegan pancakes arrived at our table! Our meal from the vegetarian menu at Salinda Restaurant was a vegan Vietnamese feast with a selection of plant based dishes being served. There were many highlights but the vegan version of 'cha cala vong' which is a dish from Hanoi was both memorbale and delicious, we love the opportunity to enjoy traditional food that has been veganised.
Fusion Resort Phu Quoc
This 'all inclusive spa' resort is the perfect choice for travellers who wish to combine a luxury beach holiday with pampering and relaxation. Guests are able to book multiple treatments in advance (and more upon request) from the extensive spa menu ensuring the ultimate in spa experiences. Combining this unique offering with modern and stylish villas (all boasting their own private pools) and the ability to enjoy 'breakfast any time, anywhere' means that you are sure to feel refreshed and revitalised after your time here.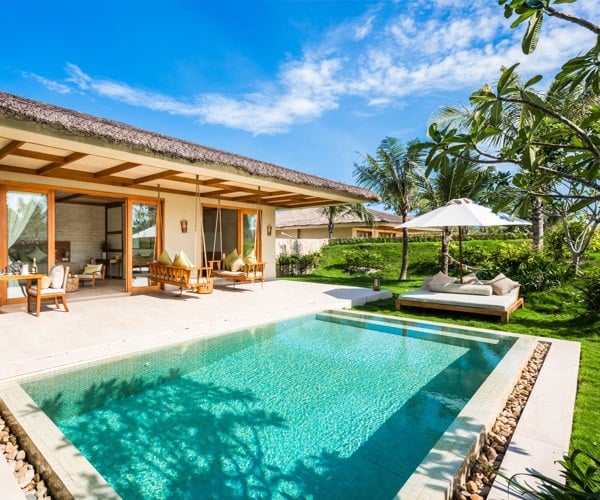 Vegan food at Fusion Phu Quoc
With a focus on wellness at all Fusion Resorts we knew we would have no problems dining as vegans at Fusion Resort Phu Quoc. The knowledge that a vegetarian menu was available throughout the resort also added to our confidence. This menu had many dishes that were either vegan or easily adapted and a combination of oredering dishes from this menu and a chef who was happy to create a few surprises ensured a very vegan friendly stay. Our specially prepared afternoon tea with scrambled tofu and smashed avocado on toast with tofu skewers and a smoothie bowl was fresh and delicious; and if we tell you we ordered vegan banh xeo every day for breakfast you will understand just how good they were!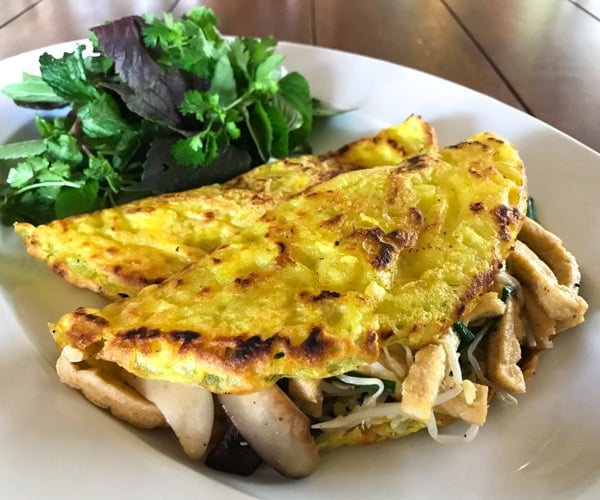 JW Marriott Phu Quoc Emerald Bay Resort & Spa
Welcome to Lamarck University. This is the greeting you will receive upon arrival at this simply one of a kind luxury beach resort in Phu Quoc. JW Marriott Resort is located within the grounds of a fictional university which closed its doors in 1890 and needs to be seen to be believed. Every element of this concept has been imagined, researched and delivered with such attention to detail that guests cannot fail to step back in time and become students at this fabled institution. Of course the rooms and suites are of the highest standard, the spa is sublime and the dining options are exceptional but it really is the story of Lamarck University that will leave you amazed.
Vegan food at JW Marriott Phu Quoc
We communicated with the resort prior to our stay and were assured that we would be very well catered for as vegan guests and how right they were. At the extensive breakfast buffet we were offered assistance to locate plant based food and also enjoyed a specially prepared vegan pho. The salad that formed part of our vegan lunch at 'French and Co' was vibrant, beautiful and delicious. Our meal at 'Pink Pearl' was outstanding and included a dish that was close to perfection. Spelt, mushrooms, parsley foam and black truffles from Burgundy combined to create an absolute masterpiece. We loved the variety of dining options at JW Marriott Phu Quoc but it was our vegan fine dining experience at 'Pink Pearl' that stole the show, it was a delightful and creative meal that will live in our memories for a long time.
Having spent lots of time travelling in Vietnam it's taken us many years to finally visit Phu Quoc. We can now say that we've finally visited this Vietnamese island, we can also say it won't be long before we return to continue our vegan travel adventure!
Paul Eyers is Founder of Vegan Food Quest. Vegan Food Quest have become luxury vegan travel specialists as they continue to find, eat and write about the best vegan food in the world.
If you would like to be a guest blogger on A Luxury Travel Blog in order to raise your profile, please contact us.
Did you enjoy this article?
Receive similar content direct to your inbox.