Recently I visited the Spanish island of Gran Canaria off north-west Africa whilst working alongside car manufacturer Hyundai. Not only was it an opportunity to experience some highlights of the island, but it also served as a great excuse to test drive the all-new Hyundai i30 Fastback N (pictured here outside our hotel) – part of the i30 family which has been doing very well indeed, with over one million already delivered across Europe.
Designed, built and engineered in Europe, this is very much a European car (despite Hyundai's South Korean roots) that has already picked up 14 major awards. To add to this, the Fastback N is a more sporty model that has made a very strong entry into the market, with nothing else out there like it, and has been billed by the UK media as a 'game changer'. The origins of the naming of the 'N' range, by the way, are two-fold, inspired by both Hyundai's R&D centre at Namyang, South Korea and by the Nurburgring in Germany where the car was developed.
After a brief introduction to this hot hatch and some of its features, we set out on the roads of Gran Canaria, and were fortunate enough to be given access to a private road in the mountains where we could put the car through its paces without fear of oncoming traffic.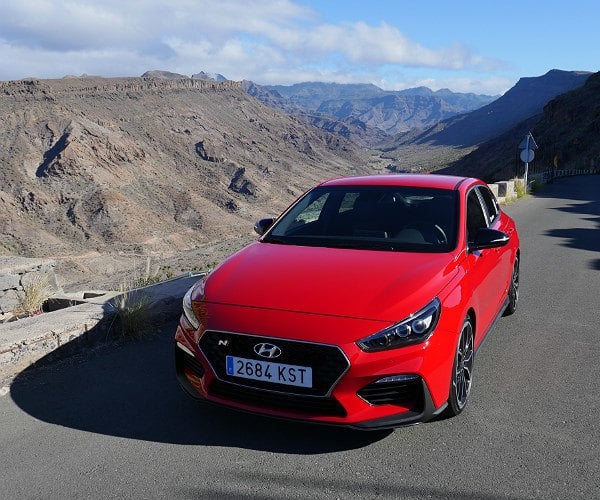 For those who are curious, the whereabouts of the road can be seen in this Google Map.
And despite the twists and turns of the road, the ride was surprisingly comfortable and very smooth.  As well as the seat, the steering wheel position is easy to adjust which means you can turn the wheel better without removing your hands on tight hairpins.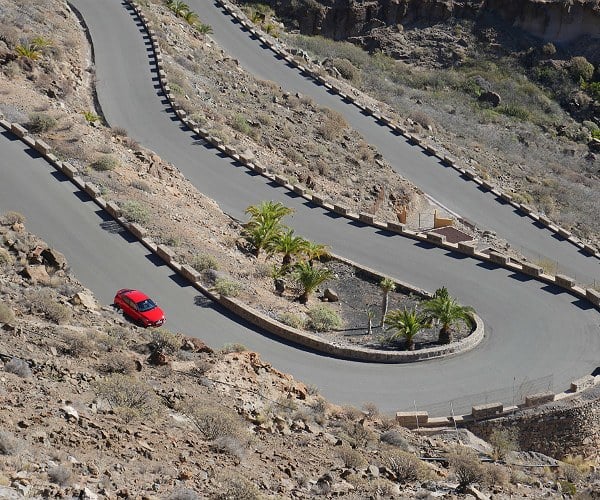 And then came the fun part – putting the car in 'N mode'.  This is achieved by clicking on the chequered flag on the steering wheel. In 'N mode car', the car set-up changes completely – the steering is stronger and more precise, you get a throttle kick when you shift down a gear and generally a better connection when you move from one gear to another. The car pulls you into the corners more; it's sharp and responsive, and you get an attention-grabbing exhaust 'pop' that adds to the feel of the car's performance.
Our first stop after our enjoyable morning drive and a spot of lunch at La Punta Yacht Club (more on that in a later blog post) was to attempt a via ferrata in an area known as Berriel. For those who don't know, a via ferrata is essentially a secured, cabled pathway that climbers can clip onto to ensure a safe traverse of a given route.  When you first think of via ferratas, you might typically think of climbing routes in the Alps – places such as the Dolomites where they were originally used to help with the mobilisation of troops during the First World War. Nowadays, though, via ferratas can be found the world over, including on Gran Canaria which has built on its growing reputation as an adventure destination.
If the island's exceptional climate and endless beaches were not enough to tempt you, then maybe one if the many unique experiences afforded to you by the beautiful natural landscape of mountains, volcanoes and ravines will tempt you. From where we parked our Fastback N, it was a good 30-minute walk to where the climb begins, passing through a unique landscape and mix of flora and fauna that will help you appreciate why the island was recently declared a World Biosphere Reserve, before finally we were there at the foot of the rock face that we were going to be ascending. Note the people in the bottom left hand corner of the picture to get a sense of scale.
Now, before you read on, don't make the assumption that I'm some kind of adrenaline junkie forever in pursuit of the next extreme fix. Whilst I enjoy the outdoors, climbing isn't really my thing. In fact, it's somewhat out of my comfort zone (you can tell by the nervous smile!), but I'm not against occasionally doing something that pushes my comfort boundaries.
Ahead of the climb, I had filled out a form where the options were 'beginner', 'intermediate' or 'advanced'. My previous climbing experience was limited (in fact, one of my last climbing endeavours was a few years ago when also working with Hyundai), and I'd never done a via ferrata before, so I took the cautious approach of opting for 'beginner'. As it turned out, we were grouped with others who had selected 'intermediate' so it maybe didn't make too much difference!
The climb itself was certainly a little challenging in places but nothing most people couldn't cope with so long as they have a head for heights and a little bit of suppleness. (Unfortunately, I have very little of the latter!). Thankfully, though, we were in the very capable hands of Marcos, Mauricio and Chris, who were all very patient, supportive and encouraging, regardless of ability, and this was very re-assuring.
It was just as well because when we got to the top of our climb, they then revealed what we were going to do next. By this point, we were roughly in the middle of the long, dark patch you see on the right hand side of the earlier photograph of the rockface.  And what we were going to do was a pendulum swing from one side of the rock to the other and back.  It might not sound like much but we were already quite high up at this point and it took quite a leap of faith to do it.  I have to say I was pretty nervous and uneasy about this part but glad that I did it at the same time.
We took a slightly faster route down and I think there were quite a few relieved faces among us by the time we were back on 'terra firma'.  Even if you're not a climber yourself but have a reasonable level of fitness, I'd urge you to give this a try if you are faced with the opportunity to do this with a supportive team around you. The reward of the experience and sense of achievement will ultimately outweigh any apprehension.
The walk back to the car passed very quickly as we all talked about what we had just done. On reflection, it had been quite testing but a very memorable outing and one that came with a great sense of accomplishment.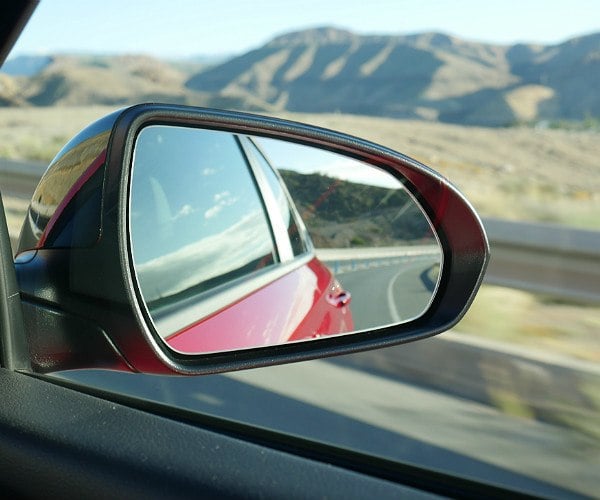 Disclosure: Our trip to Gran Canaria was sponsored by Hyundai UK.