By
Thomas Ryves
on Feb 14, 2019 in
Asia
,
Attractions
,
Australia
,
Europe
,
Going Out
,
Honeymoons
,
India
,
Italy
,
Japan
,
Leisure Travel
,
Mexico
,
North America
,
Oceania
,
Regions
,
Speciality Travel
,
Western Europe
In celebration of Valentine's Day and the month of romance, we highlight our favourite pink places and natural phenomena around the world, from taking in the sunsets over the iconic romantic city of Venice to witnessing the glorious cherry blossom season in Japan – and we recommend the most luxurious, romantic and special hotels to stay in while you're there. These pink wonders are perfect for a luxury honeymoon or holiday, and can't fail to melt your heart, on this or any other day of the year.
Venice, Italy
It may have almost become a cliché, but Venice is the quintessential city of love for good reason – with its grand historic palaces and piazzas criss-crossed with a network of gondola-filled canals and bridges, it is timelessly beautiful. It has attracted writers and lovers for centuries, from Lord Byron, who called it a 'fairy city of the heart' to the Clooneys, who got married here. Follow in their footsteps and glide along the waterways and beneath the bridges in a gondola, dine at world-class restaurants on the waterfront and watch the pink and orange-hued sunsets over the domes and canals, glass of champagne in hand.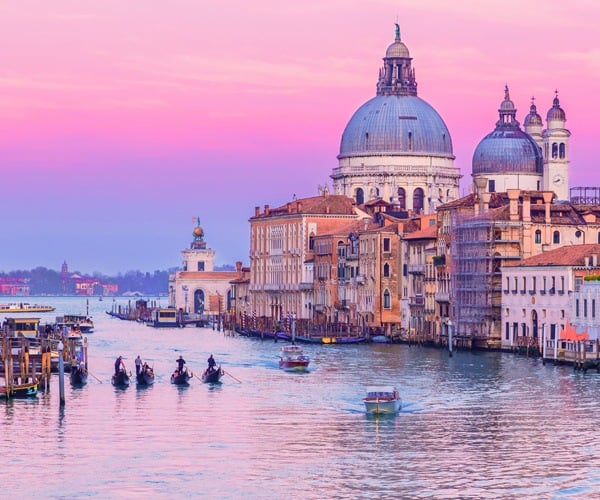 Stay at the hotel the Clooneys chose for their wedding, the Aman Venice, which sits right on the Grand Canal and is a showcase of classic Venetian style and 21st-century luxury.
Uluru, Australia
Uluru (Ayers Rock) is an icon of Australia and its rich indigenous history. This giant monolith is full of fascinating myths and legends that go back thousands of years, and it rises majestically from the flat red desert in the heart of the country, standing proud in the vast, endless landscapes of the Northern Territory. At sunrise and sunset it comes into its own, glowing a rich pink and orange, spreading an ethereal light across the skies. Go now to see Bruce Munro's beautiful Field of Light, an installation of 50,000 coloured lights set around the base of the rock: they come to life at night, when you can walk amongst them in the shadow of Uluru.
Stay at the one-of-a-kind Longitude 131˚, which takes glamping to a whole new level – its luxury tents are set in the landscape, and you can enjoy premium views of Uluru's sunrises and sunsets from your terrace.
Las Coloradas, Mexico
Las Coloradas on Mexico's Yucatan coast (its name means 'red' in Spanish) is home to bright pink lakes whose distinctive colour comes from the red-coloured algae, plankton and shrimp that live in the warm waters: it is also said that flamingos get their own distinctive pink colour from eating them. Salt has been produced in Las Coloradas since Mayan times, with the giant white salt mountains providing a contrast to the pink expanses of water. Las Coloradas has a fishing village and beach, and the region is part of the UNESCO-listed Rio Lagartos Biosphere Reserve, which is home to jaguars, crocodiles and sea turtles, as well as flamingos.
Las Coloradas is about a 3-hour drive from Merida, where you can stay at Rosas & Xocolate, a colonial-style boutique gem which has pastel-pink walls and pink-themed rooms. Satisfy your sweet tooth at the chocolate shop (the hotel even has an in-house chocolatier), and enjoy a chocolate martini.
Jaipur, India
Jaipur, part of India's Golden Triangle and Rajasthan's capital city, is known as the Pink City, thanks to its regal pink-hued and red sandstone buildings. These impressive architectural gems include the appropriately-named Amber Fort and the Mehrangarh Fort, which presides over the city, as well as Hawa Mahal (The Palace of the Winds) and City Palace, which were built as residences for maharajas. It is said that the city was painted pink, the colour of hospitality, by the Maharaja of Jaipur for the royal visit of Prince Albert in 1876. The queen convinced the maharaja to pass a law in 1877, making it illegal for buildings to be painted any other colour than Jaipur pink – and this law still stands today.
Stay at the SUJAN Rajmahal Palace, an opulent retreat complete with a restaurant called 51 Shades of Pink, housed in a bright pink dining room celebrating the colours of the Pink City.
Japan
Visit Japan in springtime, when vast swathes of beautiful pink cherry blossom (sakura) blanket the already-exquisite gardens and line the streets and waterways. The annual cherry blossom season and the arrival of spring has inspired artists and haiku poets for centuries and has become a part of Japanese culture and a potent symbol of life. It has long been celebrated with cherry blossom viewing parties (hanami), from royals and courtiers enjoying sedate picnics and poetry sessions to modern-day gatherings beneath the flowering trees, complete with traditional treats such as glasses of sake, bento boxes with vegetables cut in the shape of a cherry blossom petal, and sweet rice cakes wrapped in cherry tree leaves. As night falls, lanterns are hung from the branches.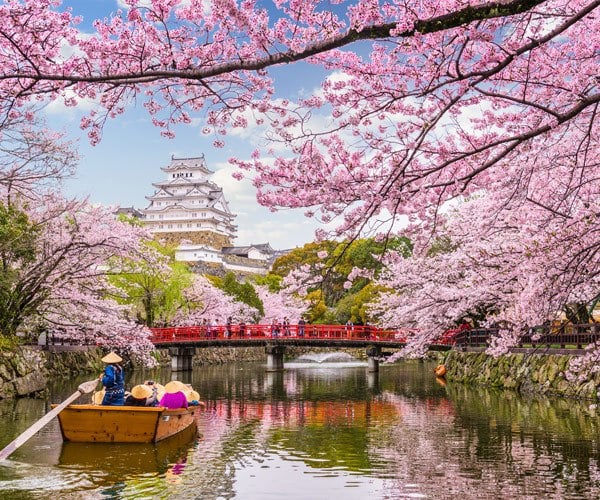 Stay at the stylish Hoshinoya Kyoto, nestled in the forested hills above Kyoto, where you can enjoy premium views of the cherry blossom. The hotel offers activities such as hikes to viewing platforms, boat trips to see the blossoms from the water, and tea parties.
Thomas Ryves is Marketing Director at Exsus Travel. Exsus Travel specialises in creating the very best luxury tailor-made holidays, honeymoons and family adventures in over 80 destinations worldwide.
If you would like to be a guest blogger on A Luxury Travel Blog in order to raise your profile, please contact us.