There's something undeniably romantic about hopping between the Greek islands. Marvelling at brilliant blue waters, relaxing on white-sand beaches and basking in the Mediterranean sun. But, this is also the land of the Greek gods. From the Olympic Stadium to Rhodes' acropolis and the Minoan palace of Knossos, this is your chance to walk among the ancients. However, there's a lot to say for simply succumbing to island life. Kayak with dolphins, wander through quiet, fishermen's villages and indulge with some of the finest Greek cuisine; just-caught seafood and souvlaki skewers are among the highlights. The only problem? There are some 6,000 islands and islets to choose from. That's why we've picked out the following highlights to help guide you.
This is the Greece of glossy travel magazines. Whitewash glitters in the Mediterranean sun, thatched windmills laze slowly in the sea breeze and cobbled alleys lead between inviting tavernas. It all tumbles down dramatic volcanic cliffs, making for pretty hikes and sunsets so sublime that they often elicit applause. Then, if you look beyond the island's good looks, there's also plenty of substance. Not only is it built on thousands of years of volcanic history, but a spread of archaeological sites evidence ancient settlements that date to the 4th millennium BC. But, there's plenty of modern surprise, too. Whether it's open-air cinemas, microbrewery samples or wine galleries hosted in cragged caverns, there's plenty to uncover.
If Santorini adorns artsy postcards, then Mykonos is the star of the glamour shoot. Expect infinity pools, chic cafés and, yes, miles upon miles of white sand dotted with inviting beach bars. However, it hasn't always been this way. Mykonos was once the islands' poor relation, ruled but overlooked by everyone from the Ionians and the Romans to the Venetians and the Ottoman Empire. It's a rich history showcased today by museums, Byzantine churches and its surrounding islands. Be sure to hop over to next-door Delos for some quiet respite; it's one of the country's most impressive archaeological sites, host to beautifully mosaicked houses and the 6th century- BC Minoan Fountain. Then, return to the colourful, waterside charm of Mykonos's Little Venice for a cocktail.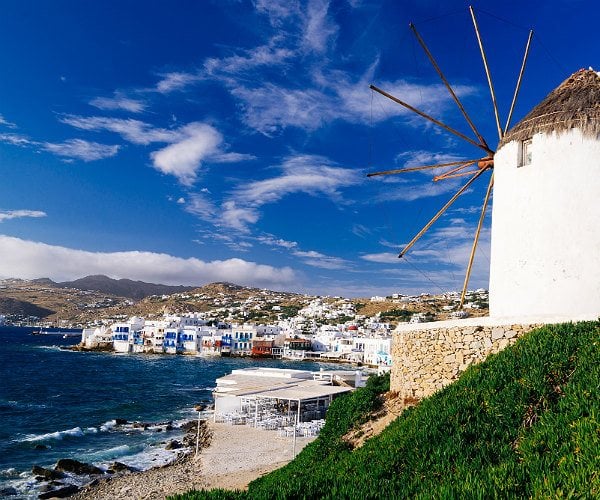 Corfu
Having first harboured the likes of the Argonauts, Hercules and Homer's Odysseus, Corfu has a certain gravitas when it comes to hospitality and has long been prized for its untamed beauty. And, the island continues to welcome with everything from pristine beaches to a lush interior where rolling hills are dotted with cypress trees and cragged escarpments. It's the predicate to Corfu's famed gastronomy, with fragrant tzatziki and fresher-than-fresh fish among the highlights. But, the island's past also lives on today in prehistoric bronzes, neoclassical villas, French arcades and a 14th-century Venetian fort. The islanders even continue to sip on tzitzibíra – ginger beer and a vestige from Corfu's British rule.
Rhodes
Put simply, Rhodes is the chance to step back to antiquity. It's the most historically important of the Dodecanese Islands, packed full of UNESCO-listed wonders. There's everything from thousand-year-old marble statues and the third-century-BC Temple of Aphrodite to the medieval Knights' Quarter where fortress mansions line pebbled streets. However, its crowning jewel is the Acropolis of Lindos, perfectly preserved on a 120-metre-high clifftop. Here, wrapped in battlements built by the Knights of St. John, you'll find temples and long walkways punctuated by brilliant white colonnades. Lastly, while there's the usual white sands and snorkelling, Rhodes is also host to the Valley of the Butterflies – a pretty forest path lined with streams and pools beautified in summer by colourful tiger moths.
Katakalon
While the charming port of Katakolon entices with colourful fishermen's houses, nearby beaches and calamari restaurants by the waterfront, it's primarily used as a gateway to Olympia. It's here that the Olympic Games were held for over a millennia until their fourth century abolition by Emperor Theodosius. And, in spite of earthquakes and tyrant emperors, this UNESCO-listed treasure retains much of its wonder. There are ruined gymnasiums, Doric temples and the workshop where the ivory and- gold Statue of Zeus was constructed – one of the Seven Wonders of the Ancient World. It all centres on the stadium; once able to seat 45,000 spectators, today only the judges' seats and the 120m sprint track survive.
Who to cruise the Greek Islands with?
There's a wide range of options for some Greek island hopping –  Azamara Club Cruises, Celebrity Cruises, Crystal Cruises, Oceania Cruises, Holland America Line, Regent Seven Seas Cruises, Seabourn and Silversea all sail the turquoise waters.
Scott Anderson is General Manager at The Luxury Cruise Company. The Luxury Cruise Company is your port of call for incredible cruise holidays.
If you would like to be a guest blogger on A Luxury Travel Blog in order to raise your profile, please contact us.