By
James Jayasundera
on Mar 15, 2019 in
Africa
,
Asia
,
Europe
,
Featured
,
Food and Drink
,
India
,
Ireland
,
Japan
,
Laos
,
Regions
,
South Africa
,
Thailand
,
Travel Miscellany
,
United Kingdom
,
Western Europe
'There is no sincerer love than the love of food'… George Bernard Shaw
Food is humanity's greatest connection with each other. One of travel's enticing rewards is the discovery of new cuisine and exploring the soul of a place through its dishes. We have handpicked 10 of our favourite culinary experiences to delve into; food can be a destination in itself not just an afterthought. From fishing for wild salmon on the Isle of Skye to mud-roasting chickens in the temple towns of Laos and foraging for plums in the Western Cape, we have curated some life-enhancing discoveries to book now:
1. Babylonstoren, Western Cape, South Africa
A 300-year old farm at the foot of South Africa's Simonsberg Mountains and a star wine destination, Babylonstoren is the love child of visionary tycoon couple Koos Bekker and Karen Roos. Rustic luxury at its most seductive, the boutique hotel supplies much of its farm to table restaurant Babel's seasonal menu through an eight-acre walled garden and houses its spa (and hammam) in a bamboo pavilion. Join in with the harvest, a joyful bounty of fruits and vegetables, including long-forgotten varieties, with pruning, picking and foraging aplenty under the panoramic Cape skies before exploring local vineyards.
2. Tsukiji Cookery School, Tokyo, Japan
Featured in Vogue magazine, Tsukiji is Tokyo's foodie school for those in the know. The courses delving into the art of Washoku (Japanese cuisine, listed as a UNESCO Intangible Cultural Heritage of Humanity) are greatly enhanced by forays to the world-famous Tsukiji market where everything from seafood, Wagyu beef and sake is available. Journey into the seasonal calendar and the shun (or peak season) of delicacies, eagerly awaited all year. Advanced courses are led by Michelin-starred chef Suzuki-San who is known for making sushi in the Amazon. Stay at the historic Chinzanso Hotel overlooking the Kanda River.
3. The Oriental Cookery School, Mandarin Oriental, Bangkok, Thailand
Bangkok's iconic Mandarin Oriental has style in spades. From the white wicker Writer's Bar, once the haunt of Joseph Conrad and Somerset Maugham, to the pagoda-roofed boat ferrying guests across the river to the teakwood spa pavilion, this is a place to do the city in cosseting luxury. Finish a day's exploring with an Iced Seafood Tower at famed Lord Jim's restaurant. The Oriental Cookery School is another feather in the MO's cap. Join in classes all year round to learn the arts of Thai dishes including Moo Satay and Gaeng Kio Waan Gai, as well as fabulous crab cakes. The local market trip with lunch at Sala Rim Naam is a noisy, highly scented and totally transporting.
4. Alila Fort Bishangarh, Rajasthan, India
This recent opening just an hour's drive from the Pink City of Jaipur, Alila Fort Bishangarh is a triumphantly restored fantasy of turrets and terraces with a rich history and a fresh, contemporary interior. Head chef Ranveer Brar (read our interview with him here) is excited about introducing the earthy wonders of Rajput hunter cuisine to new audiences. Learn how to cook rabbit and other game in a sand pit overlooking the Aravali Hills, the oldest in the world as well as to-die-for smoky Black Dal and other local delicacies laced with ingredients from the thriving organic gardens. An authentic experience not to be missed.
5. The Four Seasons Hangzhou, China
While you may not have heard of Zhejiang cuisine, it is one of the eight great food traditions of China with a history stretching back into the mists of time. Visit the western city of Hangzhou, staying at The Four Seasons with its view of alluring West Lake, infinity pool, famed Jin Sha restaurant and a spa we love. Private classes can be arranged to create delectable dishes such as the famous and mouth-wateringly-tender Dongpo Pork, Shrimps with Longjing Tea and Beggar's chicken, involving a whole spiced chicken wrapped in lotus leaves and mud – a city speciality.
6. Tamarind, Luang Prabang, Laos
The mystical land of Laos is perhaps the friendliest in Southeast Asia. The name means 'Land of Sticky Rice' so where better place to come and experience the joys of Indochine cuisine? Set in the UNESCO World Heritage temple city of Luang Prabang, Tamarind Laos is a cookery school that we love for its warm-hearted and authentic approach to food. Set in picturesque lakeside pavilions, the school is a relaxed and fun way to learn about Lao dishes with regular sojourns to the food markets. From Mok Pa, a popular dish of herbed fish steamed in banana leaves, to Sticky Purple Rice Dessert, we love it all. Base yourself at Belmond La Residence Phou Vao with its sublime swimming pool and restaurant, Phou Savanh', which harmoniously melds together Southeast Asian flavours with French influences.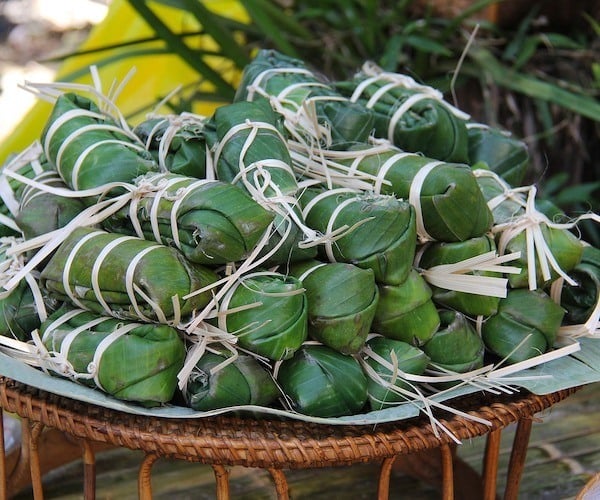 7. Kinloch Lodge, Isle of Skye, Scotland
Still the best place in Scotland to learn how to make Lobster Mousse (caught that morning), Kinloch Lodge is a picture-perfect former hunting lodge on the wild Isle of Skye. Spend days with legendary chef Marcello Tully learning about seafood and game butchery while staying in the fire-lit brass-bed comfort of Loch view suites. Those of an outdoors inclination will love the forest foraging with a ghillie, fly-fishing and stalking on offer at Loch Na Dal and surrounding Cuillin Mountains. Narnia of the North – this is an island to escape to for the ultimate Scottish adventure.
8. Daylesford, Gloucestershire, UK
Daylesford has established itself as a vibrant and ever-growing champion for farm to table organic British cuisine. Its 2,350-acre working farm in the Cotswolds also sports The Cookery School, a glorious chance to learn enticing courses such as Artisan Bread Making, Nose to Tail Butchery or Ferments to Eat and Drink. The market garden has over 300 types of fruit and vegetables that are used in the experiences, harvested by you wherever possible. The school also hosts private days for a perfect group outing and the charming estate cottages are available to stay in – the Best of British.
9. Ballymaloe, West Cork, Ireland
The most famous family in Irish food, the Allens welcome guests to their Georgian farm in scenic West Cork for a culinary experience like no other. Darina Allen is passionate about her 40-hectare organic farm (including an acre of glasshouses) infused with a sustainable paddock-to-plate philosophy. Staying here is an adventure into the world of soil, foraging and baking from dawn onwards – utterly immersive and, it has been said, utterly life-changing. From churning butter and cheese making from the Jersey cows to sowing seeds and candlelit dinners in the dining room – this is a place that brings guests into the very rhythm of mother nature and her goodness.
10. Mahe, Cornwall, UK
The Cornish foodie paradise of Padstow is set to host an exciting new destination in intimate cookery school and chef's table Mahé this coming May. Launched by restauranters Paul and Emma Ainsworth and adjoining their renowned restaurant No.6, classes at Mahé will showcase the best produce Cornwall has to offer, led by Michelin Star chef John Walton. Named after the Seychelles island where Paul Ainsworth's parents met, the opening is sure to be one of the gastronomic highlights of this coastal idyll.
James Jayasundera is Founder and Managing Director of Ampersand Travel. Ampersand Travel create bespoke and luxurious travel experiences to Asia, the British Isles and Southern Africa.
If you would like to be a guest blogger on A Luxury Travel Blog in order to raise your profile, please contact us.