Millions of people visit Mallorca to spend time on the fantastic beaches that dot Mallorca's amazing coastline. There are 262 beaches on Mallorca with a total length of 50 km. That's a lot of beach! From secluded beaches, to wide sandy stretches or rocky bays, the choice is vast. Mallorca's wonderful beaches have been yet again recognised with the blue flag awards. The island now has 31 blue flag beaches.
I imagined all the beaches on Mallorca to be super crowded and full of sun loungers and restaurants, so I was pleasantly surprised to find so many little secluded beaches. In fact, most of the beaches I spent time on were pretty quiet. I do think going in mid May was a really good call, as I know in high season things get a lot busier. It was helpful having a car to get off the beaten track and actually it's a must if you want to make the most of the island. The weather in Mallorca in May is perfect – hot enough to go swimming but not so hot that you fry. And while during my exploration in Mallorca I went to a lot of beaches, a few stuck out as clear favourites. So here are my top six best beaches.
Cala Formentor
This lovely narrow beach, on the Formentor peninsula, is lined with pine trees. You're always close to the clear sparkling water of the Mediterranean when you want to cool off and the views across the Bay of Pollensa, with boats bobbing nearby, are dreamy. You can arrive here by boat from Puerto Pollensa or by car.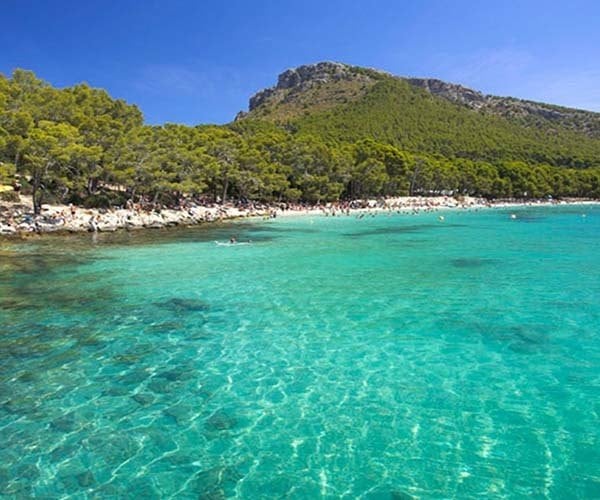 The drive from Alcudia or Pollensa is spectacular. Cala Formentor is one of my favorite beaches in Mallorca. I visited quite late in the day when there were very few people. The beach has an almost Thai vibe about it. Adding to it's allure were the boats anchored just off shore. Before or after visiting this beach you should drive to Cap de Pera Lighthouse. The drive to the lighthouse is absolutely spectacular. Cars are banned from June to September as the road has become clogged of late with cars and coaches making their way to the lighthouse. The parking once you got there was mayhem and the cafe was over run. Out of season it's much quieter and well worth the drive.
Es Calo des Moro
This must arguably be the most beautiful beach in Mallorca. A private foundation owns and cares for this beach, so it's beautifully maintained and you won't see any hotels or beach bars here. You do have to scramble down a lot of rocks to get here but I think the extra effort to get here makes it even more special. The beach itself is really small, so I imagine in the summertime it could get a lot more crowded than when I was there in mid May. Calo des Moro is one of Mallorca's best kept secret beaches, that everyone knows about.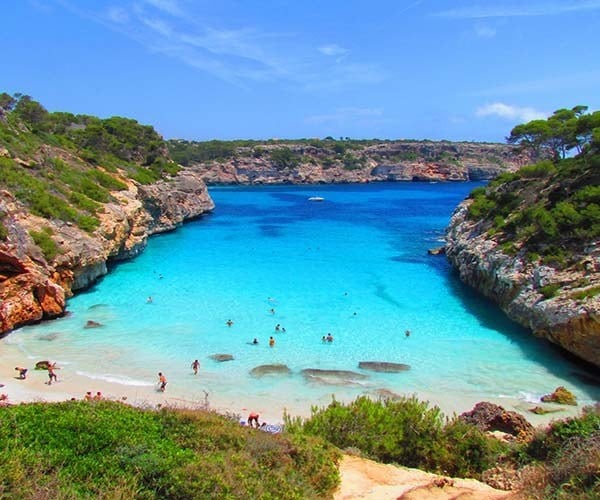 For a long time, this tiny stretch of fine white sand and translucent turquoise blue water, was relatively unknown because of the difficulty in reaching it, but lately the word has spread. Located on the southeast of the island, about six kilometres from the town of Santanyi, Cala des Moro is popular with locals and now with tourists, particularly Germans, who appreciate the adventure of getting there and it's impressive beauty. The beach is about 40-metres long and the sea stretches far out between steep cliffs. The beach is surrounded by pine trees and low lying scrubs and plants. Though the water is calm, this is less a child-friendly beach as there is often limited room to play on the sand and particularly because of the steep decent to arrive. In addition, there are no facilities, no restaurants, no lounge chairs and umbrellas, and no water sports for hire, and little very close by. In peak summer months it can be difficult to stake out a place on the sand. Many people leave their bags on a rock and simply enjoy the water.
S'Amarador Beach
S'Amarador is surrounded by natural sand dunes, forests, and rocky coves instead of resorts. There are actually three beaches here, S'Amarador, Cala Mondrago, and the smaller Cala d'en Borgit, but S'Amarador was my favorite.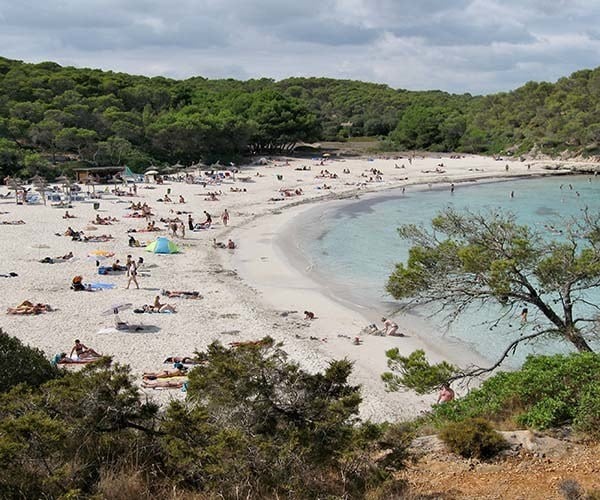 S'Amarador is a pretty big beach, and since it's only accessible by car it wasn't too busy when I went. But it was still lively and I loved that I could also walk to the other beaches from here. S'Amarador is an award-winning glorious white sand beach that is part of the protected Mondrago National Park (south east Majorca, close to Cala d'Or), and so is beautifully unspoilt. Its relatively isolated location means only those with cars or boats can access it. There are sunbeds and parasols to rent, and a small bar for refreshments. Toilets and showers are available. Free car parking is available about a five minute walk away.
Sa Calobra Beach
The drive to Sa Calobra with its breathtaking drops and many hairpins was probably the highlight of visiting Mallorca, from a scenery point of view. It's a truly spectacular road. At one point the road cleaves between two cliff faces with barely room for a coach to pass through. The setting down there is beautiful.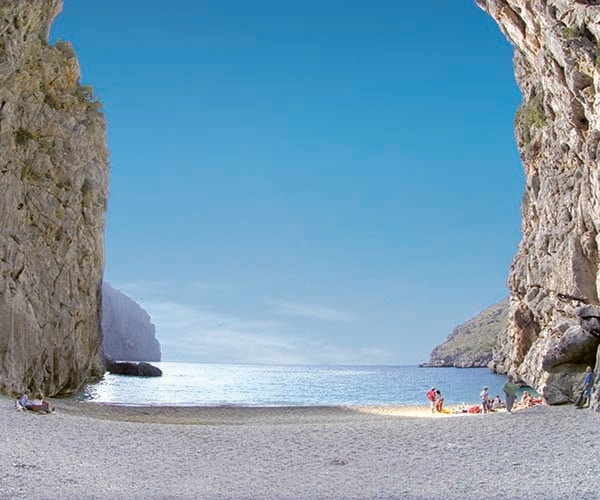 To get to the actual beach and you have to walk through a long tunnel in the mountainside. The beach is made up of small stones instead of sand, but the water is so amazingly clear that I think it's worth the visit. This might actually have been the prettiest place I went swimming in Mallorca, as there were lots of fish and the surrounding cliffs made for some dramatic views. There's talk of banning cars down there in the high season but a bus will be laid on to ferry visitors back and forth, so you'll still be able to experience one of the wonders of Mallorca.
Cala Llamp
Cala Llamp is about 5k from Port Andratx and is in a secluded spot, surrounded by mountains. The water in the rocky Cala Llamp is crystal clear and thus perfect for snorkelling. The bay has no sandy beach but a sea water pool, a restaurant and a bar. You can arrive by boat, drop anchor and a motor launch will bring you onshore.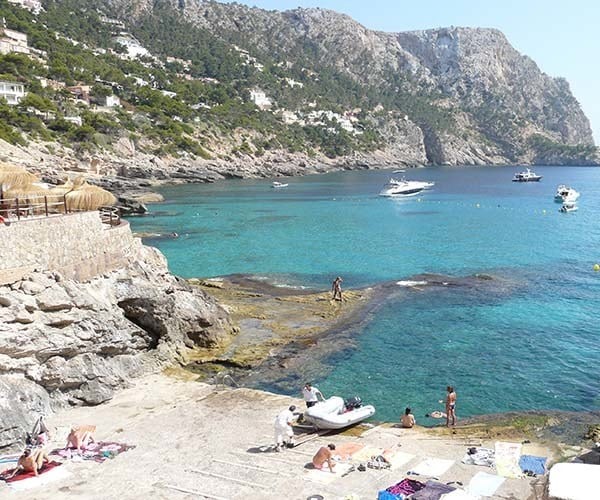 The Gran Folies beach club, situated here, is a great place to spend a day, hire a sun lounger and book a table for lunch. Tucked round the corner from Port d'Andratx, Cala Llamp Bay has one of the most stunning views in Mallorca. The Tramuntana mountains create high cliffs all around, forming a crescent bay with calm, beautifully clear water. It's a great place to swim and snorkel in the lovely waters and explore the rock pools. The area is around 100 metres long and 20 metres deep, and there are no facilities other than those at the beach club.
Illetas
This small sheltered beach has sparkling clean water and soft golden sand, and is one of the more attractive beaches on the coastline to the southwest of Palma. It's not a very large beach, so I recommend arriving early to stake your claim to a patch of this paradise. You can hire sun loungers and parasols on the sands or chill out at one of the two good beach clubs you'll find there, Virtual Club and Las Terrazas.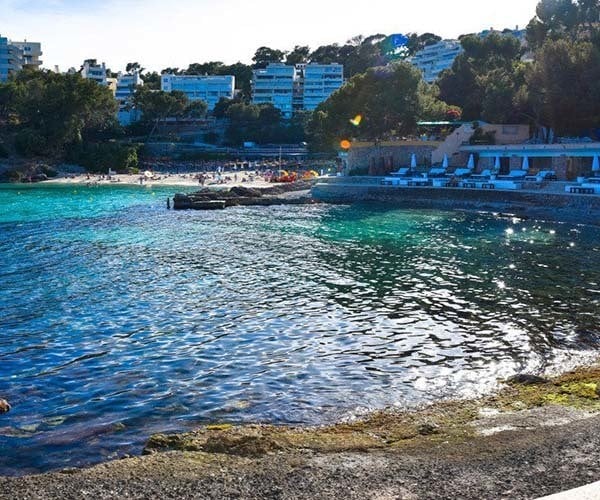 Illetas is a small upmarket resort nine kilometres to the south-west of Palma. The beach is more sheltered than the huge stretch of sand that makes up the beach in front of the cathedral, in Palma itself, making this one of the nicest beaches in the Bay of Palma. The beach is not that big, with a length of around 100 metres and around 50 metres deep. Sun beds and parasols are available to hire, and there are toilets, ramps for the disabled and lifeguards on duty. It's a popular beach with yachts as it boasts a sheltered bay. There are also lots of water sports available to indulge in.
Danny Frith is Director at SkiBoutique. SkiBoutique is a luxury ski chalet agency based in Switzerland.
If you would like to be a guest blogger on A Luxury Travel Blog in order to raise your profile, please contact us.