By
Dave Warne
on Mar 18, 2019 in
Asia
,
Australia
,
Canada
,
Europe
,
Featured
,
France
,
India
,
Italy
,
Leisure Travel
,
Middle East
,
North America
,
Oceania
,
Peru
,
Rail Travel
,
Regions
,
South America
,
Speciality Travel
,
Turkey
,
Western Europe
When it comes to exploring the world by train, the choice seems never-ending. For many it's the destination that makes all the difference, be it the Rockies of Canada or Australia's far-flung outback. But, it's also the train itself that truly makes the journey truly unforgettable, whether you're drawn to the glamour of travel's Golden Age or prefer something more cutting-edge.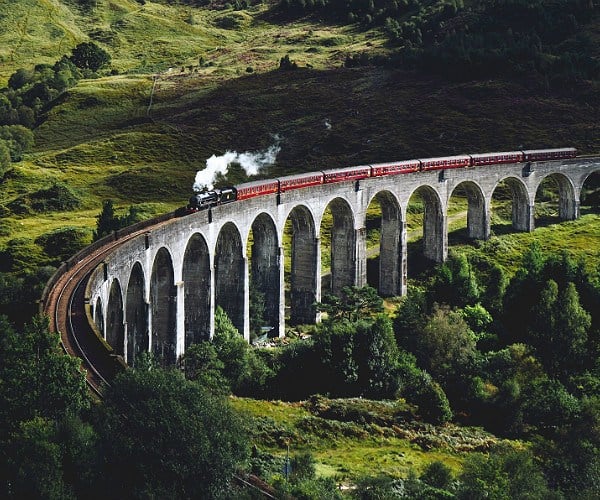 Here, we take a look at five of the world's best rail experiences that showcase both 21 st -century innovations and opulent tradition.
1. Belmond Andean Explorer
Peru as a destination simply begs to be travelled, and the Belmond Andean Explorer – a luxury train with a beautifully contemporary design – makes a visit more tempting than ever. Its interiors are the brainchild of Inge Moor of The Gallery in London, showcased in ivory Alpaca tones, Andean slate greys and knitted textures inspired by the region's handicrafts, with private cabins that feature oversized headboards and ultra-chic furnishings.
The Andean backdrop influences much more than just the décor, though, with local flavours presented through indulgent menus, taken as the mountain scenery speeds past. The train's signature journey takes travellers from ancient capital Cusco to UNESCO-listed Arequipa, navigating the Andes' highest plains in between. It's a truly luxurious way to experience the country, not least the colonial splendours of Cusco, the ancient landscapes of the Sacred Valley and that world wonder – Machu Picchu.
2. Maharajas' Express
Few destinations are as enchanting as India. From Agra's Mughal-empire icons to the royal heritage of Rajasthan, embodied in forts and fairy-tale palaces, its splendours are endless. Accordingly, India's most iconic rail experience – the Maharajas' Express – is unapologetically opulent. Guests can expect discrete service from private butlers, gourmet dining and a plethora of excursions that show off the country's unique traditions, with everything from sundowners in the deserts of Bikaner to champagne breakfasts on offer.
Choose from four-day dashes or in-depth adventures that take in both the north and south – the most popular being in the grand state of Rajasthan. Sightseeing tours will see you explore everything from marbled palaces and sandstone forts to vibrant markets that buzz with rickshaws, camels and bustling traders.
3. The Ghan
From ancient Uluru to the world-wonder Great Barrier Reef, Australia is home to countless icons, many of them thousands of miles apart. It came as no surprise, then, when a luxury train was introduced to do the hard work – in the form of the Ghan. Traversing through miles of remote, ochre outback, it follows the old camel-train route through the heart of Australia's Northern Territory, taking in off-the-beaten track destinations, otherwise unreachable.
Once on board, guests are treated to private cabins with curated bathroom amenities alongside all-inclusive indulgences that include fine wines and three five-course meals a day. There's even the chance to upgrade to a spacious berth adorned with ottoman seating and a plush double bed. It's all a wonderfully luxurious contrast to the vast wilderness outside, whether that's the tropical vistas and white-sand beaches of Darwin, the south's dramatic Flinders Ranges or the vast desert landscapes of the Red Centre.
4. The Venice Simplon-Orient-Express
The very essence of the phrase 'Golden Age of Travel', its name echoes with intrigue, decadence and old-word charm. The Venice Simplon-Orient-Express, each train carriage painstakingly restored to its former 1920s glory, truly takes guests back to a bygone era as it journeys to the likes of Istanbul's vibrant bazaars, the romantic streets of Paris and Venice's storied treasures.
Mosaicked lavatories add to the Art-Deco aesthetic and restaurant cars shine with sparkling crystal and dark-wood panels – the setting for dishes such as Brittany lobster and Mont St Michel saltmarsh lamb served alongside sommelier-chosen wines. Come evening, sip on cocktails and vintage champagne, the twinkling of the baby grand in the opulent Bar Car your accompaniment.
5. The Rocky Mountaineer, Canada
When it comes to natural worlds, Canada is up there with the best. It's unsurprising, then, that the country's most famous mountain range, the Rockies, is embodied in a luxury rail journey. The Rocky Mountaineer truly puts the spectacular backdrop first, skirting rivers otherwise unreachable, pausing at giant emblematic lakes and speeding over tumbling valleys as it heads deep among the snow-topped Rockies.
Panoramic dome windows and viewing platforms bring it all to life alongside onboard hosts who provide stories and information along the way, with gourmet meals, complimentary snacks and alcoholic drinks all included. The GoldLeaf service's split-level carriages and separate dining car are an extra special option. And, as a non-sleeper train, there's even more time to explore. Canada's national-park greats, Banff and Jasper, are understandably the front-runners, where thunderous waterfalls, gargantuan glaciers and craggy canyons provide ultra-scenic backdrops for excursions such as hikes, gondola trips and even helicopter rides.
Dave Warne is Product Director at The Luxury Holiday Company. The Luxury Holiday Company offers completely bespoke holidays designed to deliver unrivalled luxury, arranged by specialists who have more than 200 years of collective travel experience.
If you would like to be a guest blogger on A Luxury Travel Blog in order to raise your profile, please contact us.