Sun, sea and sand in Provence
There are lots of reasons why Provence makes such a good holiday destination. Great food, lovely towns and vibrant cities set in a geographically beautiful landscape are just some. But one of the top reasons people visit is to enjoy the stunning coastline that meanders for miles and the sunshine and warmth which makes time spent relaxing on a beach or out on the water particularly pleasant. With this in mind I've listed five fantastic towns with noteworthy beaches for you to visit this summer (not long to go now!) and five activities to get you out on the azure waters of the Medditeranean. Happy Summer Holiday planning!
Bandol
Whether it is peace and quiet, family friendly or adventurous water sports you're after, Bandol pretty much has something to cater for all within walking distance of the town. If you find yourself walking along the Eastern end of Quai Charles de Gaulle, the stretch of beach, with a series of restaurants and souvenir shops are just perfect for families.
Moving west, the enormous Marina in the centre of Bandol finds itself home to an amazing array of fabulous yachts… and enough to make any keen sailor more than a little envious! Beyond, the sandy coast line stretches out with a quieter atmosphere, perfect for relaxing away from the hustle and bustle. Should you be after real seclusion, the island of Ile de Bendor is a short boat ride away (or swim if you're feeling active)!
Noteworthy beaches
Plage du grand Vallat – east of Bandol, perfect for families with sunbed rental and plenty of shade about a 15-minute walk from the town centre. Plage Centrale – in the heart of the town with easy parking and access to shops. Again, perfect for families with a dedicated lifeguard.
Dog beach – on holiday with the faithful canine family member? Then this is the beach for them! The only beach suitable for our four-legged friends, opposite the island of Bendor. Plage du Capélan – further west from the town, more secluded and rocky with two restaurants serving simple but tasty food. Plage Delos – on the island of Bendor, perfect for those adventurous swimmers!
Water activities
Pirat Croisieres – based in the main marina, this boat tour company allows you to explore the Bandol coast line. Whether it be a day trip or romantic sunset cruising, they are able to offer something for everyone. Remember to pack your swimming gear as there may well be opportunities to swim or snorkel from the boat!
Sanary-sur-Mer
This classic Provencal port village is just a short drive away from Bandol. With beautiful beaches and a lively atmosphere it's a 'must visit' during your holiday. Not only are there some great beaches to enjoy but the port is home to a large collection of traditional wooden fishing boats.
The local fishermen sell their catch at the harbourside every morning – and directly to the many nearby restaurants.  Sanary is considered the birthplace of modern
scuba diving
and several underwater movie sequences have been filmed in the bay and beyond.
Noteworthy beaches
Plage Portissol – busy in the summer but definitely the most beautiful! With easy access for all and located in the heart of the town, this stretch of sand is the perfect location for a day trip with several restaurants nearby. Plage Dorée – this huge stretch of sand is the last beach before Bandol and safely supervised in the summer
Water activities
What SUP Sanary – based at the west end of Plage Dorée, this water sports rental service is the perfect place to equip yourself with paddle boards or kayaks! With rental from 10 euros it offers an affordable array of activities to enjoy during an afternoon.
La Seyne-sur-Mer
Famous for its harbour, La Seyne-sur-Mer is a popular choice for holiday goers. Looking out on the Toulon bay, this fishing port also hosts an impressive fish market every morning on the quayside. The town centre is pleasant, with welcoming shops and lively pedestrian streets.
Noteworthy beaches
Plage du Jonquet – no need for swimsuits here! Recognised as the most beautiful beach in the south of France for nude bathing, Plage du Jonquet might not be for everyone but if you feel like getting a true all-over tan then this is the beach for you! Plage des Sablettes – located near the town centre and with lifeguard supervision, this beach is more suitable for families and those wishing to get out on the water.
Water activities
Sports Nautiques des Sablettes – if adventure is what you're looking for, this is the place for you! With everything from banana boating to parasailing, there are lots of activities designed to get the adrenaline flowing! Prices vary on activity but start from 20 euros.
Saint-Cyr-sur-Mer
Another resort with accessible beaches and sea front restaurants, Saint-Cyr-sur-Mer offers a perfect place to stop and explore along the Provence coast. Surrounded by picturesque pine forests and vineyards it's really rather beautiful.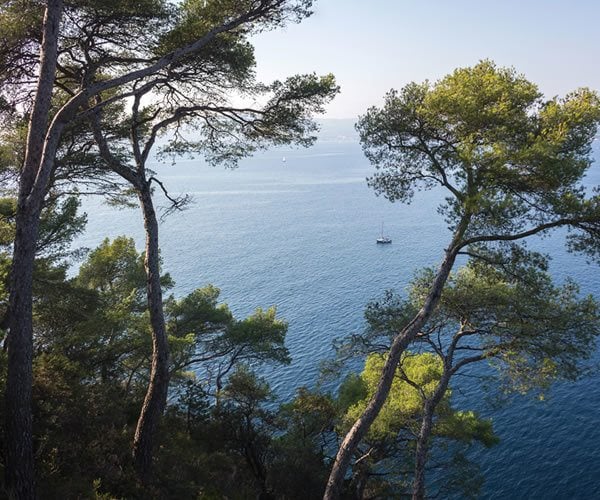 Noteworthy beaches
Plage des Lecques – the largest beach along the coast here, Plage des Lecques is split into three areas with a mixture of sand and pebbles. Towards the port of Madrague you'll find the sandiest bit of beach which is handily close to restaurants and snack bars. Lifeguards are reassuringly present during the summer months.
Water activities
Aqualand Cyr Sur Mer – the ultimate destination for water slide enthusiasts! From 18.50 euros, it offers the perfect day out for all the family. If you can, purchase your tickets online to save some money.
La Ciotat
The scenery in this part of Provence is out of this world. Get ready with the camera as you head on in to the quirky little town of La Ciotat – steeped in history, this Provençal harbour town is bordered by the stunning Calanques National Park. Wander in to take a look at the old port which is home to plenty of private yachts and fishing boats. Want to relax with a coffee or glass of wine? You find rows of cafe and restaurant terraces along the quayside.
Noteworthy beaches
Plage des Capucins – with a lifeguard station and a sandy, shingle beach, this is a great spot for families including a ramp for wheelchair users. There is even a 'fitness zone' for those who want to stay active in the sunshine! Plage Lumière – named after the film making Lumière brothers, this beach could be argued as the best in La Ciotat. There are also entertainment areas around the beach including trampolines. Grande Plage – slightly busier, this fine sandy beach is close to local amenities making it a great choice for a family visit.
Water activities
Jetsurdmassilia – this rental establishment holds a wealth of equipment for you to go out and enjoy the water. Their unique 'jetsurf' boards however are what truly make them stand out… intrigued to find out what jetsurfing is all about? You'll just have to visit! Prices start from 75euros. Sun, sea and sand certainly go a long way towards making a holiday memorable. And there is no shortage of any of these key ingredients in Provence. Whatever you do though, my top tip would be to crack on and organise your summer holiday now… as with any popular destination, hotels, hire cars and flights all get booked up quickly. I'd hate for you to miss out on the perfect Provencal holiday so get planning now!
Su Stephens is Owner of Olives & Vines. Olives & Vines is a luxury holiday company based in the South of France offering stays at their beautifully designed holiday house and boutique hotel in Le Castellet.
If you would like to be a guest blogger on A Luxury Travel Blog in order to raise your profile, please contact us.
Did you enjoy this article?
Receive similar content direct to your inbox.