By
Michael Edwards
on Apr 03, 2019 in
Accommodation
,
Africa
,
Egypt
,
Going Out
,
Hotels
,
Leisure Travel
,
Regions
,
Restaurants
,
Spas & Pampering
,
Speciality Travel
Soma Bay is Egypt's welcoming resort on the warm shores of the Red Sea Riviera.
Top-end hotels luxuriate in acres of space. A speedy 40 minute transfer from Hurghada airport is increasingly making Soma Bay a popular destination. In 2018 visitor numbers soared by 110%.
The climate
With a sub-tropical desert climate, mild winters and hot summers, Soma Bay is a dream destination.
Clouds are a rarity in the blue skies over Egypt's Red Sea shoreline. "Maybe we get two rainy days a year," a waiter told me.
Luxury hotels
The Kempinski Hotel Soma Bay, enjoying a prime beach location, is Soma Bay's premier luxury destination with its Venetian style gardens of sparkling streams and wooden bridges. For those seeking a quiet relaxing holiday it has a tranquil Club Lounge relaxing between reception and the beach.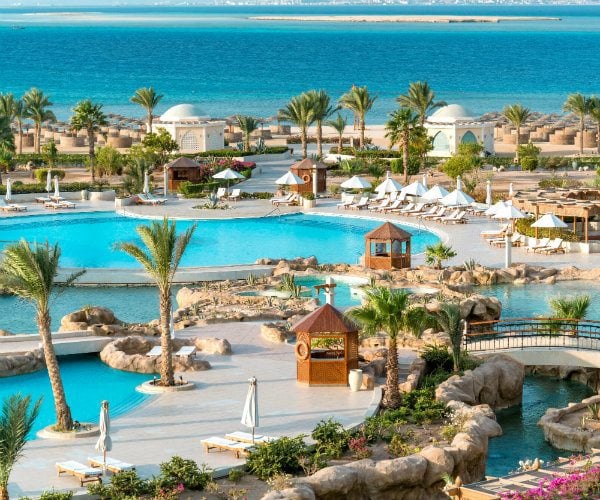 Sitting at the heart of a golf course, Cascades Golf Resort, Thalasso and Spa, has beautiful views over the emerald greens down to the shades of azure Red Sea.
Daybeds, rope swings, a sky deck to catch a movie screening and a surfer vibe help The Breakers Surfing and Diving Resort stand out as Soma Bay's coolest destination. It also hosts the Orca Dive School.
Soma Splash, a waterpark, makes the Sheraton Soma Bay Resort, an ideal family destination. Beach villas are perfect for families who want to self cater. Two towering Sphinxes guarding its entrance combine with architecture paying tribute to the tombs of The Valley of the Kings to provide a truly Egyptian ambience.
The Orca Dive School
Operating out of the beach-chic Breakers Surfing and Diving Resort, the Orca Dive School, offers plenty of underwater experiences: from beginners diving courses in the pool through to Deep Sea dives.
Taking a buggy along the lengthy jetty. snorkelers can immediately swim over a section of a 1,240 mile long long coral reef that is home to 1.200 species of marine life of take boats for a morning or afternoon's snorkelling. Divers can opt for all day trips to some of the Red Sea's spectacular dive-sites.
The 7Bft Kite House
7 Beaufort Kite House is the full name, giving you the impression that this is a windy destination.Turquoise waters, countless hours of sunshine and more than 300 days of wind per year add-up to make Soma Bay one of the world's top kitesurfing locations.
You can hire the WOO app, which records your speed, to challenge for the 64 kmph Soma Bay speed record. Currently the Kite School offers a free daily beginner's course at 4pm.
And with warm nights, from May onwards, there's a monthly Full Moon Party that regularly attracts more than 500 revellers.
Cascades Championship Golf Course
Cascades is a par 72 Gary Player designed links course which meanders along the beautiful Red Sea. It is a challenging long course, the Par 5 third hole is a lengthy 614 yards. But it is Player's signature hole, the fifth, where you hit across the Red Sea which raises pulses.
Golfers flock to the course during the winter months for some warm weather training. In the cooler months the Golf Academy employs three coaches and there is also a Par 3 course for players to hone their short game. The course is named after sparking waterfalls, cascading beyond the 18th green.
Dine around
Soma Bay guests can dine around any of the bay's five hotels. Most of the hotels will offer an Egyptian-themed buffet evening, usually featuring Egyptian dance and music.
Take advantage of the network of free minibus transport to access a wide range of cuisines.
Treatments at The Cascades Thalasso and Spa
Named after the Sea God, the Thalasso is a succession of warm salty water treatments. Slowly progressing around the blue mosaic baths, with a picture window through to the Red Sea, a succession of jets begin by massaging the soles of your feet and steadily move up the body finishing with the back of the head. Finally a 5 kmph lazy river floats relaxed guests around an island.
There are also 65 treatment rooms at the Spa offering an impressive range of treatments, even including a specialist Golf Massage looking to loosen limbs after hours on the course.
Sunset
As the sun drops down behind the Red Sea Mountains the place to be is with a cocktail in hand at the Robinson Club Soma Bay. The DJ plays a chilled set to say farewell to another sunshine day.
Alternatively, take a Sunset Cruise, enjoying food and drinks, getting a different perspective on the going down of the sun.