Visiting Chile? Put this luxury vineyard tour on your list. I've lived in Santiago for over a year, and I've only just got round to discovering one of the best wine experiences in the world.
Letting it breathe
Emiliana Organic Vineyards is located just 45 minutes from Santiago, yet it feels like a world away. In truth, Emiliana is more than a vineyard. It's a nature reserve, an escape to the country, a haven of tranquility. If you're struggling with the pollution, the crowds or the chaos of the capital, if you need a boost after a long flight, or if you just love really good wine, put this exclusive vineyard tour on your list.
All about the wine
Yes, the surroundings are beautiful, but that's not the reason I first found out about Emiliana. At least for my friends here, it's all about the organic wine, which has won numerous taste awards. Its premium end 'Ge' and Coyam' vintages can be found in some of the most stylish restaurants in town, and its entry level 'Adobe' is popular even with the fussiest of my wine snob friends.
If you're reading this crying into your Merlot because you can't make the trip to Chile (sorry for you!) then good news: you can buy Emiliana wine around the world, though more specialist wine retailers. In the US its entry level wine, Adobe, is called 'Natura' and in Ireland it's called 'Eco'. My favourite was the rich and bold Cabernet Sauvignon, however its silky smooth Carmenere is the most popular, I'm told.
The beauty within nature
Emiliana wine isn't just organic, it's also biodynamic. In case you're wondering, 'biodynamic' is a type of organic farming process which goes one step further than organic. It respects the natural harmony between the flora, fauna and even the solar system for a more positive impact on the environment, the soil and consequently the wine. Pioneers in the organic wine movement, Emiliana were the first in Latin America to espouse biodynamic wine production.
The vineyard shuns all pesticides, solar energy helps drive production, alpacas munch away as natural lawn mowers and recycling bins abound. Even old wine barrels are upcycled into very hip sunglasses.
Child and parent friendly 
The unspoiled nature stretches as far as the eye can see and even in high season it felt like we had the place for ourselves. With all these beautiful landscapes and all this space to enjoy, it's a great place for kids. My children spent all afternoon running around, chasing through the vines and spotting the animals. 'Look, mummy! Fish! Look! Chickens!'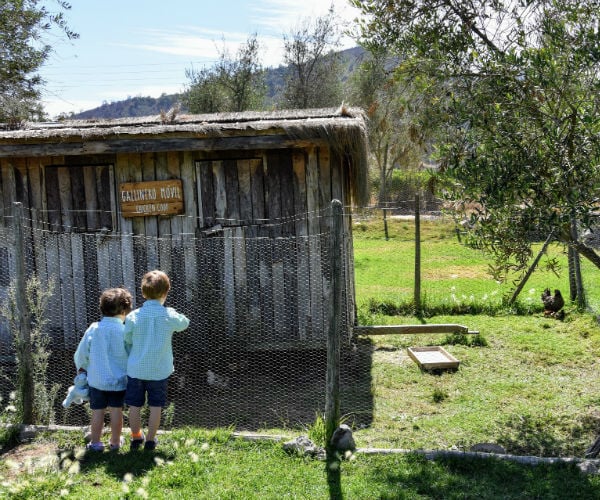 Making your own
While my little monsters played, my husband and I got to hard work, making our very own wine. Through the 'make your own wine' experience, visitors create a personal blend according to their preferred acidity, sweetness, dryness and so forth. An Emiliana wine expert put us through our paces, getting us to really think about the colour, aroma and taste of three different reds. After this, we mixed our blend, bottled it and corked it… with a little help from our junior assistants.
Wining and dining
After all this exertion, it was time for a rest so we headed to the restaurant for lunch. We feasted on beautifully fresh tuna ceviche, a rainbow of organic salads from local farms, and a fruit platter which was so flavoursome my child claimed he could taste the mountains. Top tip: be sure to ask for the basil mayonnaise which is perhaps worth a trip in itself.
If you're looking for something more informal, order an organic picnic hamper, a cheese platter or a bottle of red or white, and savour it in the dappled shade of the orchard. Service is speedy, but life here is slow. If you're anything like us, the only reminder that it's time to move on is a pinkish glow on the Andes as the sun starts to set.
Emiliana is a very special place and I hope you enjoy it as much as we did.