South Africa is a heaven for visitors who like to find all types of holiday in one country. Doesn't matter if you are looking for a great city trip, a safari, a desert retreat or whatever it is, South Africa can provide you with just that. Here's a list of some unique places which you can enjoy in this rainbow nation.
Ellerman House
When you are included in the Condé Nast Traveller Gold List you know you're doing it right. And at Ellerman House they have been doing so for many years. Located in Bantry Bay, one of the prime locations in Cape Town, this amazing villa from 1906 is everything you need when looking for a secluded and luxurious stay in one of the most amazing cities on this planet. With only 13 rooms this place still provides a massive wine cellar which on its own is already a piece of art which gets your creative senses going if the contemporary-art gallery at the hotel isn't enough for you. The rooms are beautifully designed and make you feel like you're staying in the south of France, instead of the Cape. The amazing staff will make sure your stay feels like a breeze and no chance will be missed to make your time at Ellerman House even more enjoyable.
Rovos Rail
Unique doesn't mean it has to be stationary, hence why the Rovos Rail certainly deserves its place in this list. Later this month it will be 30 years since Rohan Vos started this luxury train travel company and since the start they never looked back. Even when times were tough, they continued to deliver luxurious train experiences to their guests. The suites on board all taking you back to the golden era of train travel, and the whole journey feels like a first class ride from start to finish. Besides the interesting excursions, amazing landscapes and endless culinary delights which you can enjoy throughout the day, the staff is once again key in making this experience something extraordinary. There is a maximum of 72 guests on board, allowing for a very personalized service. My favorite part of the train? The observation deck all the way in the back, where you can enjoy some of the best South-African wines while taking in those beautiful views.
Thanda Safari Lodge
This luxury safari lodge has a unique location in the south-east of the country, right in the middle of Zulu land. There are only free-standing 9 suites but at 220 sqm each you can consider them as luxury villas. Each with their own private plunge pool, huge deck, boma, indoor-and outdoor showers, oversized bath tub, fireplace, …the list just goes on. Rather not stay in your own villa? Not a problem, as their spa has won several awards and is the perfect place to get pampered. The rolling hills surrounding the lodge are the perfect habitat for an array of wildlife, including the big 5. Your ranger and tracker will use all their skills in order for you to see as many animals as possible. Conservation is also one of their priorities, making sure this magnificent place will keep its unique character and amount of wildlife.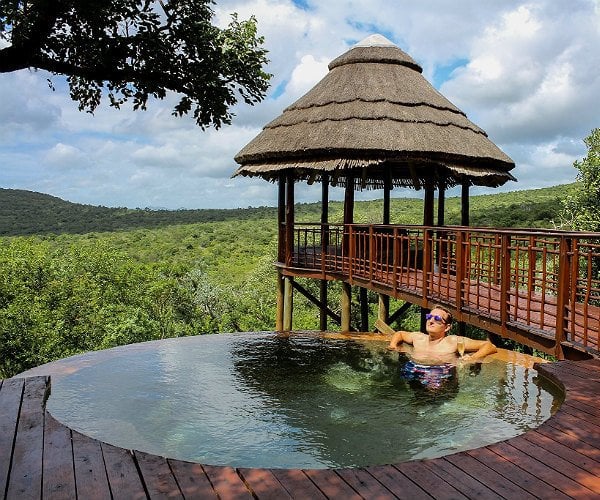 The Saxon
Often travelers avoid Johannesburg on their holiday in South Africa, but this city has a lot to offer and The Saxon is the perfect city retreat while staying in this vibrant metropolis. When driving up the driveway guest will instantly be welcomed with the perfectly maintained gardens. Spacious suites and villas are on offer and if you are tired of the city the Saxon will give you plenty of options to enjoy your time in this city oasis. The spa is one of the best in the country, and it has specific treatments for him and her. Getting hungry of all the things you can do? No worries, as the hotel has several food options, some of which are the best in the country. Also, don't miss out on their famous morning or afternoon tea if you get the chance. And how about ending a busy day with a nice cigar and whiskey pairing in the cigar lounge? Pure bliss.
The Motse
The location alone would get The Motse in this list, but being part of the Tswalu Kalahari private game reserve the lodge is as impressive and magical as the Kalahari itself. This place delivers world class luxury, combined with the privacy and exclusivity you'd expect from a location as remote as this one. Every suite has its own private sun deck from which you can spot a wide array of wildlife which roams this savannah. It might sound crazy but it is also a great place to take your kids along, something that isn't always a given when staying at luxury properties. They have their own Junior Ranger program which will encourage the little ones to explore and learn so much about this fantastic place. And while they are kept busy you can cool off in the spa, or just enjoy the infinity pool. This is of course if you are not out on a game drive looking for the famous pangolin or any other of the rare species which can be found over here. Just make sure you don't forget to enjoy one of the most beautiful African sunsets while have a nice glass in the middle of this beautiful landscape.
The Silo
If you haven't heard of the Silo yet, then where have you been the last 2 years? This piece of architectural brilliance has been towering over the Victoria and Alfred waterfront for a while now. It is everything you are looking for if you like luxurious rooms, eclectic design, endless views, good food and an amazing rooftop terrace overlooking the city, the ocean and Table Mountain. Art is a big deal at the Silo and besides its own art gallery it is also situated on top of the Zeitz museum of contemporary art Africa. But you might want to relax first at the amazing spa which also gives you a glimpse into the museum before you get one of their signature treatments. Rather soak up the sun? The rooftop has everything you'll be looking for and more. The pool is without a doubt one of the coolest places to hang out when visiting this bustling city.
The outpost
Located in one of the remote parts of the Kruger National Park, this place has everything you need to enjoy a luxury safari in one of the most famous national parks in the world, yet still not see another soul during the whole time you spend in this wonderful wilderness. There are only 12 free standing luxury suites, all with 180° views over the Luvuvhu river valley. The open air look and feel certainly enhances the outdoor experience you'll get during you're time over here. I mean, who wouldn't like to relax in a massive bath tub, while enjoying some of the most amazing views over the African bush? And then there's the wildlife of course. Besides the obvious abundance of animals in the Kruger National Park, this is also one of the best places for birding. Enough reasons to be on this list.
Have you visited one of the above mentioned places before? Would love to know what your thoughts are and if you would confirm their spot in this list.