Wild, untouched and still decidedly off-the-beaten-track, the appeal of travel in Bolivia is gradually growing to match its most-visited Andean neighbour, Peru. Boasting some of the most dramatic mountain landscapes in Latin America, cloud forests, deserts, volcanoes and the Amazon basin – this superbly diverse country has much to explore. Undoubtedly at a much earlier stage in its tourism development than the surrounding countries, luxury options in Bolivia are more limited in range, but nevertheless exceptionally rewarding. A true riot for the senses, here are some of our favourite one-of-a-kind luxury experiences to enjoy during a trip to Bolivia.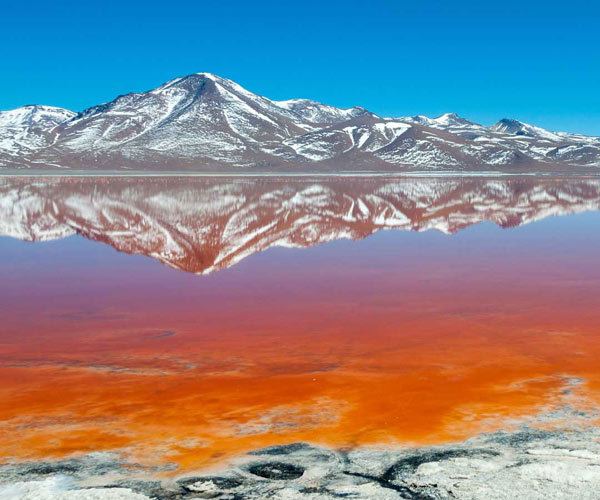 A luxury stay in Zona Sur, La Paz
Bolivia's energetic Andean capital, La Paz is a booming city that has something for everyone. The city itself houses a host of interesting Spanish colonial and republican-period buildings, as well as a variety of touristic sites linked to the city's many indigenous cultures which in Bolivia are still very much thriving part of everyday life for the majority of the population. Home to an increasingly affluent population of artists and business people, La Paz's stylish and modern Zona Sur ('South Zone'), peppered with the mansions of the uber-elite, is the place to stay in the city for a luxurious trip. Some of the best restaurants, bars and clubs in Bolivia are located in this area as well as the country's finest hotels. Our favourite is ATIX, the first design hotel in Bolivia. This sleek and modern boutique combines stylish contemporary luxury with the authentic charm of Bolivian cultural heritage. Rooms are decorated in chic, muted tones, broken up with the vivid colours of the exclusive local artwork by Bolivian artist Gaston Ugalde. ATIX's crowning glory is its relaxed lounge bar and delightful indoor pool with panoramic views of the surrounding mountainsides. For a luxurious stay in an eclectic and charming city, Zona Sur has a lot to offer.
Airstream campers on the Salar de Uyuni
Probably rightly Bolivia's most famous attraction, the extensive Salt Lakes in Uyuni are one of the most surreal and breath-taking landscapes on Earth. One way to enjoy a tour of this exceptional region in unparalleled style is by spending nights out under the crystal-clear starry skies in your own deluxe classic airstream campervan. These well-equipped and cosy campers offer fabulous accommodation, as well as the services of a private chef, guide and driver to set up camp and prepare meals for you as you explore the delights of Bolivia's rugged and striking southern altiplano in supreme comfort, with entirely personalised service.
Private boat on Lake Titicaca
A land of many superlatives, Lake Titicaca, perched on the border between Bolivia and neighbouring Peru is the highest commercially navigable lake in the world and easily one of the highlights of a visit to either country. The cobalt blue of the lake, framed by the snow-capped peaks of the Andes in the background makes for a striking picture, and the perfect place to enjoy indulgent treats during a luxury tour of the Andes. The best way to spend a relaxed evening by the lake is enjoying a private boat trip at dusk, watching the sun set over this magnificent scenery with a glass of champagne in hand.
La Paz's food culture
Benefiting from the same bounteous variety of unusual and exotic ingredients as Peru, the capital of gastronomical innovation in Latin America, Bolivian cuisine is equally as forward-thinking and diverse, especially in the capital city. La Paz offers a huge range of boutique bars and eateries where the most exceptional emerging talents in Bolivian gastronomy offer their often-experimental fusion cuisine. One of the most exceptional culinary experiences in Bolivia is an exclusive evening meal at Gustu, an innovative restaurant in Zona Sur, offering a sophisticated menu of modern Latin American dishes, celebrating the flavours of local produce, traditional Bolivian cooking techniques and the avant-garde culinary techniques of high-end European restaurants. We recommend booking a table in advance to enjoy a delicious meal of the highest quality as part of a luxury holiday in Bolivia.
Glamping in Bolivia's countryside
With some of the most remote and unspoiled scenery in Latin America, Bolivia is a wonderful destination for lovers of the great outdoors. However, exploring far-flung corners of this rugged paradise does not have to come at the cost of great accommodation and service. Often hundreds of kilometres from the nearest city, some of Bolivia's best kept secrets are best enjoyed by glamping in the vast wilderness. With a spacious tent including a double bed with luxurious linens, complete with a coffeemaker and cosy armchairs, you can experience a blissful solitude in a unique setting with a private chef, driver and guide – either exploring the jungles of the Madidi, trekking through the Andes, or sleeping under the stars in the arid deserts of the south.
Simon Williams is Director of Humboldt Travel. Humboldt Travel is a luxury travel company specialising in tailor made holidays to Latin America.
If you would like to be a guest blogger on A Luxury Travel Blog in order to raise your profile, please contact us.