By
Alfonso Tandazo
on Apr 15, 2019 in
Accommodation
,
Adventure Travel
,
Bolivia
,
Camping
,
Chile
,
Ecuador
,
Hotels
,
Peru
,
Regions
,
South America
,
Speciality Travel
The idea of luxury adventure camping is to get closer to the sheer beauty of nature in places with very little infrastructure, while at the same time enjoying world-class service in the most comfortable digs.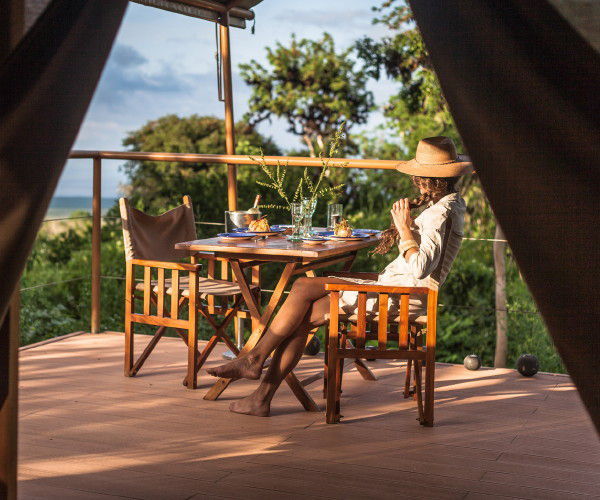 The posh term "glamping" (short for glamorous camping) has turned off some adventurers who might otherwise appreciate the experience itself. Despite the semantics, though, it's undeniable that this upscale approach to sleeping under the stars offers you a chance to experience some of the most exotic and breathtaking places on the planet. Plus, you'll end the day with a gourmet meal, a roaring campfire, and a cozy bed with a real mattress – all prepared in advance, just for you.
This blending of the rustic wild with subline style suits some of the most remote and stunning parts of South America. So, here we outline six great luxury adventure camping experiences you can choose from in Latin America.
Galapagos Safari Camp
A trailblazer among South American luxury camping resorts, the Galapagos Safari Camp was designed in the style of an exclusive African safari lodge. Located in the highlands of the archipelago's central island, Santa Cruz Island, the Safari Camp is a 130-acre farm that is home to an abundance of bird and plant species. In fact, it even has its own Giant tortoise reserve. Because of its location, perched on a ridge, the camp possesses a sensational view of the Pacific Ocean as well as vistas of the Galapagos' western and northern islands.
The camp provides nine luxurious tented cabanas and one 3-bedroom suite – making it great for families and small groups. In addition, its expert guides are ready to lead the way on any number of wildlife excursions. From hiking, biking, snorkeling, kayaking, scuba diving and even surfing, these excursions allow you to experience as much of the islands as possible.
However, the greatest thrill of a Galapagos Safari Camp trip is seeing wildlife roaming free and completely uninhibited. Watching the Galapagos giant tortoises amble along the shores is always a true highlight. For those with a curiosity of the natural world, the camp expertly combines an authentic Galapagos adventure with top-end sophistication and luxury camping. All of this is enough to rival any lodge of its type anywhere in the world.
Kachi Lodge in Bolivia's Surrealistic Salar De Uyuni Salt Flat
A trip into the salty wilderness of the Uyuni Salt Flats has always been a must-do for intrepid adventurers bent on discovering the beauty of this otherworldly landscape.  For luxury travelers, though, the range of accommodations in this mesmerizing destination has been somewhat limited.
However, there's great news: the first year-round experience in the bucket-list-worthy Salar de Uyuni opened in February of this year.
Consisting of a collection of white geodesic domes that would make Buckminster Fuller proud, Kachi Lodge seems more like a moonbase for colonizing the salt flat's lunar landscape.
Contrary to their austere surroundings, within each of the lodge's igloo-like structures is a plush double bed positioned to provide optimal views out of the clear-paneled windows. To keep the spaces warm on the salt flat's chilly nights, character-rich wood-burning stoves are provided, complemented with bathrooms that provide both hot and cold running water — a true luxury in this remote salt-desert environment.
Kachi Lodge's communal central dome serves for both relaxing and for your gourmet dining pleasure. Each day you'll sit down to savory dishes rich with traditional Bolivian flavors prepared by Gustu – a perennially popular and award-winning restaurant based in La Paz.
In the evenings, after settling down for a truly unforgettable sunset — the likes of which you will be pushed to find anywhere else on earth — warm your spirits with a hot toddy while Uyuni's stone-gray crust begins to glow iridescently under the star-studded night sky.
Patagonia Camp, Torres del Paine, Chile
There are few destinations quite as scenic as Patagonia, with nothing around …save for mile upon mile of Coigue forests, rolling plains, the glittering Toro Lake and – watching over it all – the soaring granite peaks of the Torres del Paine mountains themselves. It's no wonder that such a range of intriguing wildlife call this place home, from llamas and condors to pumas and foxes. This is why the park and surroundings are home to a handful of charming lodges. However, for the most intrepid travelers seeking to experience the wilds of Patagonia up close, Patagonia Camp is ideal.
Boasting spectacular views of the lake and the Paine Massif, the camp's 18 luxury yurts are strewn across the landscape, with each gazing out onto the intense colors of the landscape and ever-changing Patagonian skies.
Each yurt is spacious and secluded, and all are provided with private bathrooms, central heating, locally handcrafted furnishings and an oversized terrace that draws guests to the mesmerizing views.
Engaging day-excursions allow you to leave your comfortable nest for the inspiring sights and sounds of nature all around, while the nights offer an incredible display of sky-filled stars. This exceptional luxury camping experience is rounded off with kayaking around icebergs, zodiac river-trips, horse-riding, condor-spotting hikes and fishing on Toro Lake.
All of this at Patagonia Camp offers a chance to totally lose yourself in nature while still enjoying the comforts of a modern resort.
Treehouse Lodge in the Peruvian Amazon
Leave everyday life behind as you plunge into the Amazon rainforest with the help of Treehouse Lodge, situated within the lush canopy of the Peruvian Amazon.
Located 60 miles from the city of Iquitos (itself reachable only by air or river), the lodge's surrounding reserve is teeming with all sorts of birdlife, crocodiles, monkeys, sloths and armadillos. This means that, other than relaxing in treehouse luxury, you can spend your time discovering wildlife on daily wildlife safaris. In addition, you can cool off natural pools, go kayaking, practice yoga, go horseback or camel riding, and even catch (and release) Caiman crocs!
At the Treehouse Lodge, awake each morning in your room high up in the trees, enveloped in the soothing natural sounds of the rainforest wildlife. Still, your treehouse stay doesn't mean sacrificing customary comforts. While experiencing all the excitement of the Amazon, each treehouse allows you to enjoy all the modern luxuries of glamping – from full bathrooms to fresh linens and plush canopy beds. As a guest, you can also sample the local flavor in the form of world-famous Peruvian fusion cuisine …but with an Amazonian twist. For unbelievable pure air and striking views from up on high, the Treehouse lodge awaits.
Anakonda Amazon Riverboat Cruise & Glamping
The Ecuadorian rainforest is known as the most bio-diverse region on our planet. Aboard the M/V Anakonda, you will have the opportunity to explore all its wonders in a unique way: on board a floating 5-star boutique hotel, with a bit of luxury camping.
Visiting remote and pristine areas of the Ecuadorian rainforest, you'll observe the diverse wildlife and interact with the region's indigenous communities. In the magical flooded forests, among untamed wilds, and on still-quiet waters, you'll be able to observe jungle wildlife – including playful monkeys, legendary Pink River dolphins and colorful tropical birds, as well river turtles, anacondas, caimans and other amphibians and reptiles of this unique eco-system.
While on this stylish and tasteful cruise through the Amazon River Basin, you'll have chances to camp overnight in the jungle. Don't worry, this option is not only entirely safe, you'll have a deluxe tent waiting for you to sleep overnight and even a butler on hand to serve you your dinner for the evening.
With all of this, the Amazonian rainforest will unfold before you like in a National Geographic documentary on the silver screen – but this is a movie you can take part in, as your guides invite you to participate in rowing or walking expeditions at least twice a day.
Skylodge Adventure Suites in Peru's Sacred Valley of the Incas
For the truly adventurous traveler who has imagined sleeping in a condor's nest, here's the next best thing! Be warned though – this is not a place for the faint-hearted!
Clutching the side of a mountain in the Sacred Valley of Peru, the transparent luxury capsules of the exclusive Skylodge Adventure Suites offer you the chance appreciate the impressive view of this magic and mystic valley.
In operation since 2013, travelers' dreams come true with a 300-degree view of the majestic Sacred Valley from the top of a 1,200-foot-high mountain.
The Natura Vive Skylodge is composed of three exclusive capsule Suites with a total capacity of just eight people. These vertically hanging transparent capsule suites were handcrafted out of aerospace aluminum and weather resistant polycarbonate. Each suite comes complete with four beds, a dining area and a private bathroom with curtains for privacy from the curious gaze of passing condors.
With camping packages that include breakfast & gourmet dinners with wine, guests receive first-class service in complete comfort, reveling in warm and pleasant nights a quarter mile in the sky.
In short, whether you call it "glamping" or simply luxury adventure camping, South America has what you may just be looking for.
Alfonso Tandazo is President and CEO at Surtrek Tour Operator. Surtrek Tour Operator is a well-established firm, specializing in custom-designed luxury tours in Ecuador, the Galapagos and throughout the rest of South America.
If you would like to be a guest blogger on A Luxury Travel Blog in order to raise your profile, please contact us.