Imagine galloping alongside the Great Wildebeest Migration in the Maasai Mara, Kenya. Picture yourself trotting through the African bush, tracking a herd of elephants in Botswana. Conjure up visions of yourself riding with a wild herd of zebra…
No longer does this need to be the stuff of your wildest dreams.
A horseback safari in Southern Africa, guided by the best in the business David and Robyn Foot, will throw you into the wild at top speed, leaving you breathless, windblown, and in a state of complete euphoria. Add in a spot of luxury – tented camps outfitted in four-poster beds, rich textiles, long, cool drinks served to you under the magnificent Kalahari sunset, and glorious food cooked under the stars – and you can see why an African horseback safari has become something of a legend amongst luxury travellers. You just have to experience it to believe it.
Whether you're an experienced equestrian or a novice rider, take the ride of a lifetime and see southern Africa from a new and unique viewpoint. Here are 5 reasons to plan your African horseback riding adventure.
1. You will get up close and personal
When it comes to breathtaking wildlife, Africa is second-to-none. Everybody knows this. But if you want to truly experience it – if you want to breathe in the same air as an elephant, smell the sweat of a herd of migrating zebra, feel the roar of a big cat in your bones – nothing compares to a horseback safari. A horseback adventure will see you tracking elephants or buffalo through pristine wilderness, or perhaps riding with a wild herd of giraffe or zebra, and because you can move along game trails with the animals, you can get much closer than you would by vehicle. To them, you're simply a fellow grazer, doing your wild thing in the bush.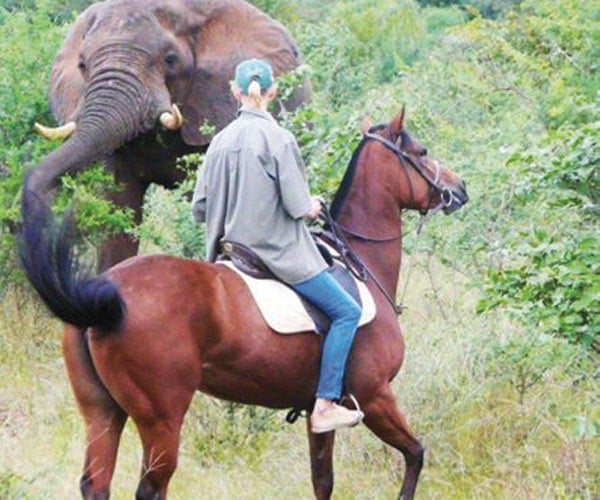 2. You will take the road less travelled by
One of the best things about a horseback safari is that you can access areas vehicles can't reach. Discover Africa the way it was meant to be: galloping along African savannas, cantering over rugged coastline, and wading through peaceful rivers– all atop a glorious silken beast, mane flying free… On horseback, you will get a real sense of the space and breathtaking beauty of the land where it all began. You are no longer a mere observer of wildlife, but a part of the landscape. It is the truest way to immerse yourself in the present moment and leave the "real" world behind.
3. You will experience wild luxury
Just because you're out there running with the wildebeest, doesn't mean you need to turn completely untamed and forego luxury! At the end of every day riding wild, return to camp for pampering and rejuvenation. Camp Kalahari by Natural Selection, for example, offers horseback safari-goers a return to the traditional safari style of the old explorers, and the best way to experience the Makgadikgadi in Botswana. Decorated with colonial antiques, rich textiles, Moroccan kilims, and four poster beds, your safari tent would compete with any luxury resort for comfort and style, but with the added bonus of being far from the madding crowd. It's just you, the stars, horses neighing and lions roaring… You will enjoy 5-star service with sundowners in the desert under miraculous sunsets, and dinner out under the magnificent Kalahari sky.
4. You will take unbelievable photos
What better way to take stunning photos of your African adventure than from horseback? Spending time in the saddle on safari offers up some of the most stunning picture opportunities: for one thing, you'll be much closer to your wild thing subjects than if you were on four wheels, and for another, you'll be on the same eye level. Trust us when we tell you that coming lens to eye with an elephant makes for quite spectacular photographs! Bonus points for those fun "in between the ears" shots.
5. You will have a one-of-a-kind adventure
The wind in your hair, the sun on your face, the sound of horse hooves as you stride out alongside wild animals across the savanna… going on a horseback safari is the ultimate adrenaline rush. And because no two safaris are alike, you'll never know what adventure awaits you on each incredible journey.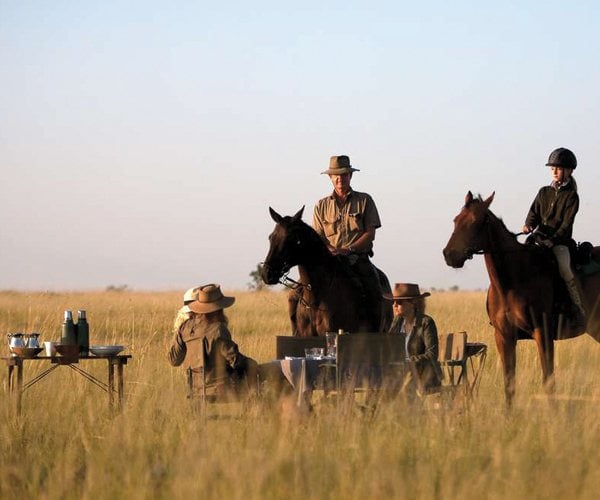 Daniella Ponter is the Director at Sikeleli Africa Safaris. Sikeleli Africa Safaris is a family-founded and run business that specializes in individually-tailored, luxury travel in Africa.
If you would like to be a guest blogger on A Luxury Travel Blog in order to raise your profile, please contact us.