As plant based options become the norm on menus around the world it truly is an exciting time to be vegan. Gone are the days when we would have to sustain ourselves with dishes that lacked creativity, taste and nutrition. Now we can dine at the finest restaurants and stay in luxurious hotels safe in the knowledge that our food will be as exciting as our surroundings.
If you're looking for places who are showcasing what could be the future of food (it's well documented that our current way of eating as a race isn't sustainable) then head to Singapore, where an ever growing number of the leading hotels and restaurants are taking plant based dining to the next level. These plant based pioneers in Singapore have embraced the innovative brands that are at the forefront of plant based alternatives such as Beyond Meat, Omnipork, Impossible Foods and JUST Egg. The 'meats' sizzle like the real thing and the flavours and textures are also just like the real thing, whilst the 'egg' is uncannily realistic. Vegan or not, these are intriguing and exciting times for food lovers.
We headed to Singapore where we indulged ourselves in a varied and delicious selection of creations using these planet saving, animal friendly and altogether healthier alternatives…
Leading from the front, and the first to offer the ground breaking Beyond Burger in Southeast Asia, these guys are true plant based pioneers. Driven by a commitment to sustainability, they offer multiple plant-based options at Grand Hyatt Singapore and we've been lucky enough to try most of them.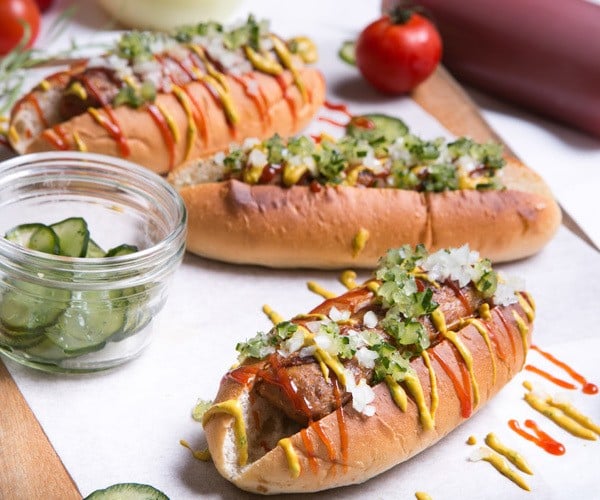 Whether you want to enjoy the Beyond Burger at mezza9, their flagship restaurant, or relax in the garden setting of Oasis where you can choose a Beyond Sausage Hot Dog or a JUST Egg Sandwich, you are sure to enjoy your plant based experience at Grand Hyatt Singapore. Plus there's the bonus of being right in the centre of Singapore's shopping and entertainment hub of Orchard Road.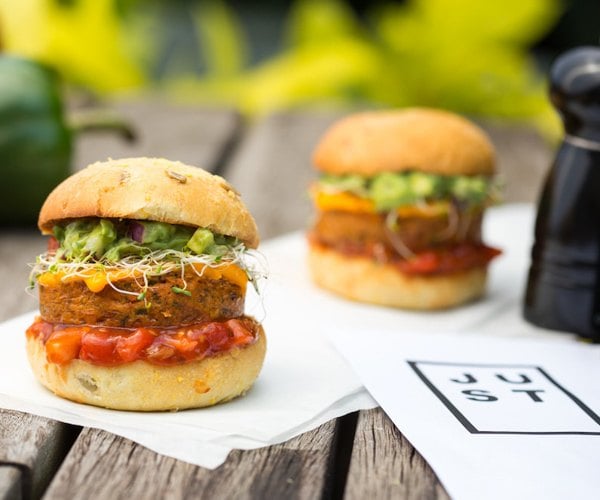 Empress is a great choice for a restaurant in Singapore; set within the Asian Civilisations Museum and boasting an enviable location overlooking the Singapore River, they have truly embraced plant based cuisine. Menus feature multiple plant based dishes throughout, taking traditional Chinese food (which is often full of hidden and not so hidden animal products) and making it suitable for vegans and vegetarians.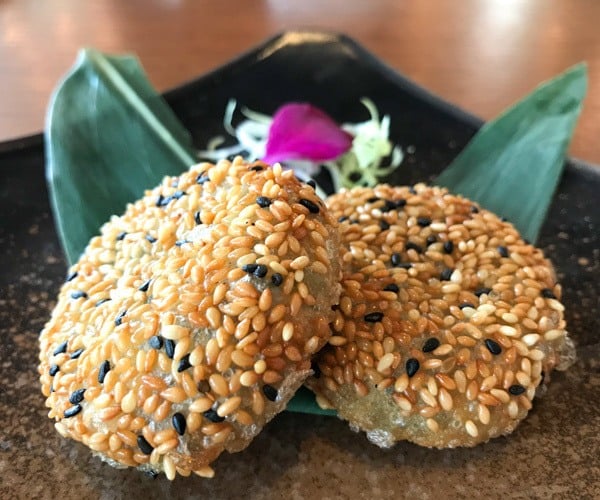 Diners can enjoy Omnipork, a 'game-changing' pork alternative, in dishes such as a flavour packed 'Vegetarian Mapo Tofu' or delicate romaine wraps with cauliflower, lotus root and olives. On their exclusive Impossible Menu you will find starters including 'Crispy Pancake with Chinese Chive' and 'Black Pepper Meatball Skewers'; they're the kind of thing you'll eat and be convinced the kitchen has sent you the meat version instead.
The Fullerton is synonymous with the rich history of Singapore and their Cantonese fine dining restaurant Jade, has been impressing discerning diners for more than 10 years. In an effort to embrace the demand for plant based cuisine they have introduced an impeccably named 'Taste the Future' menu featuring Omnipork throughout the multi course plant based experience. Let's just say those words again, "multi course, plant based experience", this is not a place just go for dinner, this is a place to go for a food adventure no less. From a trio of delicate starters including 'Caramelised Omnipork stuffed with Pickled Apple' to a main course of 'Braised Omnipork with Capsicum, Assorted Mushrooms, Peach Gum and Eggplant' you are in for a plant based treat full of elegance and refinement.
With multiple outlets including one at the much talked about 'Jewel' at Changi Airport, Privé makes enjoying plant based food in Singapore really simple. Their menus have clearly marked vegan and plant based options; you can even select your favourite plant based burger with their 'Truffle Mushroom Swiss Plant Based Burger' served with either an Impossible or Beyond Meat patty.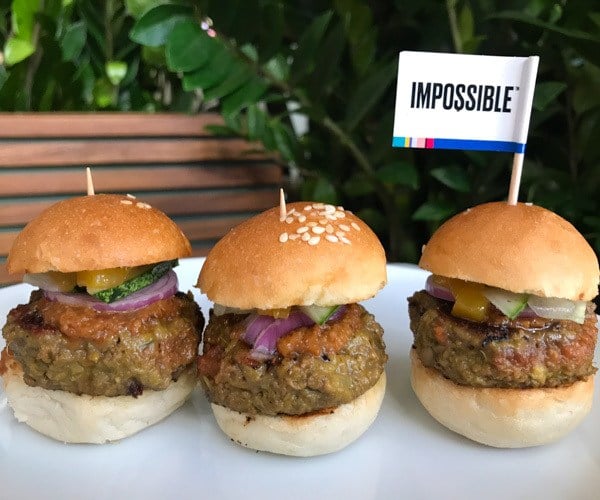 These burgers are insanely meaty, juicy, tasty creations and the combination of truffle, vegan Swiss cheese and mushrooms was as delicious in the eating as it sounds on the menu. If you don't fancy a plant based burger (they also have a trio of satay sliders which deliver the excellent experience of satay in miniature burger form) then why not order the 'Impossible Meatball Spaghetti' with tomato basil and ragout?
The newest plant based pioneer in Singapore is PARKROYAL on Pickering who introduced a plant based menu on Earth Day at their restaurant, Lime. Their Plant Based À La Carte Menu features a selection of plant based delights including a sumptious Beyond Burger which they launched from a food truck in the lead up to the debut of the full menu.
Diners will also find 'Arrabbiata Pasta with Omnipork Meatballs' and an 'Omnipork Patty with Barbeque Sauce' at Lime; these are offered alongside other dishes including 'Fishless Fish and Chips' and a selection of creative desserts to ensure the full plant based dining experience at PARKROYAL on Pickering.
We love the fact that these plant based pioneers in Singapore have chosen to lead the way and are sure that others will follow. The demand for plant based food is growing and these innovative products are not only appealing to those that already enjoy a plant based diet, but also to omnivore diners, which is one of the reasons we are seeing this huge growth in popularity of plant based food. This is a win, win, win situation with plant based food being better for the planet, the animals and for our health, so long may it continue.
Paul Eyers is Founder of Vegan Food Quest. Vegan Food Quest have become luxury vegan travel specialists as they continue to find, eat and write about the best vegan food in the world.
If you would like to be a guest blogger on A Luxury Travel Blog in order to raise your profile, please contact us.