Family vacations are typically difficult to plan, as the parents must think of all sorts of things that will make the vacation comfortable, fun and dare we say relaxing. Crete, as a destination, is a no-brainer when it comes to family vacations as it offers variety in hotel properties, fun experiences, the nature is completely compelling and the weather is beautiful. However, Crete is so big that it could be a country on its own and it is not helpful if someone just suggests Crete. The questions that will arise are: Where in Crete? Where will I stay? What will I do?
The first answer is: Elounda. Families will utterly fall in love with Elounda because of the amazing location and accessibility. Once you land in Heraklion, a driver will be waiting for you and your loved ones to pick you up and drive you to one of the luxury hotels you have chosen in Elounda. Just an hour away, relax and enjoy the beautiful ride as you will be driving along the coast admiring the sparkling waters on a brand new highway. You will be heading towards east Crete, north of Agios Nikolaos, where Elounda is located.
This picturesque fishing village of Elounda in the lovely Mirabello Bay was discovered by tourism due to its beautiful scenery and it rapidly developed into the region with the most luxury five-star hotels in Greece. The second answer is a bit more complex to answer as there are a number of amazing properties offering exquisite service, authentic Greek hospitality, uninterrupted sea views and last but not least kids clubs with staffs that have been trained by UK and US experts. Parents can have a peace of mind while they enjoy a little bit of alone time, while the children will definitely be having a blast! A few hotels that are definitely worth a mention are Elounda Gulf Villas, Blue Palace and Daios Cove. All located near one another, yet they have different characteristics that can appeal to different types of families seeking alternative ways of vacationing. The one thing all these hotels have in common, is that they are so perfect, that even if the family does not want to leave the property, they will enjoy every second of their stay there, eating the best quality food, swimming in their private infinity pools, playing with their children or enjoying a massage.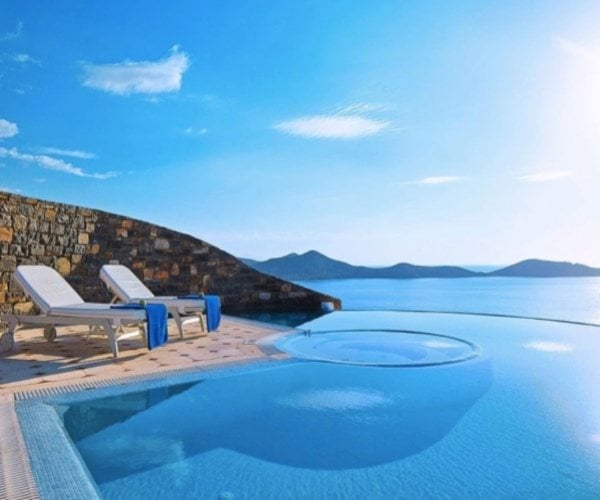 Moving along to answering the third question, for the more active families, we have gathered the top 3 experiences they can enjoy during their vacation in Elounda. The combination of culture, nature and just plain fun is tremendous and unique for such a small region!
Percy Jackson inspired Knossos Palace and pottery experience
This experience is inspired by Percy Jackson's books and is particularly designed for youth and family. It approaches the Cretan Labyrinth and its mysteries from a mythological and historical point of view and focuses on making the story interesting and engaging, but also clear and easy to understand for the little ones in the group. It binds the ancient Myths with the everyday life of the Minoans in the palace and offers an experiential trip in time, through interactive features, pictures, sounds and images. During the fun tour, each person in the family will be using 3D Tablets, presenting a three dimensional recreation of the most important parts of the palace. The tour will continue on to the second and more interactive part of the experience that is a Minoan-style pottery lab conducted by a rewarded Potter and Artist, specializing in recreations of Minoan pottery. The Potter is rewarded by the Ministry of Culture of Greece for his work and has a big experience in cultural and educational seminars for children and adults on the Minoan Pottery. With him all members of the family will find out a lot about clay in general (elaboration, processing, use, results) and about the Minoan pottery technics in particular, which flourished on the island 5.000 years ago, in a fun and interactive way. The children will have the chance to learn, play and create their own mythological masterpiece and have it shipped back home!
Spinalonga private island tour in a traditional Cretan boat
You will be picked up from your quaint hotel and you will head along the northeast coast of Crete toward the area of Plaka where you will take a small traditional boat and enjoy a short boat trip to the beautiful island of Spinalonga, one of the most important historic sites of Crete. The island was turned into a fortress in the mid 16thcentury and was constituted one of the best examples of the Venetian defensive architecture. From 1903 – 1957, Spinalonga's castle was turned into the last European leper colony. After exploring the building from the Venetian, Ottoman and Modern period on the island for about an hour and a half with your licensed-state guide, you will head back on your traditional boat where you will enjoy your fishing trip around the marvelous natural bay of "Kolokitha" where you can jump in the crystal clear waters while the crew of the boat will be offering snacks, fruits and drinks on board.  As lunchtime arrives, you will be heading back to the scenic village of Plaka and you will eat at a traditional seafood restaurant overlooking Spinalonga Island. After lunch and before your deriver takes you back to your hotel, you will have your last stop of the day at the traditional village of Kritsa, renowned for its handmade weaving art, embroideries and textiles.
Off-road Land Rover safari
In this excursion, you and your family will have the opportunity to explore unique nature sceneries, breathtaking views and small traditional areas off the beaten track on a 4 wheels Land Rover on a private half day safari excursion in the mountains of Dikti East Crete. Your journey takes you to the plateau of "Katharo" passing through the biggest forest of the island, where the roads are non-existent and the mountains reach a height of 1.500 meters. You then continue through the dirt tracks, goat valley and across rivers, and this is where the journey really gets exciting! Reaching Katharo plateau, you are being hosted at a "kafenion" local restaurant, where you will explore the traditional mountain cuisine and the local wine.
George Koletsos is Co-Founder of Kudos Life Experiences. Kudos Life Experiences is a custom-designed private travel specialist to Greece, for the discerning and sophisticated traveler who is seeking to return to the authentic form of personal discovery and explore really life-enriching travel experiences.
If you would like to be a guest blogger on A Luxury Travel Blog in order to raise your profile, please contact us.