By
Paul Johnson
on May 14, 2019 in
Accommodation
,
Attractions
,
Europe
,
Family Travel
,
Featured
,
Food and Drink
,
Going Out
,
Hotels
,
Regions
,
Restaurants
,
Speciality Travel
,
Travel Miscellany
,
United Kingdom
,
Western Europe
Situated in 8 acres of grounds in the rolling Warwickshire countryside, Macdonald Ansty Hall is a Grade II Listed Georgian mansion dating back to 1678. This was our second visit to this 62-bedroom Macdonald Hotels & Resorts hotel, having stayed a few years previously (click here for that review).
The welcome
We were warmly welcomed on arrival. Check-in was efficient and effortless and, in no time at all, we were being directed up the stairs towards our two rooms. So often, the check-in process is a strictly grown-up process that doesn't involve the children but, as we started to make our way upstairs, the receptionist explained to our boys how to get on the WiFi – "…in case you want to play Fortnite…", he said, which obviously brought about a few smiles and developed a fun rapport with them.
The room
We stayed in the Dulverton Suite (room 4), a spacious and traditional suite in the main building.
There were comfortable chairs against the backdrop of a fireplace on which to relax…
…and even some towels arranged into an elephant. It would perhaps be more fitting on safari but hey – why not – it's just a bit of fun, after all!
The suite looked out over the lawned gardens to the rear of the property where there are also some tables and seating for those sunnier days.
Unlike our last visit where we stayed in a family room (this was already booked this time around), we also had a second twin-bedded room, room 27, just a short way down the corridor, to accommodate us all.
The bathroom
The bathrooms offered ample space also, and were finished in neutral tones that should appeal to all.
Elemis toiletries were provided.
The facilities
The AA rosette Shilton Restaurant is led by Head Chef Christopher Owen who joined Ansty Hall in 2018, bringing with him more than 25 years of culinary experience. The restaurant serves traditional English cuisine with a twist, whilst still employing the Macdonald Hotels & Resorts' commitment to using carefully-selected suppliers using fresh, natural ingredients.
The restaurant offers both table d'hote and a la carte options (and, if you ask nicely like we did, they might just combine the two!).
I had the Stornoway black pudding, pan-fried pigeon and fried egg. I haven't knowingly had Stornoway black pudding before (as opposed to other varieties) and I have to say it was extremely good (so good that I chose it for breakfast one morning, too!) and complemented the pigeon well.
My wife was very pleased with her caprese salad with a basil dressing.
Also highly recommended from my older son was the John Ross Jr Scottish smoked salmon with pickles, caviar and herbs.
For my main I had the breast of free range chicken with wild mushrooms and a tarragon cream sauce, sitting on fondant potatoes – quite a rich sauce but very tasty.
My wife chose the healthier option of pan roasted wild haddock which looked equally enticing and came with gem lettuce, peas, leeks, preserved lemon and pancetta.
For those of who could still manage, we rounded our meal off with a refreshing traditional lemon tart with a raspberry sorbet.
In the mornings, the Shilton Restaurant is also where breakfast is served. There are some continental buffet options on display…
…plus you can order from a selection of cooked options. As mentioned, on one morning I went for the full English so that I could savour a little of the Stornoway black pudding once more!
With all this food, you'll no doubt want to stretch your legs and wander around the grounds in order to work off some of the excesses. There are lawned areas to the front and rear of the property…
…as well as a small church if you wander far enough. The position of St. James Church, on the edge of the hotel's grounds, means that Ansty Hall is also a very special wedding venue.
Guests can spill out from the church directly into the hotel's gardens and nearby function rooms allow for evening wedding receptions that cater for anything up to 150 people. Of course, these facilities can also be used for conferences, too.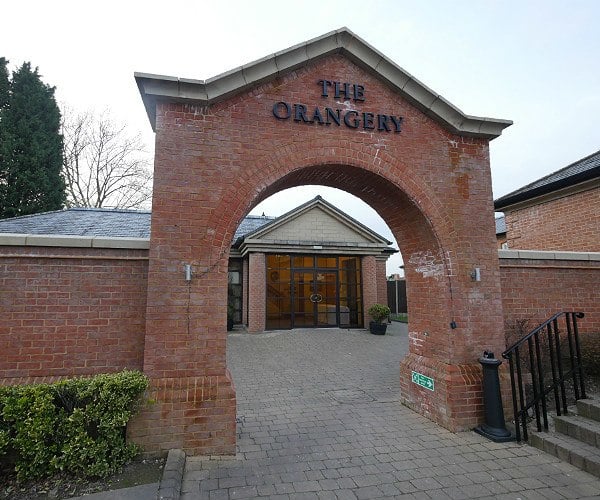 Other nice touches
In our suite was a bottle of wine and bowl of fruit which was a nice little treat on arrival.
There was also a lovely plate of chocolates and strawberries which I managed to photograph just before our hungry boys began to devour it!
Location
The hotel enjoys a central location that is approximately 25 miles to the east of Birmingham and lies almost midway between Nuneaton (7 miles to the north) and Coventry (7 miles to the south-west). Being so central, there are many places to enjoy that are within easy driving distance – Cadbury World, Drayton Manor and Warwick Castle to name just a few.
We were actually in the area so that my sons could take part in a sailing event at Draycote Water just 15 miles away. The hotel had ample parking for us, even though we were taking up two spaces with our trailer and it felt very secure with a barrier on entry.
Draycote Water is a 240-hectare reservoir with its own country park including a visitor centre, bird hide and circular trail, not to mention a sailing club on the southern side of the lake. Our boys are pictured in the centre here (the blue and white striped spinnaker), racing in the RS Feva class.
Cost
Flexible dinner, bed and breakfast rates for a Classic Suite start from £242 per night.
Early saver Classic Room only rates start from just £103 per night.
The best bit
Once again the food was a major highlight of our stay. We really enjoyed our dinner at Ansty in a relaxed and informal setting.
The final verdict
Ansty Hall enjoys a central location and will appeal to a wide range of guests. We stayed as a family but there were also many couples staying, as well as a number of Japanese tourists who were on a UK tour staying on one night during our stay. The venue will also suit business travellers who need meeting and conference facilities, as well as leisure and wedding guests.
Disclosure: Our stay was courtesy of Macdonald Hotels & Resorts.